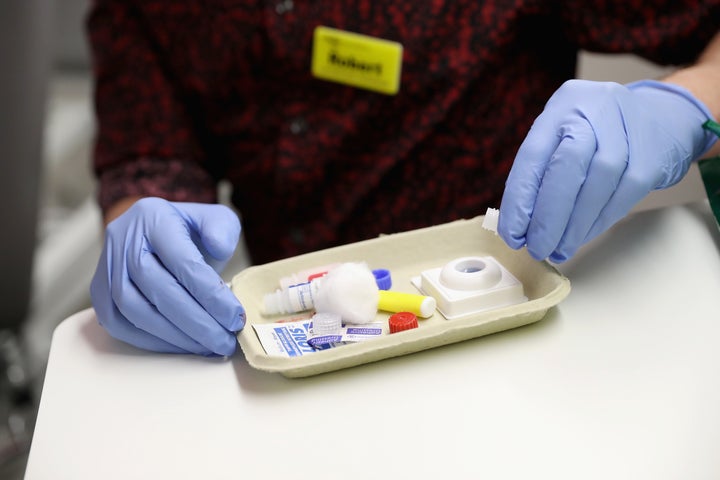 Council leaders have warned that sexual health services are being put under "huge pressure" amid government cuts as a record 3.3 million visits were made to clinics in England last year.
The Local Government Association (LGA), which represents 370 councils in England and Wales, said government cuts to councils' public health budgets has left local authorities struggling to meet the surge in demand for sexual health services.
The LGA is urging government to reverse £600 million in public health cuts to help councils meet the rising demand.
In 2017, there were 3,323,275 attendances at sexual health clinics in England in 2017, up 13 per cent on the 2,940,779 attendances in 2013, which is the equivalent of an extra 210 a day, or 1,471 a week, according to latest figures.
The total number of sexual health screens – the tests for sexually transmitted diseases such as chlamydia, gonorrhoea, syphilis as well as HIV – has risen 18 per cent during this time period, from 1,513,288 in 2013 to 1,778,306 in 2017.
The demand could leave people facing longer waits for appointments and the LGS warned that some clinics have been turning people away because all appointments for that day are fully booked.
Ian Hudspeth, chairman of the LGA community wellbeing board, said that it was great to see the "huge increase" in people taking their sexual health seriously but the rising demand is pushing some council's services "to peak capacity levels, which are not sustainable in the long-term".
He said: "With capacity and resources already being stretched to the limit, clinics are reporting an increase in the number of lengthy delays and people having to be turned away as appointments are fully booked.
"Demand for sexual health services has risen successively for the past five years and there is a real risk of waiting times increasing and patient experience deteriorating.
"Cuts to public health funding need to be reversed as this could affect councils' ability to meet further increases in demand and respond to unforeseen outbreaks of sexually transmitted infections.
"While it's good news that diagnoses of sexually transmitted infections have fallen, it will be hard to maintain this progress with some sexual health services at breaking point."
A Department of Health and Social Care spokesman said: "We have a strong track record on sexual health with teenage pregnancies at an all-time low and sexually-transmitted infections continuing to fall.
"Sexual health services and tests are now more widely available online which means people can get tested at a time that suits them - over 11,000 diagnoses from online tests were reported last year."
The spokesman added that the government was giving £16bn to local authorities for public health services over the current spending period.
Related