Labour has been pushed into third place behind the SNP and the Conservatives in Scotland in a "painful" night for the party.
Scottish Tory leader Ruth Davidson has become the main Opposition leader as Nicola Sturgeon claimed victory.
In England, Labour has lost council seats. However Jeremy Corbyn has defied his harshest critics as the party has not performed as badly as some expected, clinging on to councils in the south including Southampton, Crawley and Hastings.
Some predictions had Labour on course to lose as many as 150 local council seats.
Several Labour MPs have warned Corbyn this morning the results are not good enough.
But the party's deputy leader Tom Watson has asked them to "have patience".
Corbyn claimed earlier this week Labour was "not going to lose seats" in the English local council elections. Although his spokesperson later attempted to clarify the comment, telling reporters the Labour leader "misspoke".
In Wales, Labour looks set to lose its majority in the Assembly.
With 45 million people eligible to vote, Thursday was the first nationwide verdict on Corbyn since he stormed to victory with massive grassroots support as Labour leader last September.
John Mann, one of Corbyn's fiercest backbench Labour critics, said the party was "doing OK" in the elections, but should be winning more seats.
Labour MP Neil Coyle told BBC Newsnight on Thursday evening the party should be performing better if it hoped to win the general election in 2020.
"We are moving further away from government, I think, because we seem to be fixated on some issues that are peripheral and we seem to have a team which isn't projecting either unity within the party or a vision and policies that the voters want," he said.
And former shadow cabinet minister Emma Reynolds said the results across the country were "not good enough".
"We have made done well in some areas, but l don't think we should be content with either standing still or going backwards in other areas," she told BBC Radio 4's Today programme.
Labour MP Jo Cox said the results were "not a route back to power". She told the BBC: "Jeremy and the leadership need to take responsibility for what's been a poor night for us. I think we need some decisive leadership from Jeremy," she said. "The clock is ticking, Jeremy needs to convince members up and down the country we have a strategy to get back into power".
Watson said MPs like Cox must "have patience" with Corbyn. "I think our party members out there would say, even our opponents would say after only eight months in office you've got to give Jeremy more space to develop our policies and the direction of the party," he said.
"I just hope that my colleagues will understand that, they must respect the mandate that members gave Jeremy to lead the party. He has my support and I hope my parliamentary colleagues will listen to what our members are telling them."
"Jeremy and the leadership need to take responsibility for what's been a poor night"
Shadow chancellor John McDonnell told Sky News "don't judge us on this election".
McDonnell said the party's "objective" was to narrow the 6.3% advantage enjoyed by the Conservatives in last year's general election, before making "steady progress" towards victory in 2020.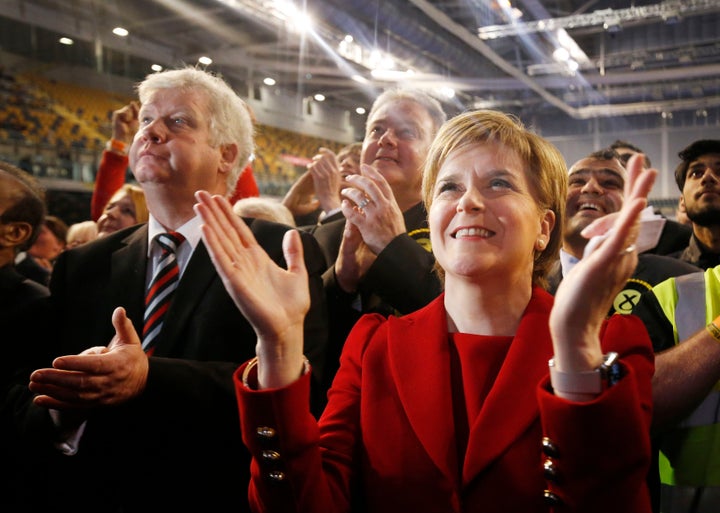 Scottish Labour leader Kezia Dugdale acknowledged the party had not had a good night.
"There's no doubt that our defeat for the Labour party is painful, but it is not the end of our campaign. We will continue to argue for Labour values, Labour ideas and Labour principles. Our work to renew the Scottish Labour party so that it is fit to serve the people of Scotland, continues," she said.
"As grim nights go, it's grim," former Scottish Labour leader Johann Lamont told Sky News.
Sturgeon said the SNP had "made history" by securing a third consecutive election victory in Scotland, however the party fell short of securing an overall majority in Holyrood.
Following her election as an MSP in Glasgow Southside, she said: "If you had told me when I was a teenager, starting out in politics, that one day the SNP would win every constituency in the city of Glasgow, not just in one election but in two elections, I would scarcely have been able to believe it."
Labour's main hope of success is that Sadiq Khan takes back City Hall tomorrow in London after eight years of Tory rule.
Conservative mayoral candidate Zac Goldsmith has tried to seize on the anti-Semitism controversy engulfing Labour in a bid to boost his chances after trailing in the polls.
But shadow cabinet minister Chris Bryant hit back at David Cameron's exploitation of the issue in the run-up to polling day, telling the House of Commons that there was "no gutter low enough for the prime minister to slop around in