A Borough Market restaurant owner revealed how his quick-thinking staff were able to bring 130 customers to safety as the London Bridge terror attackers came running towards his cafe.
Mark Stembridge told his staff at Cafe Brood, some of whom were ex-military from Albania, to pull customers from the open balcony as they saw three men brandishing weapons coming towards the building.
Three of Stembridge's staff were ex-military from Albania, and he credited them for ensuring the situation "was not far worse".
"I can't tell you what they were screaming but they seemed to hesitate when they saw we were slightly organised," Stembridge told HuffPost UK.
"They then veered off beneath the bridge towards another establishment called Borough Bistro."
Stembridge is calling for more training to be given to restaurant owners in the capital and said police had passed on advice to him after the Westminster attack.
"After the recent bombings police told us what to do. They've used some sort of technique of moving and waving their arms, that's what the [waiters] boys did. We've been told by the police what to do," Stembridge said.
Mark Stembridge's restaurant cafe Brood is in the heart of Borough Market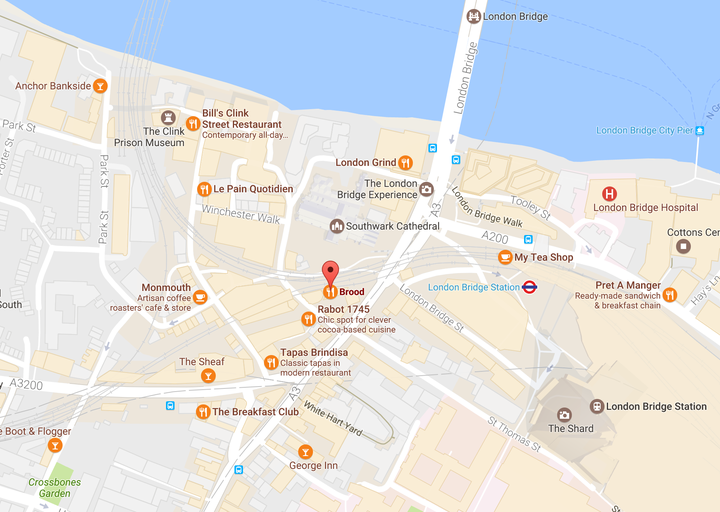 Despite being faced with the terror first hand, Stembridge said it wouldn't put off his customers from returning.
"It is a worrying time because it's a very family night out type place - we rely on all the customers. I think people will come back, that's the British thing. Sod them, we're gonna come back and make the most of it,"
After the police secured the area Stembridge and his staff went to the Andaz hotel, they were released at 6.00am.
Police have been praised for their fast response to the incident and Stembridge called for more police presence.
"There is a definite need for more money to be put into the services in order for more presence to be on the street," he said.
Graphic of how the attack unfolded:
Related