Transport for London has launched an investigation after video emerged which appeared to show a bus driver "nudging" a cyclist out of the way.
Cyclist Silvio Diego captured the incident involving a number 168 bus while he was at a set of lights near Elephant and Castle during the morning rush hour.
The video later shows the cyclist involved in the incident arguing with the bus driver after she is pushed on to the payment by the vehicle.
Diego wrote on YouTube: "Bus driver saw this cyclist but maybe because she took a second to realise the lights were green he decided to nudge her into the pavement and out of his way.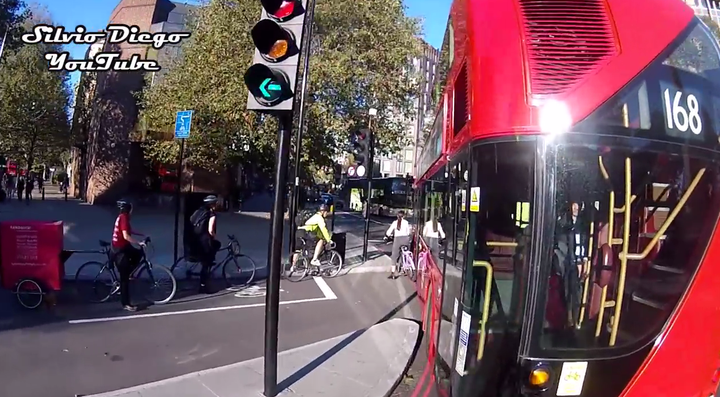 "Appalling driving and hope TFL and DFT take notice."
TfL has since launched an investigation into the incident which occurred about 9am on October 5.
Diego told the Evening Standard that he believed the only reason the cyclist was not seriously injured was because she was next to the kerb.
He told the newspaper: "I think it's pretty dangerous, he could have hit her pedals and either the cyclist goes flying or gets her feet trapped.
"I screamed when I saw the contact between the girl and the bus."
TfL are yet to respond to a request for comment from the Huffington Post UK, but a spokesperson told the Standard that it has asked the bus operator, Metroline, to launch an immediate investigation into the incident.
TfL's head of bus operations Tony Akers added: "We expect the highest standards from all our bus drivers."