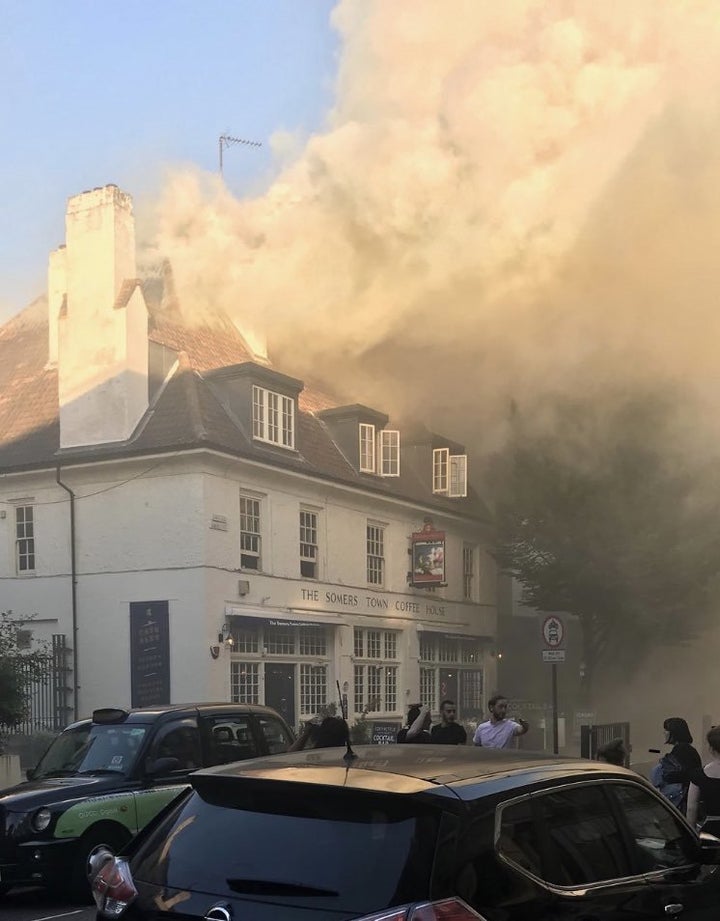 A massive fire broke out at a pub near Euston station in central London on Friday night.
Ten fire engines and 72 firefighters and officers were called to the fire at a pub in Chalton Street, Euston.
The fire is now under control, a statement for the London Fire Brigade said.
Images posted on social media showed a large amount of smoke billowing from Somers Town Coffee House.
The pub's customers were seen fleeing to safety as the fire took hold.
A spokeswomen for the London Fire Brigade said: "Half of the roof and part of the first floor are alight ... The cause of the fire is not known at this stage."
Station Manager Steve Chesson, who was at the scene, said: "The pub was open and in use at the time of the fire and a number of people left the building before the brigade arrived."
The brigade was called at just after 8pm. Fire crews from Soho, Islington, Kentish Town, Shoreditch, Paddington and surrounding fire stations are at the scene.
Corin Faife was in the pub watching a World Cup game when he noticed smoke.
He told BBC News: "Suddenly the fire alarm went off and a staff member told us to get out. The bar staff were running around making sure everybody got out.
"It was a pretty scary situation. We grabbed all of our things and ran out."
The London Ambulance Service were called to the scene by the Metropolitan Police..
A spokeswoman said: "Our first responders arrived to the scene within 10 minutes. We remain at the scene."
No casualties have been reported.