Eyewitness Samira Lamrani told HuffPost UK of seeing a frantic mother throw her baby from the ninth floor of the Grenfell Tower into the arms of a man waiting below.
She said: "There were screeches and somebody was gesturing that there was a lady at the window and as I looked up a lady was frantically gesturing and screaming, with her hands, from her body language, that she was about to throw the baby and she wrapped her baby in what seemed like a sheet or blanket and threw the young baby out of the window.
"A member of the public, a guy ran forward and just miraculously grabbed the baby at the right moment and then the shadow, I assume of the mother, went backwards and that was the last we saw.
"I'm not sure what the guy did with the baby but the baby was picked up safely."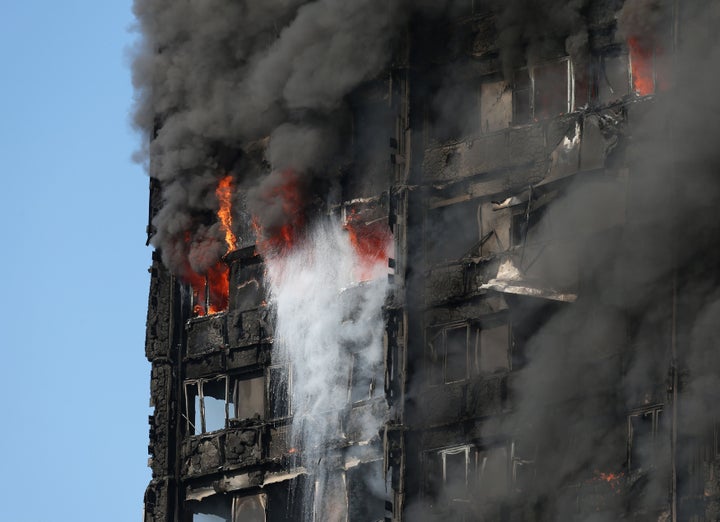 Another resident, named Zara, said she saw a woman throw her toddler son, aged around five-years-old, from a fifth or sixth floor window.
She told LBC radio: "One woman actually threw her son out of the window. I think he's OK. I think he might just have had some broken bones and bruises."
She added: "There was a another woman screaming 'my baby, my baby, I need to get out, I need to save my baby.'
"But we were just looking up. We couldn't do anything. There was nothing we could do."
There have also been reports of residents using bedsheets as makeshift ropes to lower themselves from the burning building.
Mickey told the BBC: "I've opened the door.. and there's neighbours all running down the stairs, there's firemen going 'get out the house', I ran back in, I've grabbed the little girl, put her under my dressing gown because that's all I had on, got my girlfriend up, ran outside and then looked up and it was ablaze, it was just an absolute nightmare, it was like something out of a horror movie."
He added that kind-hearted neighbours had brought him clothes and flip-flops to wear.
Another man told Channel 4 reporter Assed Baig he had heard the fire engines and walked into the hallway to see if the lifts were still moving, noticing smoke.
He continued: "I looked down the window from the 17 floor and I see the fire blazing and coming up really fast because of the cladding. The cladding was flammable and it just caught up like a match stick.
"I have an old auntie in her late 60s and so from the 17 floor we started, I woke her up and we started to come down the stairs, step by step, slowly by slowly.
"There was already smoke in the stairwell and it was difficult for her, you know she is an old woman. Eventually, when we were nearly down the bottom the smoke was getting stronger, you know, you're scared, you don't know if you can get out but then I saw a fireman come up so I knew there must be a way out so we kept going down. We came down… and came out of the building, one side of the building was now on fire, as in the cladding caught fire and spread straight up the building.
"But we got out. We lost everything. Everything. I got only what I'm wearing and my phone. That's it."
12 deaths have been confirmed and at least 74 people have been taken to five hospitals for treatment. Hundreds of residents in the 24-storey building were evacuated from their flats after the fire began just after 1.15am.