This year's winner of the women's London Marathon gave a life lesson in perseverance on Sunday after she hit her head in a nasty fall mid-way through the race before going on to complete the course in just under two hours and 23 minutes.
Jemima Sumgong held her head after a sharp impact with the road when she was tripped by Ethiopian Aselefech Mergia as they approached a water station.
Despite the injury, the 31-year-old Kenyan was able to join the leading group, claiming her first London title in two hours 22 minutes and 58 seconds.
Eliud Kipchoge, also from Kenya, retained the men's title.
Sumgong was widely-praised for her recovery.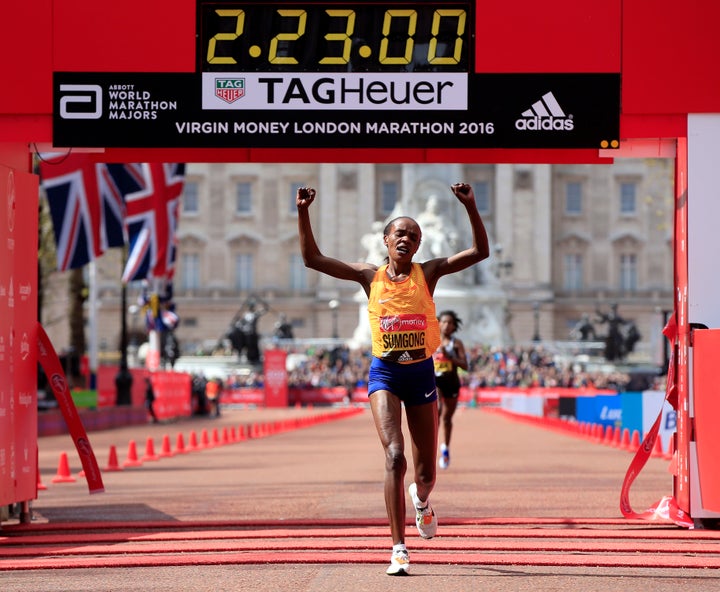 Kipchoge, 31, won in two hours, three minutes and four seconds - seven seconds short of the world record.
Marcel Hug of Switzerland won the men's wheelchair race ahead of Britain's Paralympic champion David Weir in third.
American Tatyana McFadden won the women's race for a fourth consecutive year.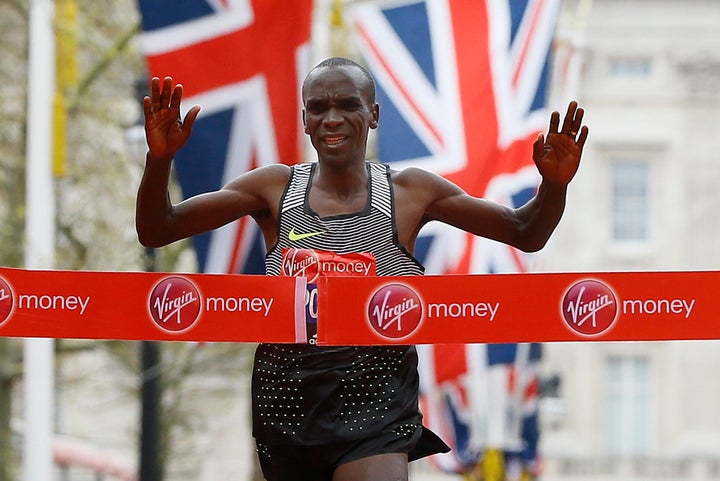 Thousands of people are taking part in the London marathon today following a countdown from space by astronaut and competitor Tim Peake.
The British spaceman, who is running while strapped to a treadmill at the International Space Station, sent his fellow runners a good luck video message before a 10-second countdown to start the 36th race.
Major Peake, who ran the 26.2-mile course in three hours, 18 minutes and 50 seconds on earth back in 1999, will see the roads pass under his feet in real time on an iPad.
In another milestone for the Virgin Money London Marathon, which more than 39,000 people are thought to have started, the one millionth competitor will cross the finish line on Sunday.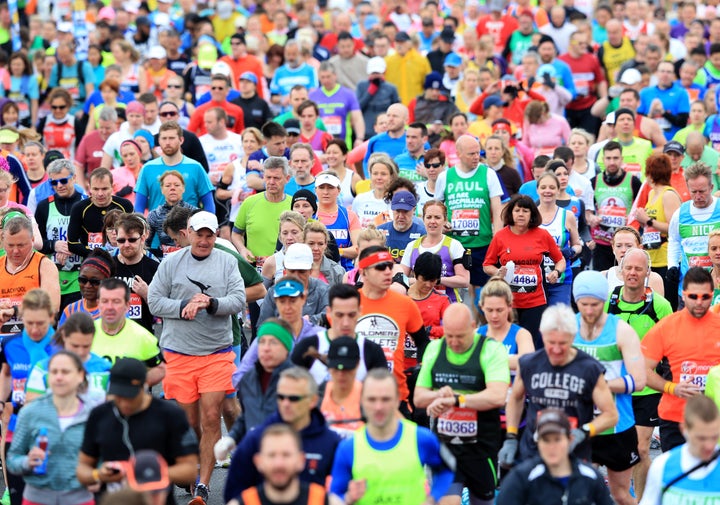 A host of celebrities are running for various good causes, including Game of Thrones star Natalie Dormer, whose chosen charity is the NSPCC, and Top Gear host Chris Evans, who is taking on the challenge for the second year in a row, raising money for Children in Need.
Double Olympic champion Dame Kelly Holmes is making her London Marathon debut as she aims to raise a quarter of a million pounds for a number of charities including one she founded to help disadvantaged young people.
There are 70 years between the oldest and youngest runners in this year's race.
Race veteran Iva Barr, 88, from Bedford, said the day feels "like being at the centre of a big street party". She will run her 20th London Marathon, raising money for disabled young people's charity Whizz-Kidz.
Rebecca Manners from Manningtree in Essex will celebrate her 18th birthday by running the route alongside her parents, in aid of VICTA, which supports blind and visually impaired children.
Prince Harry, patron of the London Marathon Charitable Trust, presented the winners' prizes.
The marathon's chosen charity for next year was announced on Sunday as competitors set off.
Heads Together, which will take over from the NSPCC, is made up of a team of mental health charities which have been brought together by The Royal Foundation of the Duke and Duchess of Cambridge and Prince Harry.