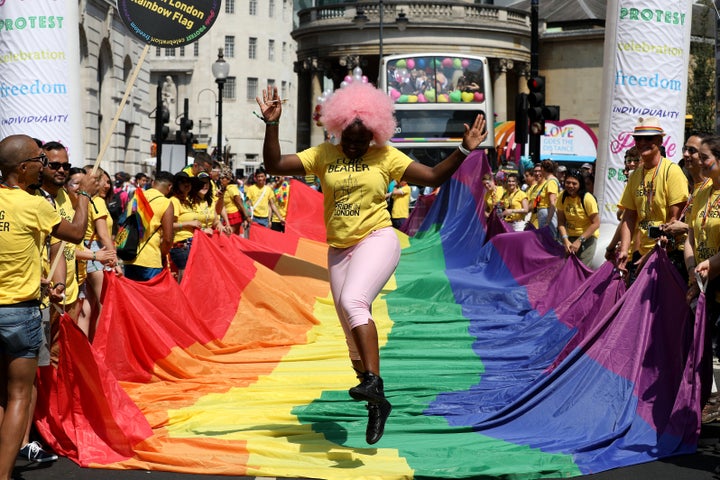 The 2019 Pride in London parade takes place on Saturday 6 July. It will be a glorious, rainbow-filled celebration of love and tolerance. If you have not been to the parade before, I highly recommend it. You might also catch a glimpse of me – with the Lib Dem contingent – as we dance, wave and sing our way from Regents Park to Whitehall.
This year's theme is 'Pride Jubilee', which marks fifty years since the start of the modern LGBT+ rights movement. The theme reminds us that, for all its vibrancy and joyfulness, Pride is also a protest, an opportunity to celebrate the activism and victories of the past but also to recognise the many injustices that the LGBT+ community face today. Sadly, the need for activism is still very real and very urgent. Even here in London.
I have long believed that London is the greatest city on earth, not least because of its liberal values.It is a city that proudly celebrates diversity and confidently embraces difference.From specialist bookshops to iconic bars and clubs, London is world-renowned for its LGBT+ culture and nightlife. For the most part, it is a capital where we can all live our lives, in the way we chose to live them without fear of judgement or recrimination.
But "for the most part" is not good enough. Unfortunately, hate crime has been on the rise in past years and the capital has seen its share of particularly nasty incidents. The shocking, bloodied image of two women on a London bus who were physically attacked because they would not kiss on demand for a group of men will be all too familiar to many of us. This incident generated copious headlines and sparked numerous conversations about the persistence of both misogynistic and homophobic abuse in our city. And according to recent police data, transgender hate crimes have seen a particularly steep increase, with 235 offences recorded by the Met Police in 2018-19 compared to 173 the previous year.
In addition, just a few days ago, another London LGBT+ venue announced its imminent closure. Southwark's XXL club has been issued with an eviction order to make way for a new development of flats, offices and shops. This is the latest in a series of closures of gay clubs and venues in the capital. Despite a pledge from the current mayor to protect LGBT+ venues, according to research by University College London, the number of gay clubs in London has fallen from 125 in 2006 to just 53 in 2017. With hate crime on the rise, it is more important than ever that all communities have safe spaces where they can socialise. It is extremely disappointing, therefore, to see that things are actually moving in the opposite direction.
The Liberal Democrats have a proud history of championing and progressing LGBT rights. We were the first party to openly oppose Section 28, Margaret Thatcher's controversial amendment to the Local Government Act which prohibited the promotion of homosexuality in 2003. In 2013, the Same Sex Marriage Act was introduced because of the hard work of our MP Lynne Featherstone and it has allowed thousands of same-sex couples to get married. Today, we are the fighting to ensure that trans rights are treated as human rights and that transition is made easier for people when that is what they have chosen to do.
This is all good but in a world where old prejudices are regaining mainstream support and hard-won freedoms are being undermined all of us can, and must, do more to defend and further progress LGBT+ rights.
Last month, I was pleased to support the launch of the "Ask for Clive" campaign in Camden. The campaign sees bars, pubs and other venues become spaces where discrimination or harassment of any kind will not be tolerated and where staff are trained to take action against these incidents. I will also be attending the first Black Pride UK in Hackney on Sunday 7 July. This event recognises that some people are dealing with multiple challenges, which can make it even harder for them to find their voice and safe spaces. As the mayoral candidate I will oppose bigotry, call out public leaders who want to row back on the progress we have made and protect LGBT+ spaces across the capital.
So when I do march on Saturday, beneath the glitter and the glamour of the parade, I will be marching for the kind of future that I want for London. A future without hate crime. A future where everyone always feel safe to be their authentic self. A future where all love really is treated equally.
Siobhan Benita is the Lib Dem candidate for London mayor