Thursday saw the Lionesses bag their place in the Fifa World Cup semi-finals with a 3-0 win against Norway in Le Havre.
Overnight, the names of female footballers were lodged in the nation's consciousness, while space on national newspaper front pages was gamely snatched from Brexit and would-be PMs.
If you were one of the 7.6million watching the game on the telly, you might not know that on the other side was one of the most popular TV shows of the summer, Love Island. A totally different game was being played out there, and other names, other female role models, were also claiming the headspace of a nation – albeit these role models showed aspirations and achievements starkly different to their pitch-based sisters.
Jill Scott's unexpectedly early first goal, Ellen White's skilful second, and then Lucy Bronze's screamer – all demonstrating the team's ever-improving style in this tournament – were rivalling the popularity of the drama surrounding whether or not Molly-Mae is playing a game in her relationship with Tommy. But there are compelling reasons for hoping that as women's football gains in popularity, these footballers may one day take decisive precedence as popular heroes over the reality TV show contestants.
Prowess in sport has long been an index of value in our society. When women are performing well, especially in a traditional male bastion like football, sexist attitudes are temporarily scuppered. When female footballers are demonstrating top technical ability and athleticism, no-one can say women are naturally inferior to men. The pitch leads the way, and what happens on those fields of dreams – be they in Wembley, Lyon or down the local park – affects our lives way beyond the terraces.
With each of their three goals the Lionesses led audiences to think of women and men, boys and girls, in more equal terms. But switch channel and you'd have hurtled backwards in the fight for equality to a point where women were good for one thing only.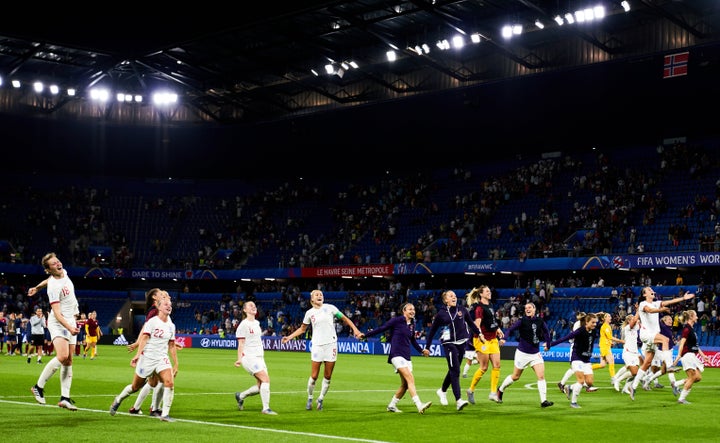 Light entertainment it may be, but Love Island continues to paint a picture of a society where women are seen as decorative and deserving of love only if they are buff, bronzed and perfect enough (perfection being defined in the most conformist of ways). No Fifa trophies to be won here – finding a partner is the name of the game, and physical attractiveness the dubious 'skill' needed to do it.
Say you had a teenage daughter. Say she was at an age where her mind soaks up everything she sees and she's looking for examples of how to behave as a human being, how to live, what to say, what to do, how on earth to navigate this great big world and carve her path in it. Which role models would you have her choose? The powerful dynamic women on the pitch, working in a team, being assertive and strong, overcoming injuries and knocks with resilience, staying level in the face of disaster and triumph, naturally caring more about their goals than how they look? Or the bikini-clad women of Love Island, actively encouraged to gossip about each other, and debating endlessly what the others' think of them and who fancies whom.
I won't roar my answer. There is no contest.
I'd much rather her share in the uncontoured, unretouched joy of the heroes of the pitch than the questionable authenticity of the islanders.
Our Lionesses, and their opponents, need our support as much as our children need their example.
Against a backdrop of inequality – from the hashtags of #TimesUp and #MeToo to the fact that the best female footballer in the world Ada Hegerberg refuses to play in this World Cup due to a "lack of respect for female footballers" from "men in suits", we need to direct our attention consciously.
Ditch the fake tan envy, and the hollow relationships of a narcissistic viewing culture promoted by Love Island, for a far more beautiful game. Women's football has within it the power to help end gender inequality and discrimination in society, if only we'll afford it the attention it deserves.