A woman who found a bouquet of flowers and heartwarming note at her local bus stop has told of how the random act of kindness has 'made her year'.
Ruth Clark, 26, who lives in Hackney, was en route to work when she spotted a bunch of flowers resting on the seat of her local bus stop with a note attached.
It transpired that the flowers had been left by a stranger who simply wanted to brighten someone else's day - and it seems those flowers were destined to find Ruth, who just months before had been involved in a serious bike accident metres away from the stop.
"This act of kindness was particularly important and touching as it brought back a lot of memories of the kindness strangers demonstrated in that moment on the same street just a few months ago," Ruth told HuffPost UK.
"My recovery took a couple of months, but the kindness people showed me that afternoon helped me stay positive."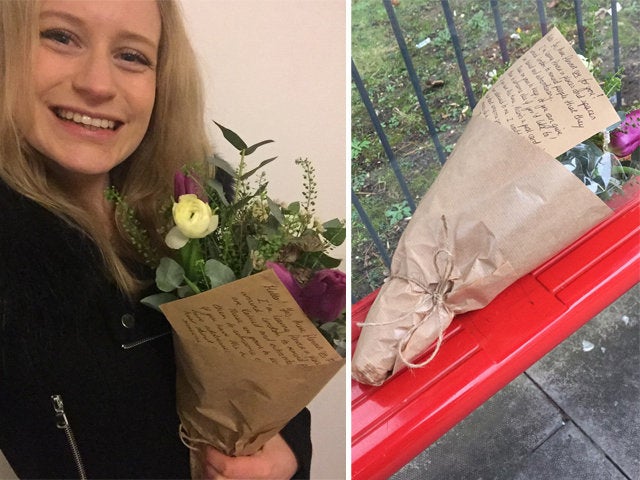 Ruth explained that her cycling accident had happened just a few metres away on Southgate Road in summer 2017. At the time, more than a dozen passersby and strangers had rushed to her aid.
"For almost an hour, five or six total strangers stayed with me until the ambulance arrived," the fundraising and engagement manager at charity Wonder Foundation recalled.
"While I was lying on the road, covered in blood and bruises, and suffering broken bones, they were all looking after me. One person even ran home to grab blankets and pillows to keep me warm, another gave up his yoga mat for me to lie on. One woman, Camila, came with me to the hospital and stayed with me again for almost an hour until my sister arrived.
"For my family back home in Scotland, and my friends, it was reassuring for them to know that so many strangers came to help."
The memories of that day came flooding back when Ruth discovered the beautiful bunch of flowers. Weirdly, on the day she found the flowers she was meant to cycle into work as part of her New Year's resolution, however she felt tired so decided to get the bus instead.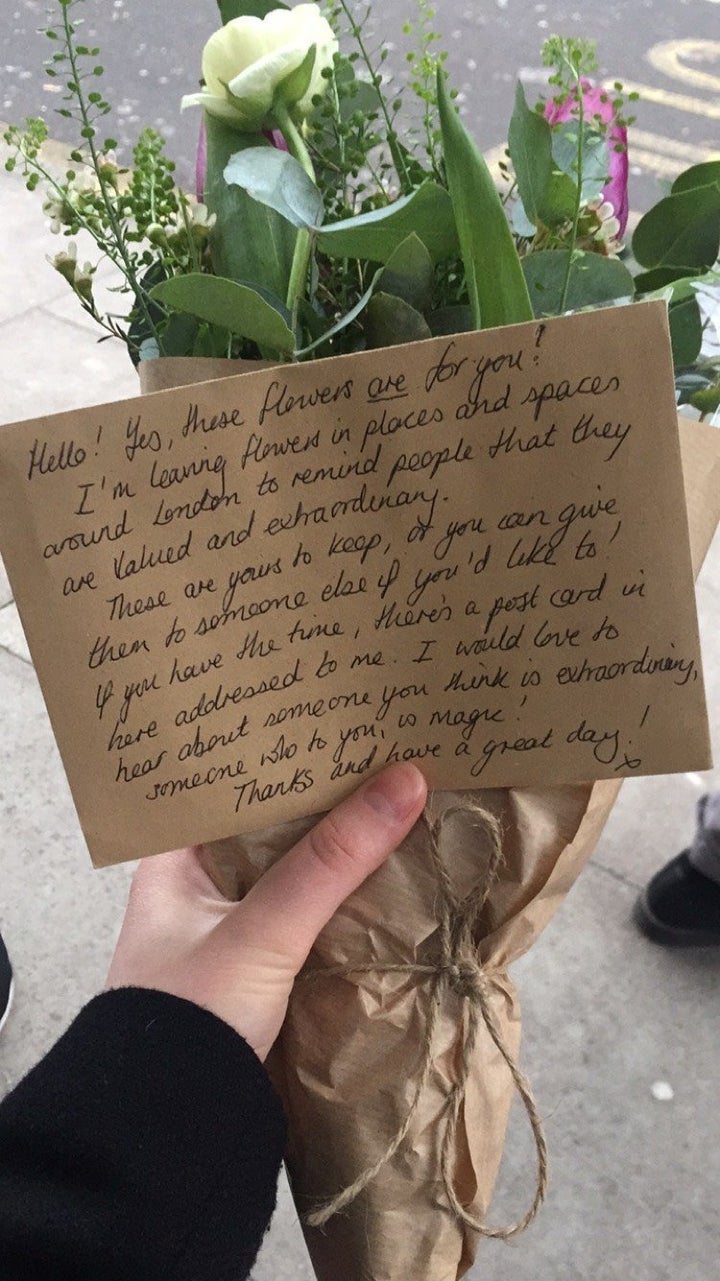 The note attached to the flowers reads: "Hello! Yes, these flowers are for you! I'm leaving flowers in places and spaces around London to remind people that they are value and extraordinary.
"These are yours to keep, or you can give them to someone else if you'd like to! If you have the time, there's a postcard in here addressed to me. I would love to hear about someone you think is extraordinary, someone who to you, is magic. Thanks and have a great day!"
When Ruth read the card, she couldn't help but smile and felt compelled to share the random act of kindness on social media.
"It's such a sweet and thoughtful thing for someone to do," she explained. "And such beautiful flowers too! When I picked them up I felt a bit guilty, perhaps a bit selfish for wanting to take them.
"But I haven't stopped smiling since. I shared the picture with friends and family to spread the love, and then shared on Twitter as it was too nice not to share with the world."
Ruth is now trying to track down the person who left the flowers. "I'd love to know what inspired them to leave the flowers," she mused. "The note says they were leaving them across London so they've obviously put a lot of time, thought and effort into these gestures."
As per the note's instructions, Ruth has written back to the anonymous gift-giver detailing the extraordinary people in her life. The act prompted her to message loved ones and reach out and make plans with old friends.
She added: "I've been inspired to keep on being kind and I hope it inspires others to do the same, or at the very least be a little reminder for people in need of some positivity that there are people ready to show compassion and kindness, even if you don't know them yet."
Everyone hates January. The post-Christmas comedown hits us hard, especially with 2017 being such a tough year. Kindness 31 is our antidote to that. Every day we'll share a good news story about someone (or a group of people) and their act of kindness or how they helped others. If you want to get involved, email ukblogteam@huffpost.com. Alternatively if you'd like to nominate someone to be featured, fill in this form.