'Love Island' is heating up and while romance in the sun has fast become the nation's guilty pleasure, there's one thing missing from the action: sunscreen.
On the show, sponsored by Superdrug, viewers sometimes see bottles from the store in the background of shots, but we rarely see contestants apply any.
A spokesperson from the show told HuffPost UK contestants regularly top up their sun protection off screen, but health experts have urged them to do so in front of viewers, to avoid "glamourising" tanning.
Others have warned "there's no safe way of spending long periods out in strong sun in the middle of the day", sending the clear message: "you don't need to sunbathe."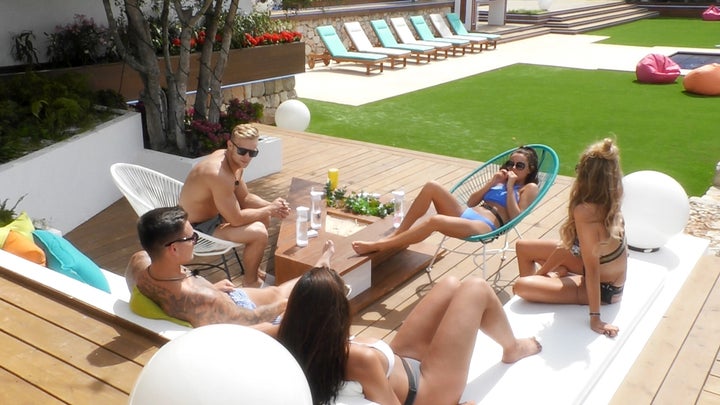 Medics at the online pharmacy Chemist Direct were among the first to question the potential health risks of islander life.
They pointed out that some of the contestants will have spent almost nine weeks "basking in the sun", with nearly seven weeks in the villa and two weeks abroad before filming started.
"Although exposure to sunlight is vital for vitamin D synthesis, it is always recommended that we limit direct exposure to the sun and UV radiation, as longer durations of sun exposure can lead to skin cancer," a spokesperson said.
"While having a glowing tan may help them to attract a partner and stay in the show until the final, it's a potentially dangerous commitment to love."
Commenting on the show, Nikki Smith, senior health information officer at Cancer Research UK, added that there's "no safe way of spending long periods out in strong sun in the middle of the day for most people and those with fair skin are particularly at risk".
"Too much UV from the sun or sunbeds causes most cases of skin cancer, as well as leading to premature ageing. While everyone needs some sun for vitamin D, most of us get enough from a short period of time spent outside. You don't need to sunbathe," she told HuffPost UK.
"You shouldn't just rely on sunscreen when the sun is strong because it's not as effective at protecting the skin as shade and clothing. Whether you're at home or abroad, kit yourselves out with wide-brimmed hats, sunglasses and long-sleeved t-shirts and spend time in the shade in the middle of the day. For the parts of your body you can't cover up, use sunscreen with at least SPF15 and four or five stars and apply it generously and reapply regularly."
In response to the concerns, a spokesperson from 'Love Island' told HuffPost that all islanders are offered "over 11 different varieties of sunscreen, including factor 50".
They added that there are 230 bottles of suncream in the villa and said the islanders frequently sit in the shaded areas of the garden, such as the daybeds.
They also pointed out that there is a parasol up during meal times and confirmed that contestants "regularly apply and reapply suncream throughout the day, particularly before challenges".
Despite this, Lisa Bickerstaffe, a spokesperson from the British Skin Foundation, has called for greater transparency over protection measures taken by the islanders to send a clear message to viewers at home.
"It's important that TV shows make an effort to show contestants taking sun protection steps to avoid glamourising tanning or sunburn, especially to younger audiences," she said.
"It's essential when sitting out in the sunshine for long periods that adequate steps are taken to protect the skin from harmful UV rays.
"High factor sunscreen should be reapplied at least every two hours and teamed with protective hats, clothing and sunglasses. If these steps are not taken, it can lead to painful sunburn and an increased risk of skin cancer in later life."