Millions of people around the world are gearing up for Lunar New Year – also known as Chinese New Year or Spring Festival. This year's celebrations begin in on Friday, February 12 and will last for 15 days. For some, it will be the only time they see family all year. For others, lockdown restrictions and social distancing measures will mean it's going to feel quite different – and very much quieter.
This is not just a Chinese celebration. Lunar New Year is marked in many other regions and countries that use the lunar calendar or have large Chinese or Chinese-speaking populations – including Malaysia, Myanmar, Vietnam, Korea, Thailand, Cambodia, Singapore, and the Philippines – as well as Chinese communities in almost every other country in the world.
Normally, it's a big family get together where food and tradition both play their part. Falling so early in the coronavirus crisis, Lunar New Year 2020 already felt a more muted affair, especially amid rising levels of hate crime against the East and South-East Asian (ESEA) community, which have escalated this past year.
In 2021, the UK's ongoing lockdown limits the chance to visit relatives even close to home. Making matters trickier, many of the ESEA diaspora who might normally fly back to see family on the other side of the world are watching other countries fare better in their Covid recovery than we are here in the UK.
Despite this, people are still finding ways to celebrate this huge annual holiday and make it a special time. Here's how they are ringing in the Year of the Ox.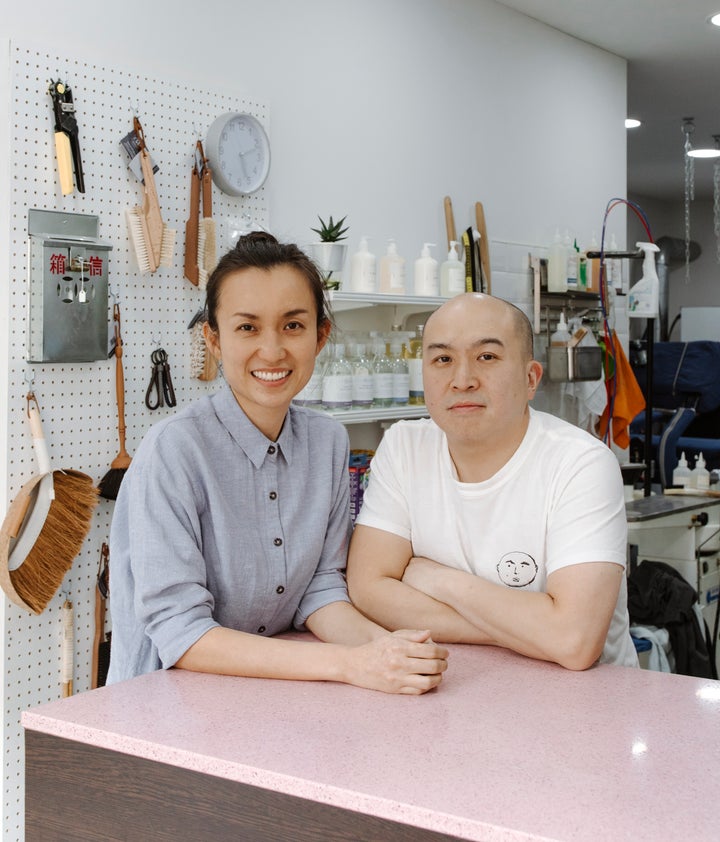 The husband-wife team behind cult east London dry cleaners The Steam Room are celebrating Lunar New Year a little differently this year – using their space to host a 'Year of the Ox' showcase for two weeks during the holiday.
In collaboration with artist Mildred Cheng of Don't Call Me Oriental, they will be nodding to their Chinese heritage and combining their love of art and food to feature more than 30 artists and artisan food makers from the UK's ESEA community to raise money for Hackney Chinese Community Services.
Owner Tony Chung tells HuffPost UK that he and wife Fran have been planning the showcase since London was placed in Tier 3 restrictions in December.
"It's been difficult trying to figure out logistics amid all the changing government rule," he says. "We weren't going to go ahead with it originally, as we don't want to encourage people to gather during the current climate, but felt we needed to bring some joy to people's lives – it'll be a strict one-in,-one-out policy."
The Steam Room is a family affair in more ways than one. Prior to being a dry cleaner's, the shop housed a Chinese takeaway that Chung's father opened in the 1970s. "He's retired now, but when we took over, we revamped the space," says his son. "My wife and I have always tried to be really proud of our roots and heritage. In this difficult time, we wanted to try to support young artists and creators, using our event space to shine a light on others and those that have had a similar upbringing. Why not celebrate that?"
As well as filling the space with curated crafts and treats, the couple have made a powerful window display for passers by to see. "Initially the idea was to just have a window display of ESEA artists' work. The idea snowballed and we wanted to make this a bigger opportunity," Chung explains.
"Before long, we had an abundance of artists, artisan food producers, bakers, poets, jewellery makers, and photographers, all wanting to be a part of this little project of ours. Through this, I've found such a big community, a sense of belonging, and hoping that others will feel a little less lonely and homesick."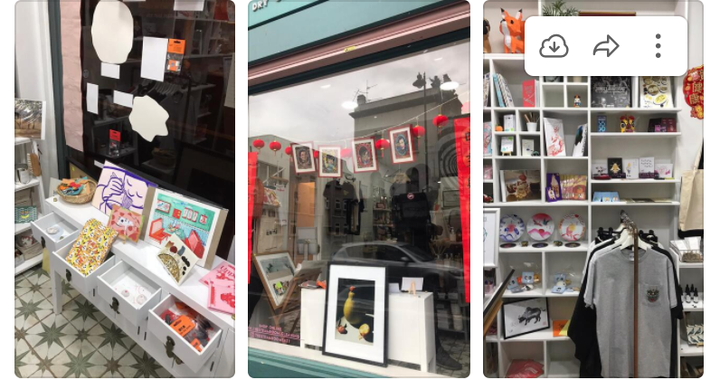 Author and environmental historian, Jessica Lee, 34, says she is treating Lunar New Year the same as most years, as an opportunity to try new recipes and cook a giant bubbling vat of hotpot – even if just for her and her husband.
"I'll prep a few trays of veggies and meat for the hotpot, as well as rice cakes, noodles, and probably some egg dumplings, even though they're very fiddly to make," says Lee. "I really love doing hot pot for special occasions because while it takes a little bit of prep to make it look nice, everyone does their own cooking! It feels more communal, celebratory, and hopeful somehow. I'm not sure how much of that we can replicate without a crowd."
Hosting a big Lunar New Year dinner and cooking hot pot is a family tradition that Lee has kept up on her own. Despite being far away from her friends and family in Canada and Taiwan, it's a way for her to connect with her culture.
"Not having big Lunar New Year celebrations this year feels like a blow. I've been really sad about it, to be honest. I always make up for that distance by hosting a huge dinner," she says. "I'll keep in close touch with friends and family online, but it's hard to lose the in-person celebration."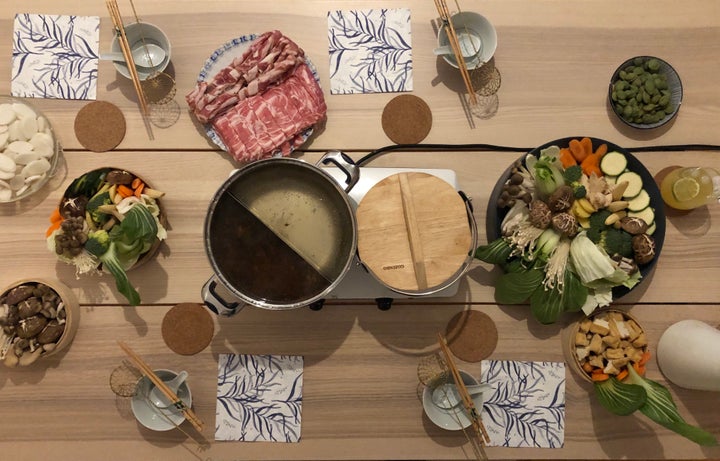 Emily Wong, 32, who is also missing out on meeting family, will be trying out some new recipes on her own. "I'm planning on making homemade wontons and dumplings for the first time, so that'll be interesting," says the PR account director from south-east London.
"Lunar New Year is all about attempting foods you wouldn't try on a day-to-day basis, given how special the holiday is," she explains. "I'd like to take the time in the same way my dad usually does in preparing, creating, and cooking food for us all – the age-old story of love and hearty meals in Cantonese families."
Like all major Chinese holidays, New Year is usually about seeing family and playing a friendly game of mahjong, and both are amiss this year, she adds.
"Just being able to spend time with parents and family when the opportunities to see each other are less with each passing year is significant. So it will feel fairly 'empty' this year," Wong says. "Last year celebrations weren't as large scale for a lot of family back home in Hong Kong due to the ongoing political crises, but it'll still be lovely to be able to 'forget' for a few days, have family and friends come together virtually, and celebrate one of our biggest festivals."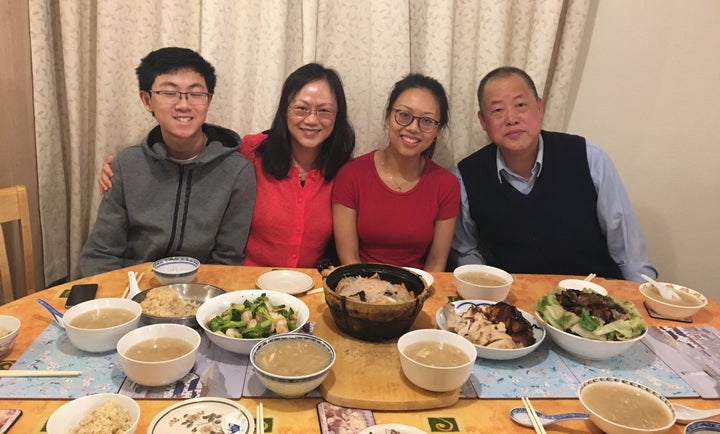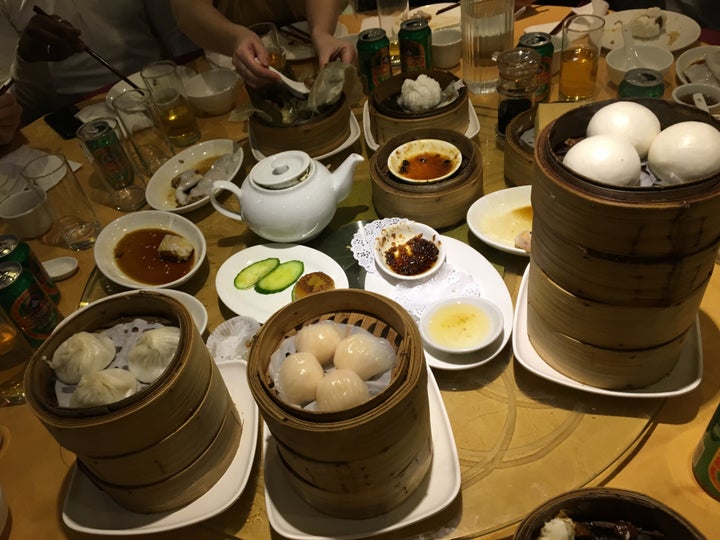 Julia Allen, 60, from Berkshire, feels the same. It's hard to be celebratory this year due to the lockdown, she says, but in an attempt to feel more festive, she's been baking and cooking traditional Lunar New Year treats to post to family.
"There are only going to be three of us compared to previous years when we have had as many as 20 people over for dinner," she says of her scaled-down plans. "We'll probably have a FaceTime with the family so that we can have a chat and a laugh together. I feel it's important to carry out the traditions as much as you can, otherwise the days will merge into one big grey lump."
Allen's husband is British and she is Singaporean-Chinese. "When we married 35 years ago and had children we made sure that we celebrated both Christmas and Lunar New Year so our children are aware of both cultures and heritage," she says, adding, "the most important thing is to stay healthy as there is always another time to celebrate or be together."
John Li, owner of Chinese street food stall, Dumpling Shack, is trying to keep spirits high by paying homage to his Hakka Chinese roots and offering hungry Londoners Poon Choi, a special dish traditionally eaten on Lunar New Year.
"In our ancestral village in Sai Kung in Hong Kong, all my village relatives would gather round to eat Poon Choi (several dishes served in one pot). Given the lockdown situation and knowing people wouldn't be able to enjoy the usual festivities we thought we'd try to bring it their homes," he explains.
"Obviously, Lunar New Year has to be much more low key this year. I'm British-born Chinese and I love my Christmasses but this time of year means the most to me in terms of annual festivals. It's the time where I feel most connected to my family and my roots. It's these traditions that keep us grounded and are the foundations of who we are."
Elsewhere, other East and South-East Asian restaurants such as Bun House, Rice Guys, Sambal Shiok, Mei Mei are going big on celebrations with Lunar New Year set menus, meal kits and special offers for takeaway and delivery. Meanwhile, Cantonese restaurant group Royal China is selling limited Year of the Ox food boxes to raise money for students in need of financial support.
"This is our first time doing a Lunar New Year fundraising event for students," Wai Kwan Lam, chief executive of the dim sum specialist, tells HuffPost UK. "We contributed to Wuhan hospitals this time last year when Covid-19 started in China. Our staff there worked endlessly to provide free meals for front line workers. This time around, we want to support and help students in hardship."
All proceeds will be donated to Goldsmiths University students for emergency groceries, mental health support and housing. So far, more than 500 boxes have been sold, raising more than £5000.
"We should openly do more things for society to express the feeling in our heart that we should support those in need," Lam adds. "We want to celebrate being Chinese, of being able to understand – and be in – this auspicious culture. And we want non-Chinese to understand our traditional culture, too, through food."