We know we haven't even had the August bank holiday yet but we're already getting excited about Christmas.
And it's not because we want an excuse to drink Baileys before lunchtime, it's because for the first time ever Lush has launched a 24-day advent calendar.
Last year the high-street bath bomb connoisseurs rolled out their first foray into seasonal calendars but only for 12 days.
This year we'll be kept busy all month with vegan and cruelty-free products to make sure we smell like our best (s)elves when Father Christmas arrives. The products are stored in a reusable chest made from recycled materials.
These aren't mini products either, behind each window is a full-sized Lush product including five retro products and even more limited edition goodies. You will be spoiled for choice (but might want to clean out the bathroom cupboards in preparation).
There is a catch: not only do they cost a hefty £195 (you could buy a lot of Dairy Milk calendars for that) it is limited edition so only 500 lucky people will be able to get their festive paws on one.
Suzie Hackney, Lush creative direction, said: "The drawers make this design really functional but you still have the traditional way of opening an advent – hunting for the number and having the excitement of revealing a new product every day."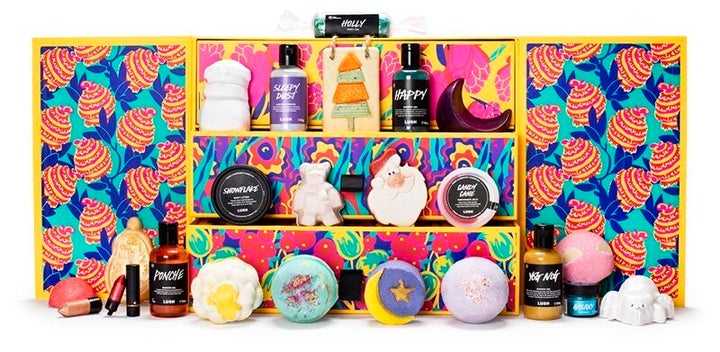 So, which products are included? (Warning, spoiler alert!)
Polar Bear Plunge Bath Bomb, Happy Shower Gel Fairytale Sugar Scrub, Night Bloom Soap, Snowflake Body Lotion, Golden Pear Glow stick, Midnight Massage Bar, Candy Cane Tooth, Jelly Sleepy Dust, Dusting Powder, Jingle Spells Bath Bomb.
As well as Galaxy Lip Scrub, Ponche Shower Gel, Red Lipstick & Sundry Pop Art bath bomb, Warm Sock Bath Melt, Butterbear Soap, Yog Nog Shower Gel, Snowman Dreaming Bath Bomb, Rudolph's Nose Shower Bomb, Christmas Eve Bubble Bar, Retro Tree Bath Melt, Santa's Grotto Bath Bomb, and Holly Fun Santa's Bubble Wand.
We all work hard to earn our money – so it shouldn't feel like hard work to spend it well. At HuffPost Finds we'll help you find the best stuff that deserves your cash, from the ultimate lipstick to a durable iron to replace the one that broke (RIP). All our choices are completely independent but we may earn a small commission if you click a link and make a purchase.