Every time I get in the shower, I think about turtles. And seals. And other types of marine life. Standing under the hot water each morning, I can't wash away the guilt of being surrounded by plastic bottles.
One for my shampoo, another for conditioner, a shower gel and a face wash, and then there's my boyfriend's shampoo and his shower gel – six bottles, on a constant cycle of being used up, recycled and replaced by more plastic.
I try to do my bit for the environment. I've got a reusable bottle, a flask for my coffee, I no longer ask for straws at the bar when I'm wearing lipstick and I carry tote bags for my shopping. But when it comes to showering, the plastic habit is seemingly harder to kick.
So I decided to try Lush's packaging-free shampoo and conditioner bar for a fortnight to see how they compare to my regular stuff and whether they are worth the price.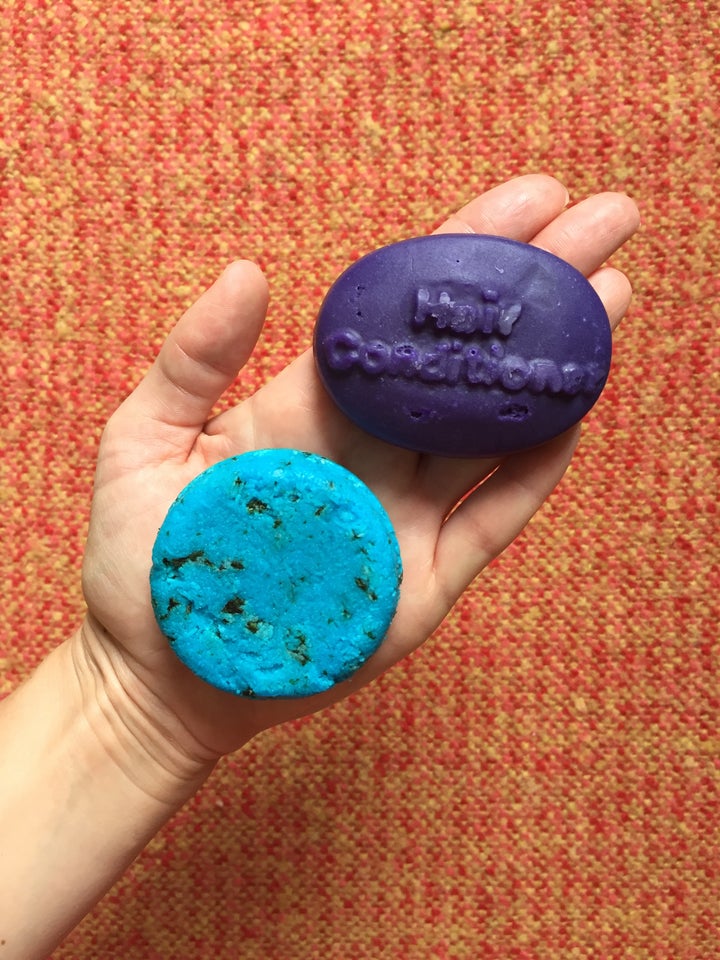 The issue is, these shampoo bars don't come cheap at almost £15 for the pair. I have no idea how long they'll last, if they'll actually work or make my hair look atrocious. When I can pick up a shampoo and conditioner at the supermarket for a few quid, it's quite a leap of faith – no matter how good that leap is for the environment.
I've got quite fine hair, so I get the Seanik shampoo bar (£7.50 for 55g), which is supposed to be good for volume and shine, and the Sugar Daddy-O solid conditioner (£6.95 for 45g) – I wince at the name, but it's supposed to be good for lighter hair tones. Both products are also vegan, which is a double win for the environment.
First Impressions...
The shampoo, which is made of lemon, sea salt and seaweed, smells sharp, yet refreshing – a perfect pick-me-up for a terrible morning person like myself – meanwhile, the conditioner smells of luxurious bergamot, which I adore.
I really like the tiny reusable tins, which are available at an extra cost (£2.50 for the round tin and £2.95 for the oval tin). These are useful not only for travelling (so I don't have to worry about those bastard 100ml containers, which are the bane of my budget airline life), but also because I can take them to the gym with me (when I actually end up going, that is).
On my first shower I'm unsure whether this little shampoo bar will actually get soapy enough. So I spend about 30 seconds massaging it between my hands, and soon learn – with my head comically covered in suds – that the bar is a perfect hair washing companion.
What's on my head is the equivalent of a palm full of regular shampoo. Portion control is clearly still something I need to master and not just at meal times. I feel wasteful at my previous habits, but impressed at how much soap this tiny bar has produced. I later read on Lush's website that each shampoo bar can give 80-100 washes, so I resolve to try using less in future.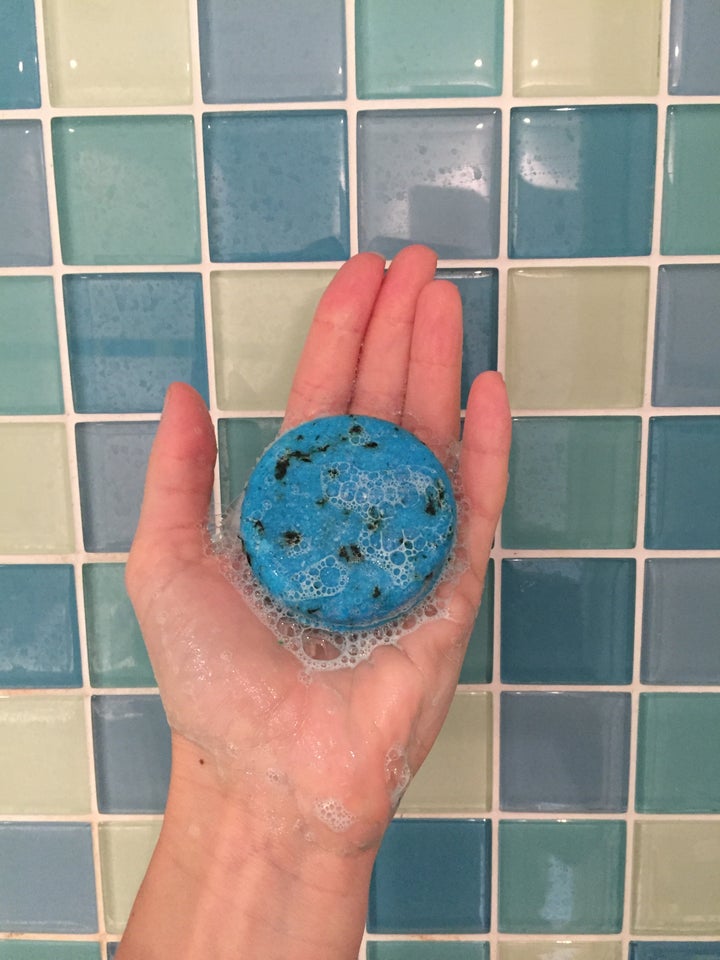 The conditioner is a little harder to master. Because it doesn't lather up, it's hard to know if I have enough. I gather my hair on the left side of my head in a kind of makeshift pony tail and rub the conditioner bar along the ends. Once it feels like there is silky smooth feeling, I put the bar down and rub the excess conditioner from the ends, over the rest of my hair.
I'm nervous when drying my hair for the first time, I'm half expecting a head full of knots – but my hair looks exactly the same as usual, which is more of a relief than an anti-climax.
One Week In...
The bars don't really look so pretty anymore. The shampoo bar gets stuck in the tin and I have to dig my finger into it and drag it out – it now looks like I've taken a bite out of it. The conditioner is still in its shape, although much smaller. I feel like I'm going to need to replace it sooner than I'd like.
I'm finding it harder and harder to open the tins when I'm in the shower. Often I get under the water, struggle with the tin, have to get out and dry my hands on a towel to open them. Not a problem if you remember to open the tins first, but not ideal to have to jump out of the shower like I do because I'm forgetful.
And I still haven't mastered how to use the conditioner bar. I'm constantly putting it down, then having to pick it up again to add more to make my hair feel silky. This just adds to my shower time.
My hair feels pretty much the same. When I try to scrimp on the conditioner, I can feel it in my hair – it's more brittle and harder to brush. So I decide not to be such a cheap skate and use enough to get the effect I'd like, rather than worry about how long the product is going to last.
A Fortnight In...
I left the shampoo tin open by accident after showering, which means the bar has kind of melted, leaving a liquid shampoo under a top solid layer. I'm currently washing my hair using tiny portions of this gel. It works the same, but I'm worried if I drop the tin, it'll all seep out.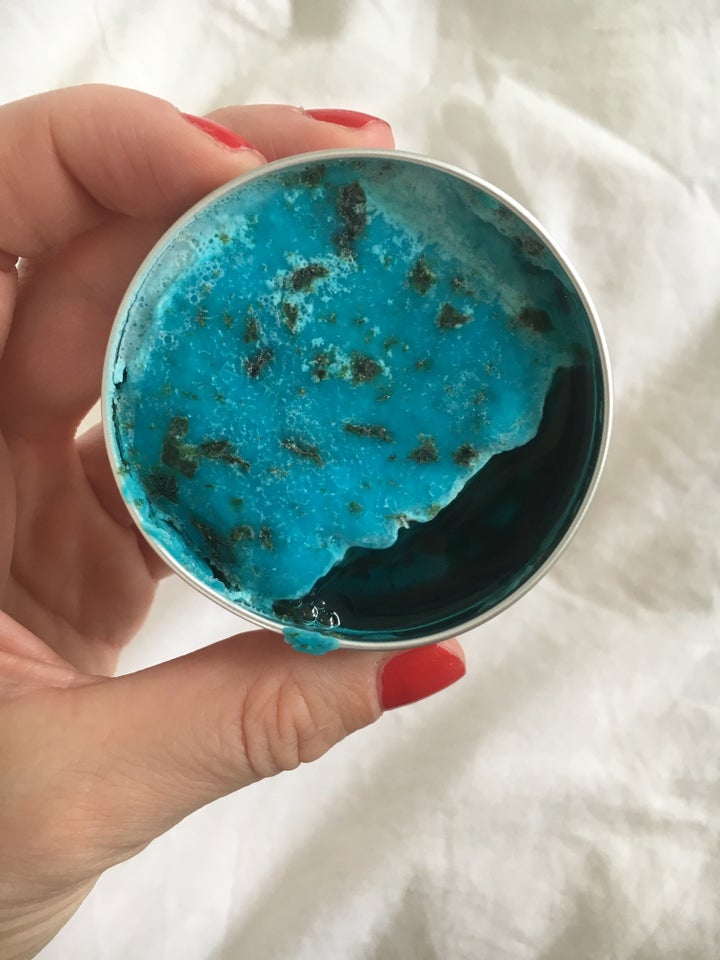 The conditioner bar has not fared so well either. It's broken into two large pieces, which are harder to use, and I keep finding little bits of purple soap on the shower floor – I feel like I'm watching money go down the drain.
Conclusion...
I was pleasantly surprised with how effective the bars are. I honestly didn't think they would come close to my regular shampoo and conditioner and that maybe this was the reason we don't use shampoo bars more widely. I'm pleased to see my hair looks and feels exactly as it does using my usual shampoo and conditioner.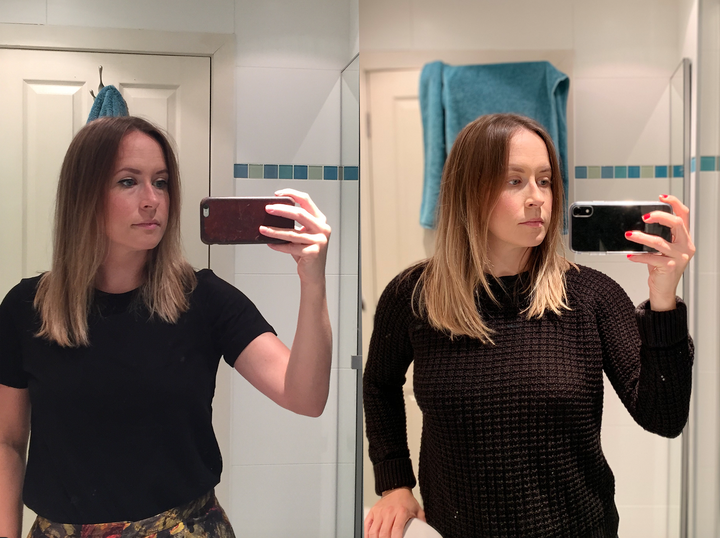 The main issue for me is the price. Once you add in the tins for travelling or just for storage, you're looking at £20 for a shampoo and conditioner – which is way out of most people's price range. Granted, once you buy the tins they are yours for life, so more of an upfront cost than a regular one.
I'd assumed the products would last much longer, given they cost so much more than regular shampoo. The Lush website claims one shampoo bar will "do the job of three 250g bottles of liquid shampoo", but two weeks in and I'm not quite sure I believe the hype. I'm certain the conditioner won't even last the month – I only wash my hair every other day and in one fortnight it's already in pieces.
If I had to choose between the two, I think the shampoo bar is better than the conditioner and I'd definitely make the switch to using one permanently. My hair would look exactly the same and my conscience would be lighter, but then so would my wallet.
Update: I was really thrilled to hear from lots of readers about their experience using these products. Lots of you shared great tips on how to store shampoo and conditioner bars to make them last longer. One suggested using a soap dish rather than travel tins, while another stores hers by the window, both options reportedly allow the bars to dry out fully and therefore last longer.
We all work hard to earn our money – so it shouldn't feel like hard work to spend it well. At HuffPost Finds we'll help you find the best stuff that deserves your cash, from the ultimate lipstick to a durable iron to replace the one that broke (RIP). All our choices are completely independent but we may earn a small commission if you click a link and make a purchase.