Say what you like about Madonna, but she always delivers when it comes to live performances.
Even when confronted with obstacles (or a very stubborn cape), you can always rely on the Queen of Pop to give it her all when it comes to her live routines, and that's been showcased at an innumerable amount of awards shows throughout her decades-spanning career in music.
We've delved into the pop vaults in honour of her 60th birthday, and ranked our 10 favourite performances from past awards shows...

10. Grammys 2006 - 'Feel Good Inc'/'Hung Up'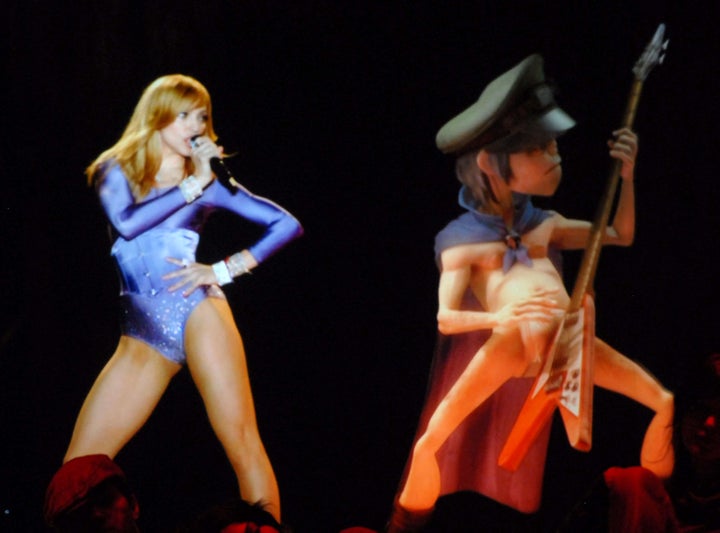 Over the years, Madonna has collaborated with huge names from the world of music, from Prince and Kanye West to Taylor Swift and Ariana Grande, but we didn't anticipate this live performance with Gorillaz at the 2006 Grammys, which opened the show that year.
Appearing first in hologram form to flirt with "frontman" 2-D, Madonna then gave a predictably show-stopping live version of 'Hung Up', complete with full choreo, Farrah Fawcett hair and a purple leotard.
9. Academy Awards 1991 - 'Sooner Or Later'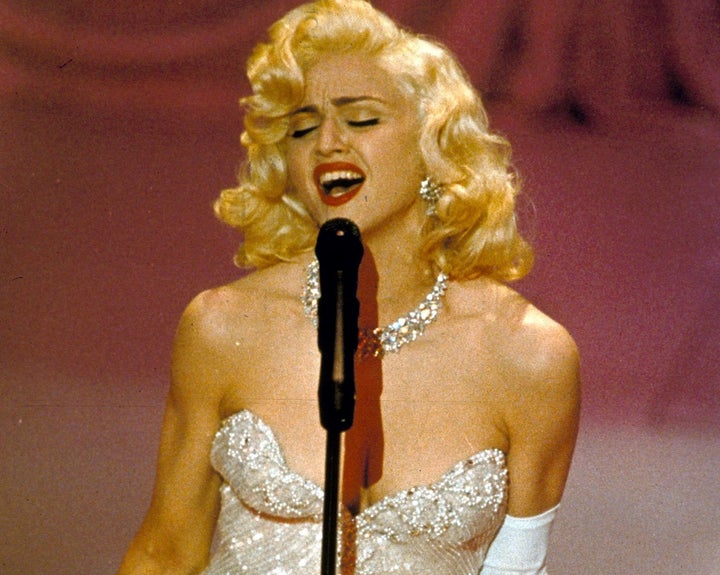 For her first time at the Oscars, Madonna pulled out all the stops, paying tribute to her idol in full Marilyn Monroe garb, while performing the sultry 'Sooner Or Later' (with Michael Jackson as her date for the evening, no less).
While it's not as vocally impressive as her eventual return to the Academy Awards six years later (which we'll get to in a minute), this is still a lot of fun, and proves Madonna is no one-trick pony when it comes to performance.
8. Grammys 2014 - 'Same Love'/'Open Your Heart'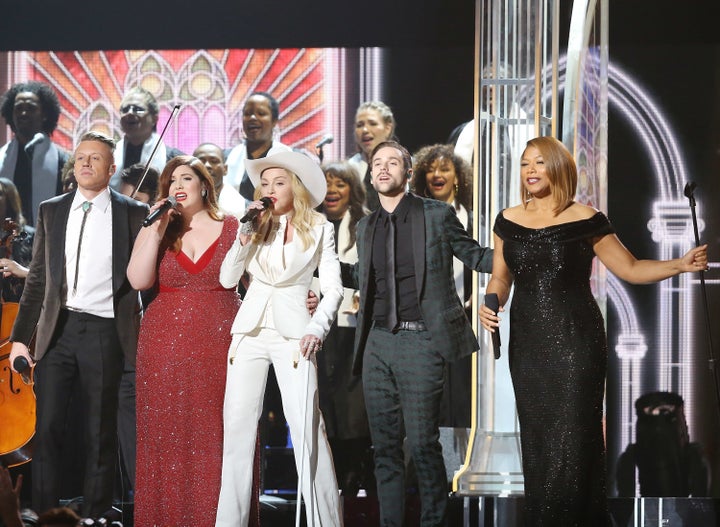 Macklemore's live performance of his song decrying homophobia and calling for equal marriage (which became US law in 2015) became the venue of varying genders and sexualities at the 2014 Grammys, officiated by Queen Latifah.
As the newly-married couples standing in the aisles embraced, Madonna arrived to perform an emotional chorus of 'Open Your Heart', before completing the final moments of 'Same Love' with Macklemore and Mary Lewis.
7. MTV Video Music Awards 1984 - 'Like A Virgin'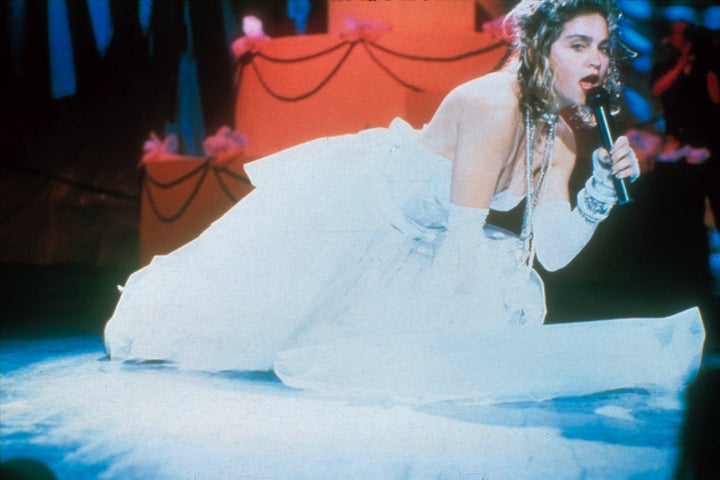 This performance borders on tame when you put it in a modern context, but this live rendition of 'Like A Virgin' caused a massive stir back in 1984, the first of what would be an entire career's worth of controversies for Madonna.
'Like A Virgin' at the very first VMAs was the moment that truly put Madonna on the map as both an artist and provocateur, at which point it was clear she was only just getting started...
6. Academy Awards 1997 - 'You Must Love Me'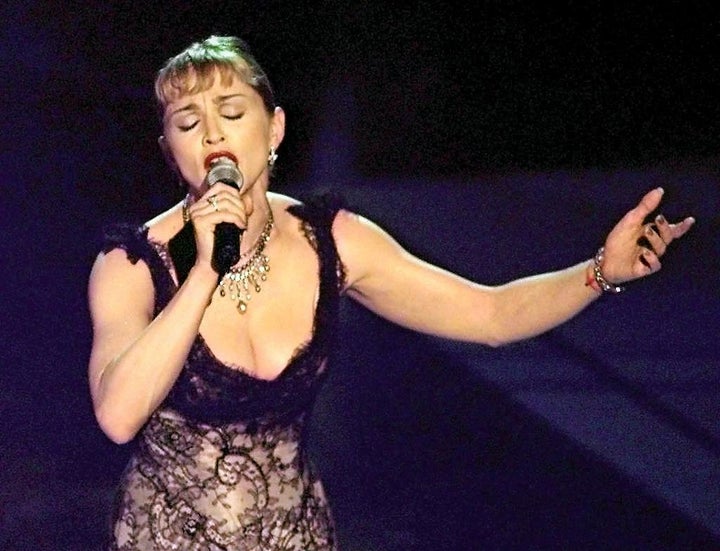 Madonna's second Oscars performance was even more important than her first because this time around - as Billy Crystal noted in his introduction - she had something to prove, having been widely tipped to be nominated for Best Actress, but ultimately missing out.
'You Must Love Me' at the Academy Awards was Madonna at her most stripped back, both in terms of arrangement and staging, and while she's not known for her power vocals, her delivery in this performance is truly stunning, particularly from the second verse onwards.
5. Grammys 1999 - 'Nothing Really Matters'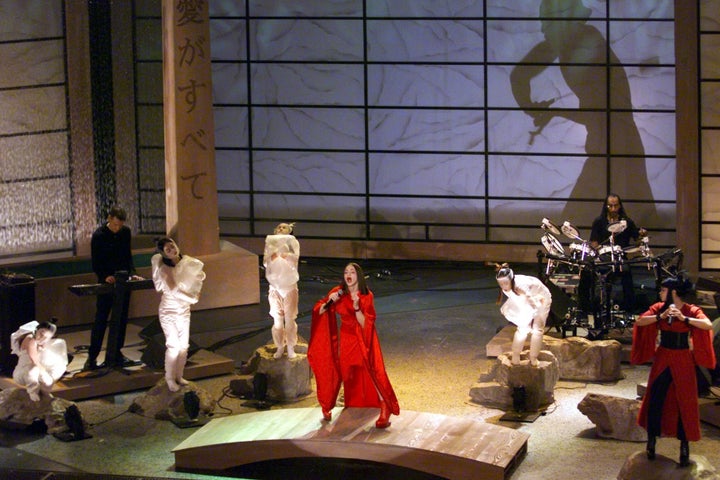 Madonna had, of course, reinvented herself plenty of times before the late 1990s, but her 'Ray Of Light' era was one that nobody saw coming.
This performance came towards the end of the 'Ray Of Light' album campaign, and while 'You Must Love Me' at the Oscars was Madonna at her most stripped back, here she is at her most elaborate, in full geisha attire, serving choreo, surrounded by backing dancers, extras holding clear bags of water and yes, even a guest performer doing fire-twirling. And doesn't she sound great, too?
4. MTV Europe Music Awards 2005 - 'Hung Up'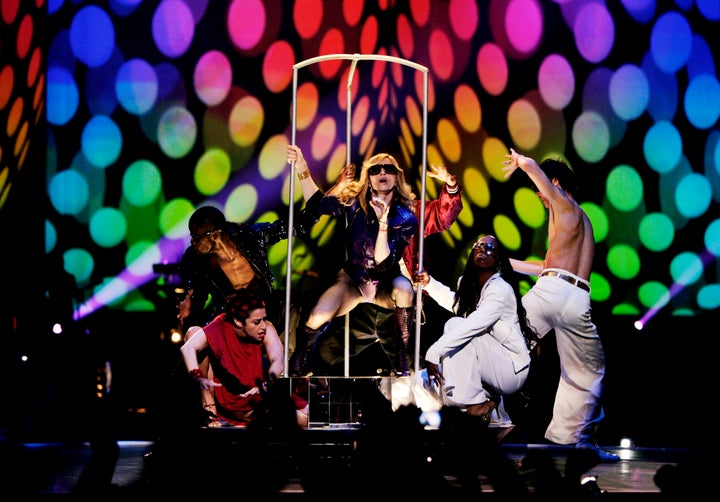 Let's face it, Madonna is always at her strongest when she's got a point to prove, and after a shaky few years following the negative reception to a lot of her 'American Life' album, 'Hung Up' was a return to form and the disco music fans had come to expect from her.
This performance isn't too dissimilar to the Gorillaz collaboration we discussed earlier, other than the woman herself seeming noticeably more determined to nail it, and nail it she does, proving that when Madonna gets it right, no one can touch her.
3. Brit Awards 2015 - 'Living For Love'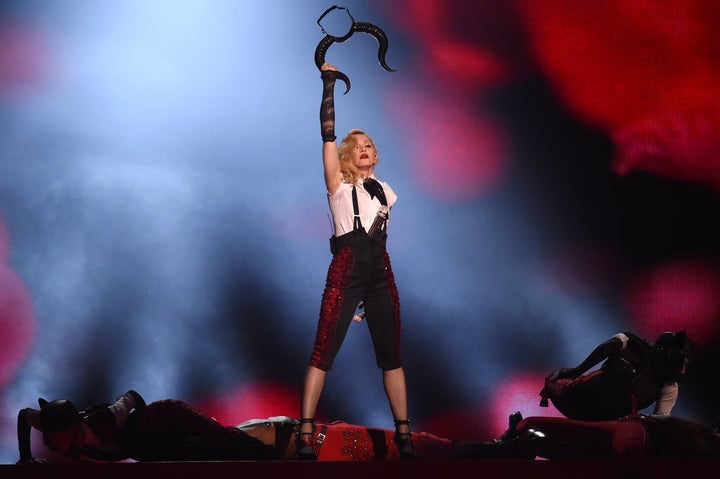 And speaking of Madonna having a point to prove…
Madonna fell over when she was performing 'Living For Love' at the Brit Awards in 2015, and quite a few people noticed, so you could potentially argue that it was a performance that didn't go well.
But what was even more remarkable than the fall itself, was the fact that Madonna picked herself up, plastered a smile on her face and got to the end of the performance, live on TV, which wouldn't have been easy for anyone, but particularly someone whose entire public persona is that of an infallible perfectionist.
Each time we watch this video, we obviously cringe at the relevant moment, but also never fail to be impressed with the way Madonna soldiers on, no matter how difficult that must have been for her.
2.
MTV Video Music Awards 2003 - 'Like A Virgin' / 'Hollywood' / 'Work It'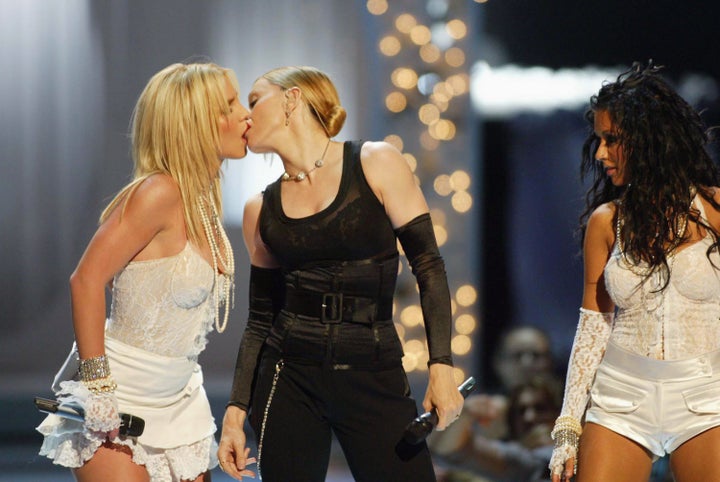 By 2003, there had been some conversation about whether younger counterparts Britney Spears and Christina Aguilera were starting to threaten Madonna's place on the pop throne, so what better way to remind everyone who is the true queen than having the two of them arrive on stage dressed in one of her earliest incarnations, only for them to wind up serving as backing singers while she performs her new single?
Oh, and she wasn't going to let them get away without a little kiss, was she?
1. MTV Video Music Awards 1990 - 'Vogue'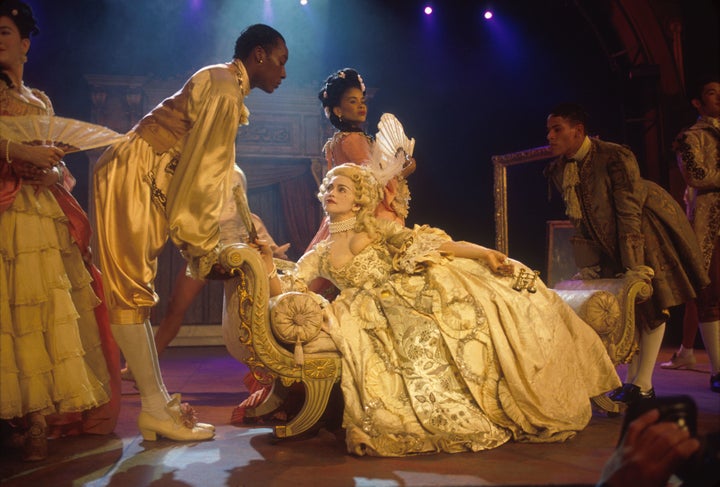 Because when your performance is this flawless, you don't even need a microphone to pretend to sing into.
Seriously, whoever came up with the idea of setting this performance in Marie Antoinette's parlour is a literal genius, and Madonna is totally at the top of her game here, giving off unrivalled stage presence and star power. An icon. How could we have possibly not put this at number one?
Watch the performance in full below: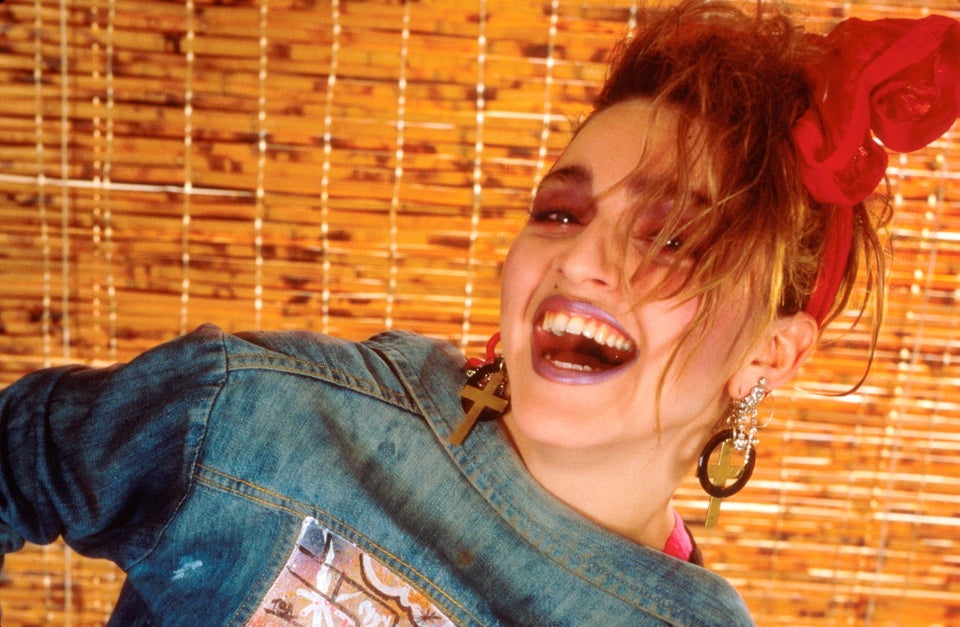 Madonna's Most Memorable Looks