Male beauty bloggers and vloggers in the UK are a rising force to be reckoned with - collaborating with some of the biggest brands, fronting foundation campaigns and racking up millions of fans.
As the New York Times put it, 'beauty boys' the world over are giving the cosmetics industry a much-needed makeover, smashing down the illusion that makeup is simply a fix for women's flaws.
As part of our Building Modern Men project, The Huffington Post UK spoke to three of Britain's top men's beauty vloggers who revealed in their own words what makeup means to them, and why it really is for everyone.
As a man that wears makeup I feel like I'm constantly being stared at. I feel like I am constantly trying to be shoved into one gender, constantly being told how to act as a man and that 'makeup is only for women'.
Makeup is an outlet for my creativity, a way to show my mood. I see makeup as art, my paintbrush is my makeup brush and my paint is my makeup palettes.
I'm so bored of having to 'act like a man' to fit in with this generation. I'm hoping by raising my voice and others doing the same will end this out of date stigma and end the gender divide.
There's a huge gap in the market for men promoting products. We need to be putting more men on billboards, adverts and campaigns to end the stigma and bring more male customers to brands.
If you want to wear makeup, just do it. You have to think, if others see you out in makeup then they'll find the confidence to do it too, so be a trendsetter and find your sparkle.
Stand out and be yourself. Be an inspiration. Power through the hate.
After my L'Oréal campaign came out, so many young men messaged and emailed me to say it made them feel more confident. Even guys from Nigeria, where in some areas it's illegal to be gay, were telling me that I've inspired them to wear more bold makeup looks.
So many men wear makeup, it doesn't matter about their sexual orientation. In the era of the selfie and social media, everybody wants to be polished or just the best version of themselves they can be.
The days are gone where guys would sneak into Boots and steal a foundation without testing it on their face. You can go to MAC or Urban Decay and have a private consultation, or look at mens' beauty tutorials on Instagram or YouTube.
Makeup is like throwing on a pair of cute skinny jeans to me. I don't wear makeup for attention, even though people do stare at me sometimes. It's how I express myself and it's a part of me, like a second skin.
Just because you see someone wearing full coverage or a strong brow, it doesn't mean you have to. Its all about how you feel! I get stares and both good and bad comments all the time, I just hold my head up high and slay!
Virtually every man you love and adore on TV is partial to a touch of bronzer because it makes them look well and they want to look their best. So, why can't us ordinary folk do the same as the Hollywood hunks?
Makeup enables me to feel like the very best possible version of myself, it allows me to create a perfect skin day, everyday. Makeup gives me the confidence to walk down the street with my head held high. Makeup has changed my life!
I think raising awareness is key, that's why I started the #MakeupIsGenderless social media campaign. I think we'll look back in 5 years and say 'I can't believe that was ever even an issue!'.
If you're experimenting with makeup for the first time: be brave, lead by example, be you, and be happy. Don't be bound by ancient stereotypes no longer relevant in today's society.
Be part of creating a world where future generations can grow up freely and be who they want to be without feeling as though they should act or behave a certain way based solely on their gender.
HuffPost UK is running a month-long focus around men to highlight the pressures they face around identity and to raise awareness of the epidemic of suicide. To address some of the issues at hand, Building Modern Men presents a snapshot of life for men, the difficulty in expressing emotion, the challenges of speaking out, as well as kick starting conversations around male body image, LGBT identity, male friendship and mental health.
To blog for Building Modern Men, email ukblogteam@huffingtonpost.com. If you would like to read our features focused around men, click here.
Before You Go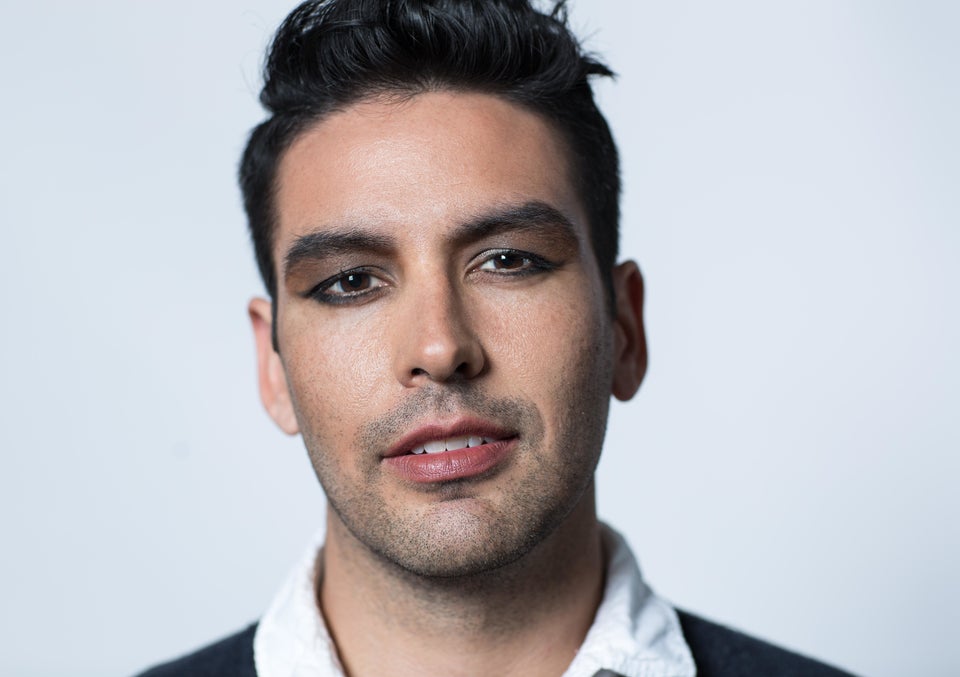 Makeup On Men