Hundreds of lorry drivers have been left stranded and without adequate toilet and washing facilities as crisis talks with France continue in an effort to restore trade flows across the Channel.
As of 6am on Tuesday, nearly 900 trucks were parked in Kent at the government's huge overspill park at Manston Airfield. By Tuesday evening this had increased to 2,200 with 632 held on the M20.
Some drivers have spent a second night sleeping in their cabs and while some have been able to obtain hotel rooms in the area, hundreds more cannot.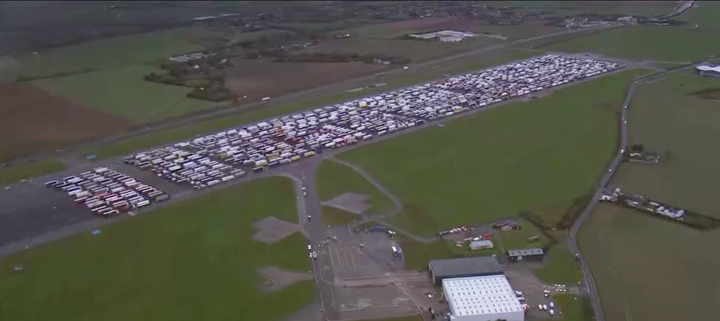 Ronald Schroeder, 52, from Hamburg, Germany, who was turned back from Dover on Sunday night, said the "social situation" for drivers is worsening due to a lack of toilet and washing facilities.
He told the PA news agency: "I am now staying in a hotel, but in front of the hotel there are thousands of people without any rooms waiting to come over the Channel crossing.
"I feel a little bit like Robinson Crusoe on an island."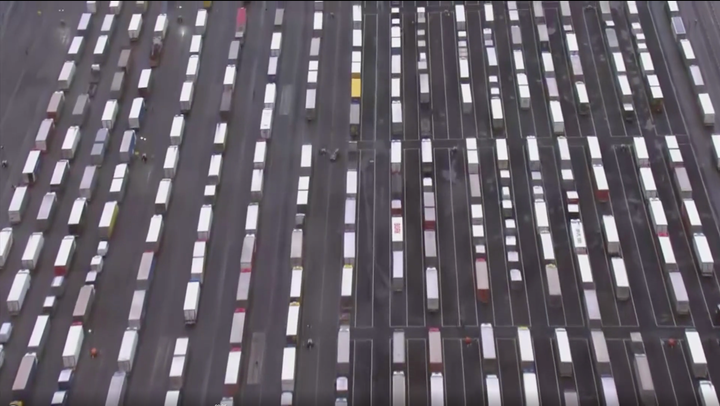 Ian Wright, chief executive of the Food and Drink Federation (FDF), has told MPs he believes at least 4,000 trucks could be impacted by the French travel ban and subsequent blockage at the port of Dover.
"I don't think the number of trucks in the queue or other areas is the relevant number," he told the business, energy and industrial strategy select committee.
"We reckon about 4,000 on their way to Dover at various points."
A Kent County Council spokesperson said the M20 motorway remains closed coastbound from Junction 7 while "Operation Stack" continues to manage the thousands of lorries.
Schroeder added: "The problems of the drivers who are not already in hotels is huge – in my hotel three buses are renting just one room to have a toilet and a shower.
"The social situation becomes more and more worse every hour.
"The public toilets should be open here right now, there should be someone to hand tea or coffee to the drivers, there should be more help for all the people who have been stranded."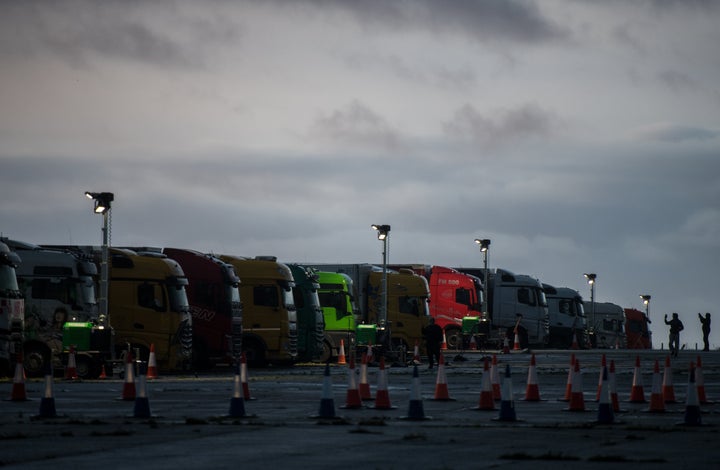 On Tuesday morning, Andrew Opie, director of food and sustainability at the British Retail Consortium, said the "borders really need to be running pretty much freely from tomorrow" or supplies of fresh produce like "salad, vegetables, fresh fruit" won't reach shelves in time.
"The problem actually is empty lorries, so the empty lorries which are now stuck in Kent, they need to get back to places like Spain to pick up the [next] consignment of raspberries and strawberries and they need to get back within the next day or so otherwise we will see disruption," he told the BBC Radio 4's Today programme.
"As long as it can be cleared today there'll be minimal impact for consumers – remember the shops are shut on Christmas Day which takes one day of buying out of the equation, but those lorries that are stuck in Kent, they do need to get back within the next day."
Supermarket giant Sainsbury's warned that disruption in Kent could hit supplies of lettuce, some salad leaves, cauliflowers, broccoli and citrus fruit, all of which are imported from mainland Europe in the winter.
A spokesperson for the Port of Dover said: "Nothing has changed, the port is still closed, we are waiting to hear any updates."