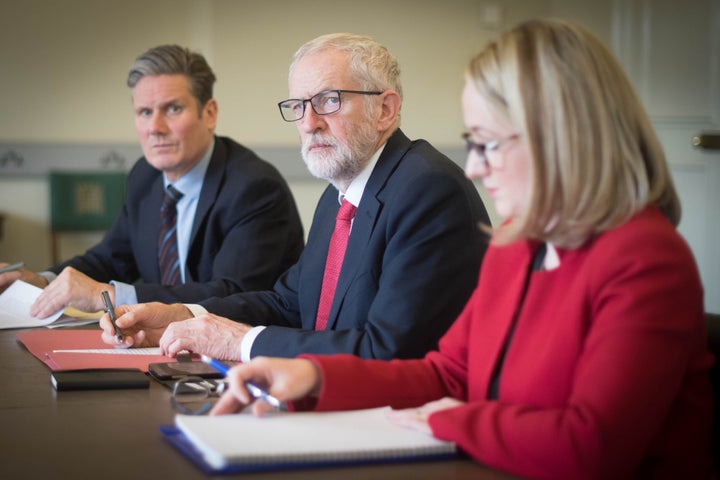 Theresa May is expected to offer Jeremy Corbyn a new parliamentary veto over a hard Brexit after he warned cross-party talks were heading nowhere if she stuck to her "red lines", sources have claimed.
Ministers are due to meet Shadow Brexit Secretary Keir Starmer and others on Labour's team on Tuesday in a fresh effort to break the Commons deadlock over the UK's exit from the EU.
Just one day before May is due to plead with Brussels for more time to sort out the Brexit impasse, the government and opposition will resume formal talks that broke off last week with no concrete agreement.
Key to the shift in position by No.10 is a willingness to find a "lock" that would prevent a future Tory leader - such as Boris Johnson or Dominic Raab - from tearing up any deal passed by parliament in coming weeks, senior sources told HuffPost UK.
One solution is to meet Corbyn's demand that the future 'political declaration' between the UK and EU is enshrined in British law, just as much as any "divorce deal" or withdrawal agreement. However, other "imaginative" solutions are also being discussed in parallel.
Corbyn is pressing May to insist on a "confirmatory ballot" on her deal, a plan that won widespread backing at the weekly meeting of the Parliamentary Labour Party (PLP) on Monday night.
Meanwhile, a meeting of the 'One Nation' group of Tory MPs in the Commons heard that ministers were prepared to consider a new 'customs arrangement' to get Labour on board.
The government's own European Union Withdrawal Agreement Bill has yet to be published, but it is possible that a separate EU Political Declaration Bill could be drafted to offer MPs reassurance on any future trade plans.
Earlier, Corbyn said in an interview that while he was content for more talks to take place, May had so far refused to budge.
"The problem is that the Government doesn't seem to be moving off the original red lines," he said.
"I've put the case forward for a customs union with the European Union, for market access and particularly for protection for consumers, the environment and those in work and those have to be dynamic and guaranteed in the future, So far we haven't had those undertakings."
Corbyn added that while it was "interesting" that ministers had indicated they were willing to reconsider elements of the political declaration on the future relationship with the EU, "they haven't said in what way".
So-called 'technical talks' re-opened between officials on the two sides on Monday night. Lines of communication have been kept open over the weekend despite an apparent failure to agree concrete changes on Friday.
A Downing Street spokesman confirmed ministers would take part in fresh talks in Whitehall.
"We are committed to finding a way through in order to ensure we can leave the EU and deliver on the referendum," he said.
"That will require the parties to work at pace in order to address outstanding issues – and so Ministers and their shadow counterparts will be holding talks tomorrow [Tuesday]."
During the PLP meeting, several MPs who had previously been ambiguous about a second referendum said that it could offer new clarity to both Leave and Remain voters.
Ipswich MP Sandy Martin said voters from all sides in his constituency now wanted more certainty, while Sheffield MP Clive Betts said that a 'confirmatory' referendum was the only way forward.
Crucially, Starmer warned the PLP that 180 Tories are ready to vote on Tuesday against a motion to delay Brexit to avoid no-deal.
Earlier, Theresa May told some Cabinet ministers that a 'preferential' system of votes could be tabled to force MPs to narrow their options to get a majority on Brexit, from a customs union to a second referendum.
Under one proposal, a free vote could be offered by the government, the Daily Telegraph reports. But the concession is being offered only because chief whip Julian Smith believes there are not enough MPs to back the move.