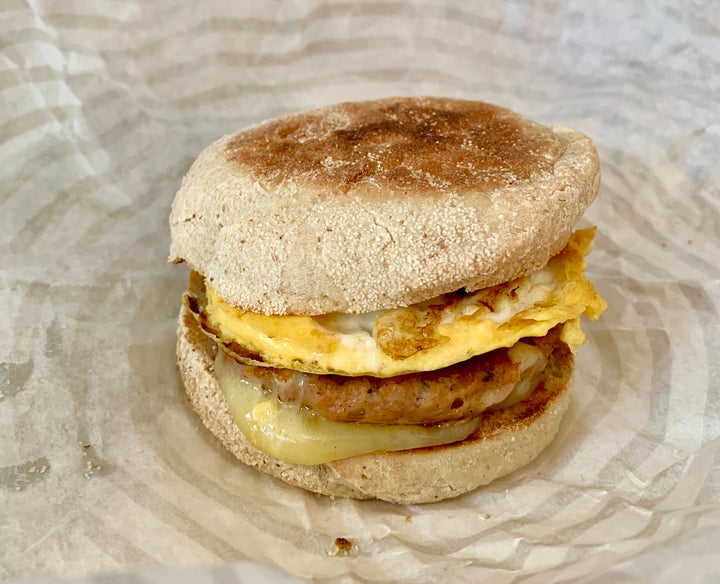 There are very few breakfast items that belong in the god-tier category (you know what we're talking about, right? The best of the bunch). Avocado toast? Mid-tier. Full English? Depending on how hungover you are, it can range from shit to top tier. Mcdonald's Egg McMuffin? Flawless. God tier, for sure.
McDonald's has been trialling reopenings for the past month, with a limited menu and just 42 restaurants in the country offering breakfast. While a reduced breakfast menu is back this week – including the sausage and egg muffin – people have been missing their fix. Including me.
So, I decided to put matters into my own hands and have a go at recreating the chain's best-selling breakfast item – with a plant-based twist. How does a veggie McMuffin – dubbed the 'McBluffin' – compare to the iconic original?
The term 'McBluffin' was coined by the people over at Meatless Farm – it's basically a meat-free version of the breakfast muffin. After all, a third of Brits say they've been eating more plant-based food in lockdown.
"Now, more than ever, people are aware of the food they're eating," Morten Toft Bech, founder of Meatless Farm says. "The McBluffin is a cheeky twist on an iconic favourite that really shows how flavour-packed plant-based food can be, we hope people are 'lovin' it' too!"
The plant-based 'sausage' patty is made from pea protein, then loaded with herbs and spices such as sage, nutmeg, coriander, white pepper and onion powder. Meatless Farm sent me some sausages to create a patty, and I bought egg, muffin, and cheese to make my very own McBluffin. Here's how it went.
"The McBluffin is a cheeky twist on an iconic favourite."
I toast the muffin on the pan with a little bit of butter to crisp it up. I don't have a ring circle to create the circular-shaped egg (as the recipe below suggests), so I slice an onion in half horizontally, and push one of the rings out to crack the egg in. Top tip: you can peel the onion off, or leave it on for an onion-y taste.
You have to squish the meatless sausages in a patty shape, then fry, which isn't too difficult. Next, I stack up the muffin – bread, cheese, patty, egg, bread – and dig straight in. First impressions, pretty good. The patty gives the illusion of eating 'sausage' with the herby flavours – but at times it's a little overpowering to overcompensate.
Texturally, it's spot on and I can't tell the difference. The protein patty is juicy and stayed together beautifully without crumbling everywhere.
However, it's missing that vital grease and stodge, which gives the McMuffin its iconic status. This version feels a little too 'clean' and is lacking that certain j'en ai se quoi charm.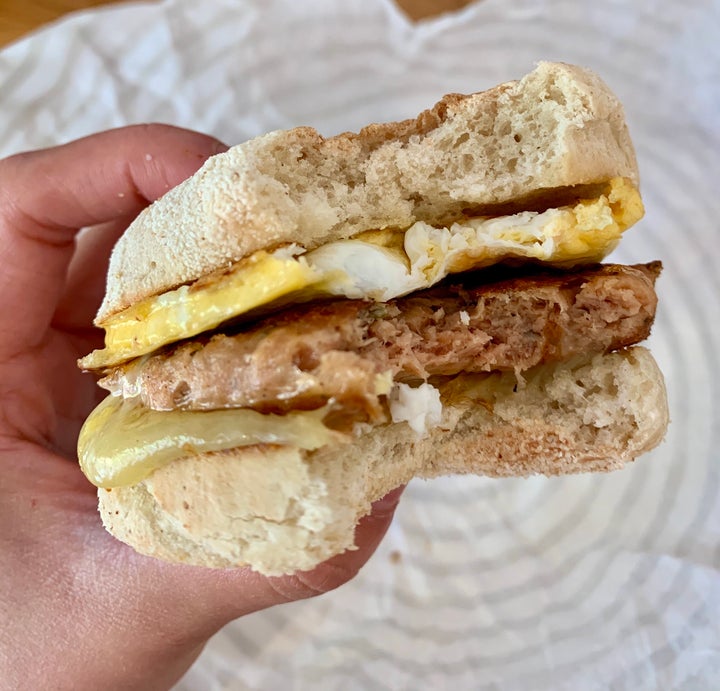 I'd definitely eat it again – it's a healthier version that hits the spot, or is useful if you don't have a McDonald's near but get a craving. If you're not a meat-eater or want to cut down on your meat consumption, try it as a delicious alternative.
Want to make one yourself at home? Try Meatless Farm's recipe below.
Meatless Farm's McBluffin
Serves: 1 | Prep time: 10 mins | Cook time: 10 mins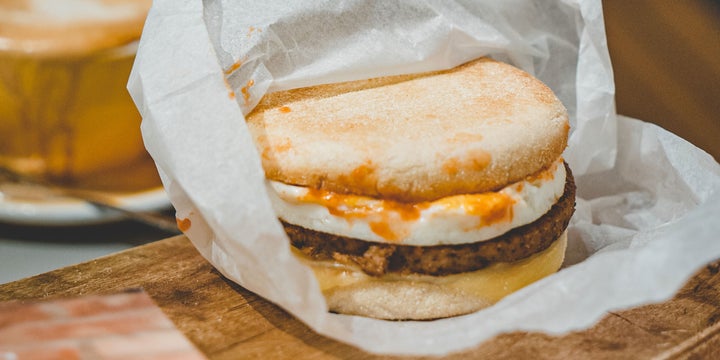 Ingredients:
1-3 Meatless Farm sausages (depending on how chunky you want your patty to be)
Method:
1. Pre-heat a frying pan over a medium heat.
2. Take out two Meatless Farm plant-based sausages and press them into one circular-shaped patty (if you don't have a cooking ring, try rolling the sausages into a ball and then flatten them with the palm of your hand).
3. Add a splash of olive oil to the pan, place your sausage patty in the pan and cook for 3 minutes on one side.
4. Flip the sausage patty over and cook for an additional three minutes. Meanwhile, crack an egg into the same pan – into a round cooking ring or mould (this is where I used the onion ring).
5. Break up the egg a little and make sure the yolk is spread sufficiently. After 2 minutes, the egg should have set in a circular shape so that it can be flipped – then flip your egg.
6. Place your muffins under the grill for 1 minute and then remove.
7. Your McBluffin is ready to assemble. Place your cheese slice on the bottom half of the muffin, followed by your Meatless Farm sausage patty.
8. Place your egg on top of the sausage patty and top with the muffin lid.