Meghan Markle has said caring for a newborn in the the media spotlight has been a "struggle" in a new interview, where she looks close the tears.
The Duchess of Sussex was speaking to ITV News at Ten anchor Tom Bradby as part of an upcoming ITV documentary about the royal's African tour.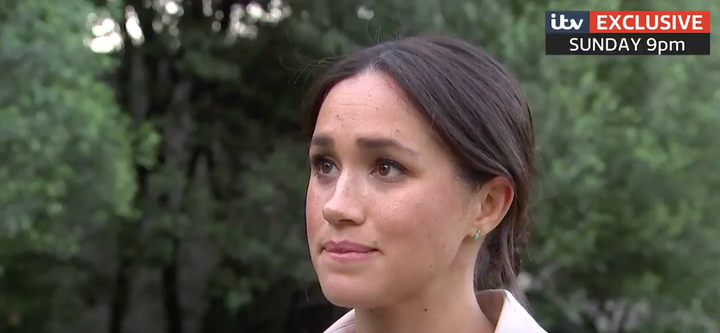 "Look, any woman, especially when they are pregnant, you're really vulnerable and so that was made really challenging," she replied. "And then when you have a newborn – you know… especially as a woman, it's a lot. So you add this [media attention] on top of just trying to be a new mum or trying to be a newlywed it's, well…"
The Duchess tailed off, before thanking the newsreader for his concern about her wellbeing. "Also thank you for asking, because not many people have asked if I'm okay. But it's a very real thing to be going through behind the scenes."
Bradby then asked: "Would it be fair to say, not really okay, as in it's really been a struggle?
Meghan simply replied: "Yes".
In a statement on the Duke and Duchess of Sussex's official website, Prince Harry said the couple had been driven to take legal action following "relentless propaganda" about his wife.
"Unfortunately, my wife has become one of the latest victims of a British tabloid press that wages campaigns against individuals with no thought to the consequences – a ruthless campaign that has escalated over the past year, throughout her pregnancy and while raising our newborn son," he wrote.
Harry & Meghan: An African Journey ITV 9pm Sunday.