Men are twice as likely to feel financial burden in a relationship than women, a critical report on the pressures facing men in 2016 has revealed.
While 31% of men feel they should be more responsible than their partner for financial matters, just 14% of women feel the same.
What's more, men are twice as likely to feel they must be "emotionally strong" and three times more likely to feel they must take "practical charge" in a crisis, than their female counterparts.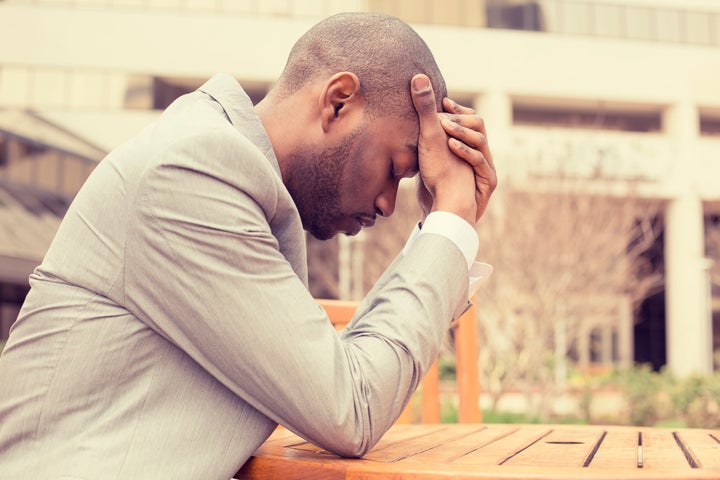 The findings on relationships come as new UK-wide statistics compiled by CALM and HuffPost UK reveal suicide remains the single biggest killer of British males under the age of 45.
The data shows that more than 4,500 men kill themselves every year in Britain, with men three times more likely than women to take their own lives.
The research highlights an inability to discuss depression as a contributing factor to high levels of suicide among men.
In the survey of more than 1,000 people, 67% of females who identified as "very depressed" said they'd talked to someone about their feelings, compared to only 55% of males.
Financial strain in a relationship was identified as one of the potential triggers behind male depression.
Men are more likely to feel pressure to be the main earner in families, with 31% of men surveyed saying this compared to 19% of women.
In addition, a quarter of men said losing their job would make them feel less of a person, compared to 17% of women.
Professor Damian Ridge, a professor of health studies at the University of Westminster and a psychotherapist, said the figures prove men can become distressed "around problems like finances and relationship breakdowns".
"We're supposed to have better gender equality [but] it's still the case that financial issues and having a job are really important to men's identity," he told HuffPost UK.
"When these things go wrong, we know the financial problems and relationship break ups are behind many suicides. [It] can really weigh heavily on men if they are not fulfilling the traditional masculine role."
Joel Beckman, general manager at CALM, added: "The finding that men still have a far greater need to display traditional masculine stereotypes of being good with money and practical in a crisis show that, although society has developed in recent years, there is still some way to go before it is acceptable for men to feel okay in more equally sharing these responsibilities.
"For 'emotionally strong', one could use the word 'silent' as a substitute. CALM continues to make the case to all men to recognise that being silent isn't being strong."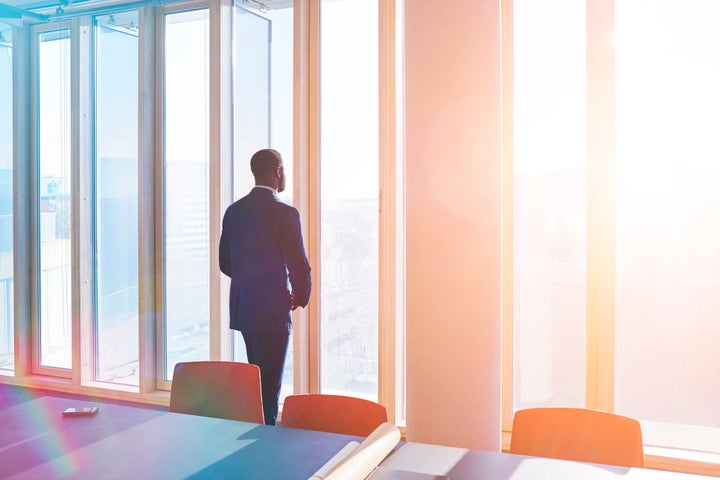 Keith Grinsted, 64, has been made redundant six times during his 20-year marriage and understands the repercussions on mental health all too well.
"Even though my wife worked throughout this time, I felt particularly responsible for putting us in difficulty even though I had no control over the redundancy situations," the marketing manager told HuffPost UK.
He'd been earning £100,000 per annum the first time he was made redundant, just two days before Christmas in 2000. But with hefty bills to pay things hit rock bottom and he worried how he was going to put food on the table.
"It took three months to get a job on a third of my original salary," he said.
"Our lifestyle was dramatically hit in response and has never recovered to anything like the earlier levels. It took its toll on my mental health as I was deemed by friends and family to have failed everyone."
Similarly Han-Son Lee, co-founder of DaddiLife, a blog supporting new fathers, has felt a sense of financial responsible in all of his relationships "to some extent".
"I think that anxiety of being able to provide has actually only increased as I've got older and as my son came into this world," he said.
"I definitely now feel a strong sense of feeling responsible for the sort of financial health that will keep my young chap as healthy and happy as possible."
This tension climaxed last year, when Lee's partner was launching a new business and he felt the full burden of providing for their child.
"As our working lives seemed to get tougher and longer, we seemed to have less time for each other than ever and this only increased my sense of anxiety," he said.
"There was a breaking point last year where my mind just shut off - I felt totally cold, emotionless and quite possibly unknowingly depressed. "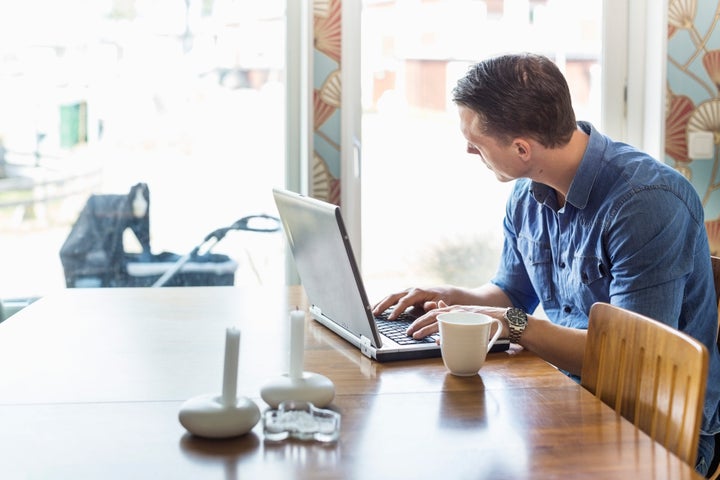 According to Relate counsellor Gurpreet Singh, if men are feeling overwhelmed by finances in a relationship they must first take time to "understand and process what is going on".
"Once you've done this, it's important to talk to your partner about your money worries," he said.
"Conversations about finances can be difficult and can bring up strong emotions but it's important to be open and honest."
He stressed that unmanaged financial worries can lead to bigger arguments, which are likely to impact negatively on the relationship.
"Learning to address any concerns about finances early in the relationship - no matter how uncomfortable it may feel - can set a good precedent for the future," he advised.
"Talk about your values, feelings and spending habits and make sure that you're both clear on how you plan to share finances, pay bills and manage your money."
The research also highlighted a disparity between what men think women want in a relationship and what women actually desire.
Four in 10 men surveyed felt they lack the qualities partners look for. Of those, 26% feared they were not physically attractive enough, 26% felt they were not confident enough, 20% worried they failed to provide financial dependability and 18% were concerned they couldn't provide stability.
But these qualities were not things women surveyed listed as particularly important. The data revealed that compassion, work ethic and intelligence were all qualities men underestimate the importance of to partners.
Singh pointed out that communicating what you want in a relationship and a willingness to listen to what your partner wants are "the building blocks of good relationships".
Prof Ridge added: "Men can have ideas about what they lack, why they're a failure. And yet it may not fit with reality.
"Some men may commit suicide, without having checked in with others about their problems, which may not be so big."
Singh put this lack of communication down to gender stereotyping and the expectations we place on men.
"Throughout history, gender stereotypes have been normalised from birth and this is still true even today. You only need to look at boys toys and girls toys to understand the difference in the upbringing," he said.
"Typically, a man is raised with the idea that 'real men' don't cry and are strong. But this notion of 'being strong' can come at the cost of burying feelings and avoiding sharing fears or other emotions in a relationship with their partner or anyone else."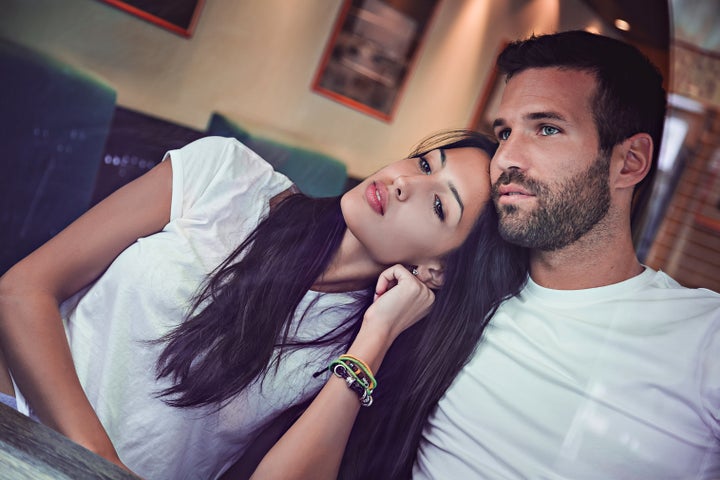 Mark Rowland, director of the Mental Health Foundation, said the new report echoes research carried out by the charity last year on the links between relationships and mental health.
"Relationships are crucial for both physical and mental health. People who are more socially connected to family, friends, or their community are happier, physically healthier and live longer, with fewer mental health problems than people who are less well connected," he said.
"It's not just about whether or not you're in a committed relationship, but it's the quality of your close relationships that matters. Living in conflict or within a toxic relationship is more damaging than being alone."
He added that the new report "sheds some light" on the reasons men refrain from opening up before reaching crisis point.
"We need to create a culture where men feel able to open up, knowing that far from it being seen as weakness, it is recognised as strength," he said.
"It takes real courage to be open and honest about when we're feeling vulnerable. But when suicide is the leading cause of death for young men, we all have a responsibility to push for change."
The positive news is both Lee and Grinsted are proof that you can feel trapped by expectations in your relationship, but come out the other side.
Lee got through his period of financial stress by focussing his energy on his young son and the free joys in his life. Meanwhile Grinsted found salvation by surrounding himself with positive people and setting up Launchpad - a scheme to help people who are unemployed or facing redundancy get their lives back on track.
But whether you're feeling overwhelmed due to finances, or any other factor in your relationship, the first step in defeating a problem is talking about it.
As Singh pointed out: "Being a man doesn't mean having to go it alone.
"After all, being in a relationship means that a problem that affects one person is bound to have an impact on the other."

HuffPost UK is running a month-long focus around men to highlight the pressures they face around identity and to raise awareness of the epidemic of suicide. To address some of the issues at hand, Building Modern Men presents a snapshot of life for men, the difficulty in expressing emotion, the challenges of speaking out, as well as kick starting conversations around male body image, LGBT identity, male friendship and mental health.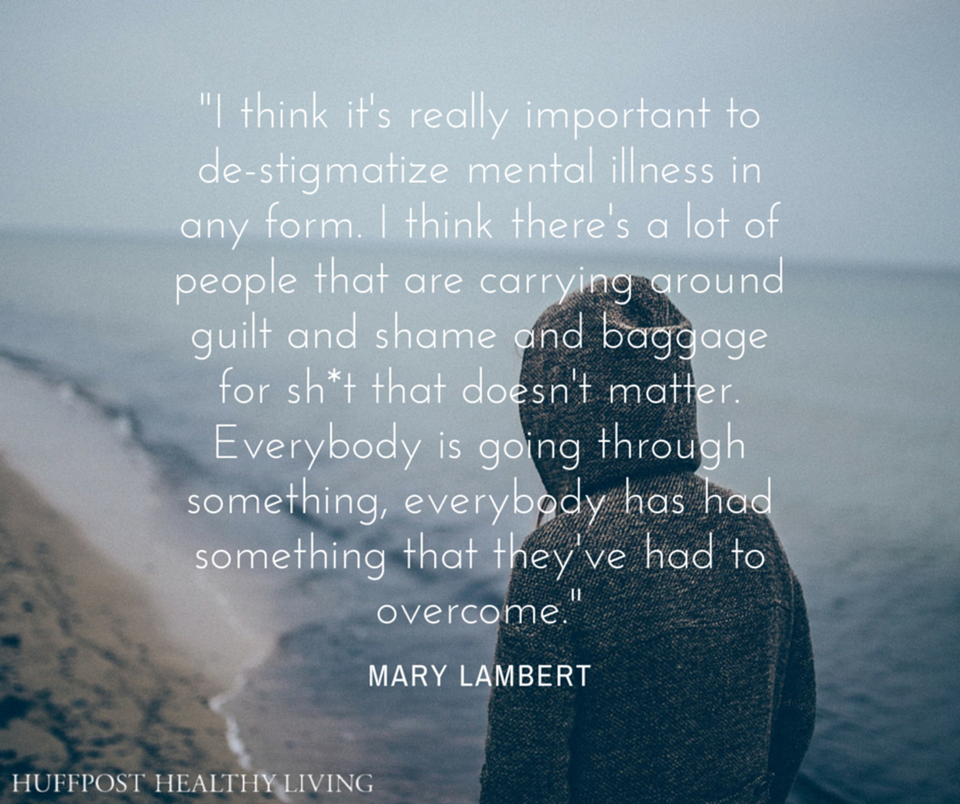 10 Quotes That Perfectly Sum Up The Stigma Surrounding Mental Illness
Related