Major fashion brands are taking steps to improve the way they portray mental health on their slogan tees, all thanks to one woman.
Phil Hill is a 25-year-old advocate for mental health, from Buckinghamshire, who was inspired to take brands including Missguided and Pink Boutique to task after seeing them post Instagram photos of items with slogans including: "Cute but Psycho" and "Not Cute. Just Psycho".
And she has already made a significant impact on the way brands treat the topic, with Boohoo among the labels that have removed offending items from their websites after being contacted by Hill.
"I definitely think we could use fashion to our advantage in order to help reduce the stigma surrounding mental health," Hill told HuffPost UK.
Hill has also started a petition calling on companies to stop using mental health as a style statement.
She reached out to Missguided, Boohoo, Redressed, Save The People and Pink Boutique, directly and was successful in getting many to discontinue the problematic products.
In due course, each label apologised and pulled items from their collections.
She shared the following screenshot of a conversation she had with Redressed.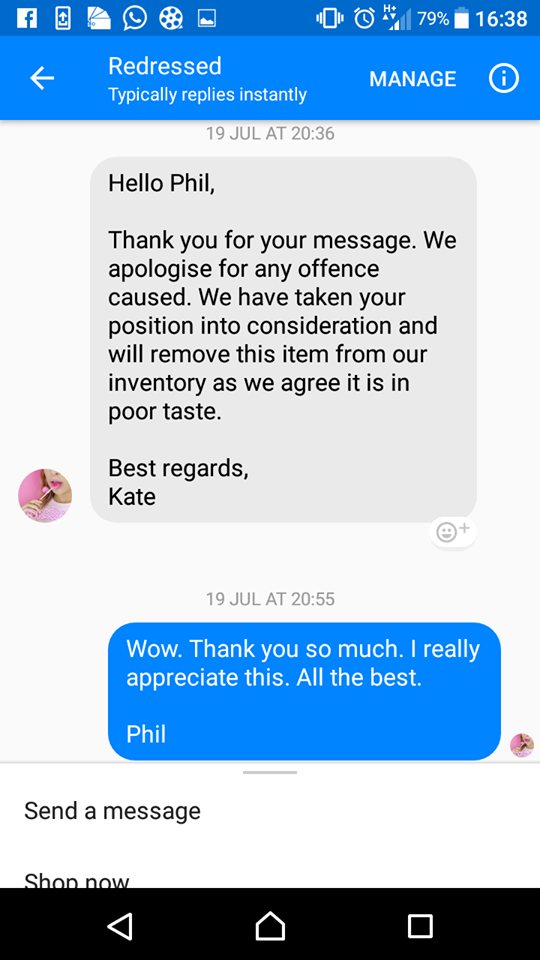 Boohoo confirmed that they had taken down the items after speaking to Hill.
Pink Boutique didn't initially respond to Hill's request, but after being contacted by HuffPost UK they sent the following statement:
"We are deeply saddened to hear that one of our slogan t-shirts has caused offence. It has never been our intention to cause any upset and having had this issue brought to our attention we have carefully considered the appropriateness of the range. As a company that takes mental health seriously we have decided to remove these items from our website with immediate effect.""
HuffPost UK has also reached out to Missguided, Boohoo, Redressed and Save The People for comment and will update this piece upon their response.
Hill discussed the importance of taking mental health seriously, as well as the positive role fashion can have in being part of the conversation for change.
What has made you so passionate about mental health awareness?
I myself have suffered with mental health issues for years so it's something very personal and important to me.
I see that mental health doesn't get the respect it deserves (especially compared to physical health) and one of my hardest daily battles is living among those who, perhaps, don't know what it's like.
To make the lives of those suffering a little easier and to ensure mental health is on par with physical health is something I am passionate about.
I believe the only way to do this is to increase awareness and education.
How did you first come across the offensive slogans on the garments by Boohoo, Missguided, Redressed, Save The People and Pink Boutique?
I made a video on my Instagram a few months back about how the word 'Psycho' gets thrown around a lot these days, whether in real life or in memes.
I spoke about how those who use the term clearly don't understand what a psychopath actually is and are trivialising a serious disorder.
The video proved popular, so I decided to do a bit more research and came across companies selling products with the slogans 'Cute But Psycho' and 'Not Cute Just Psycho' on them.
What gave you the courage to reach out to these big fashion companies and ask them to change?
Anyone who knows me knows I'm quite opinionated.
Combine that with the fact that I'm so passionate about defending anything related to mental health made it quite easy for me to start sending emails.
Plus I believe if you want to see any kind of change in the world it has to start with you.
What would you like to see represented positively in the fashion industry?
The Average Joe. We see cliché models and even more unrealistically shaped mannequins but how many of us actually look like them?
The ones who are neither ripped nor large? The ones with just a flat tummy or slight podge?
The same applies to females. Skinny women and plus-size women seem to be the only types of women represented in the fashion world.
What about people like me who aren't particularly overweight but have a muffin top or naturally chunky legs?
Most people fit into these middle categories, yet we are the least represented.
Do you think it's possible to tackle serious topics (like mental health) with style and fashion?
If done correctly then yes, and even more so if the right faces were to get involved, I definitely think we could use fashion to our advantage in order to help reduce the stigma facing mental health.
We have to try and use every platform possible if we want to spread the word. As fashion is such a huge part of our culture, let's not underestimate its power.
Talking at people isn't always going to work. We have to step into their world and speak their language. I think music and fashion are great ways to do this especially with the younger generation.
In the same way some companies have put derogatory slogans on their clothes and people have bought them, companies could replace those and use positive quotes and respectful slogans.
People would buy those too; especially in a time where self-love is very 'in' and talk of mental health is on the rise.
There is a clothing company called Abandon Ship Apparel who are doing just that and I'm sure there are others who I am yet to discover.
Who, in your opinion, are the positive role models currently in the spotlight?
Anyone who ignores gender norms and wears whatever they want.
To wear clothes that aren't designed for your gender takes guts and it can put you in a very vulnerable position.
I was bullied for years for being a tomboy and wearing guys' clothes.
But doing that in the limelight, where you'll be scrutinised and (unfortunately) judged publicly, is very brave in my opinion. Grayson Perry is a great example of this.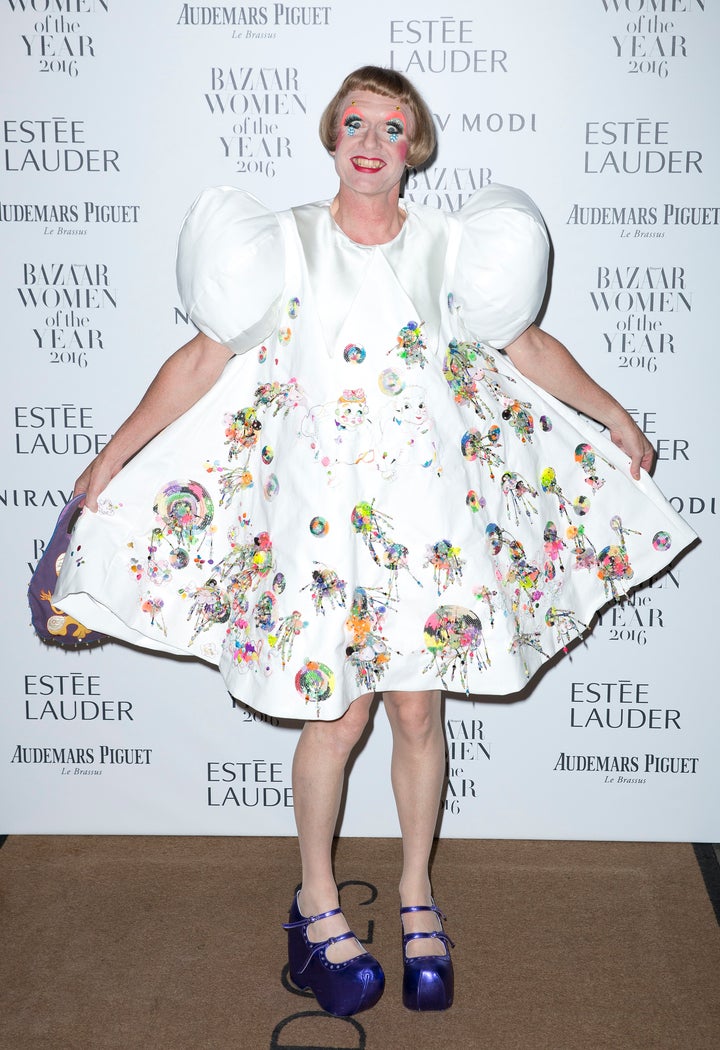 Also, Angelia Jolie and Brad Pitt - on a parenting level.
In my opinion, any parent who lets their child wear what makes them comfortable in their own skin, instead of forcing them to wear what society says they should wear based on their sex, is a very positive role model in my eyes.
Ruby Rose is also known (and loved) for living in her truth.
You've been pretty vocal about brands misrepresenting and disrespecting mental health (rightly so). Once you get all the signatures for your petition, do you have any plans to take it further?
When I rang Pink Boutique one of the reasons they initially said they were not going to stop selling the products is because I had 'an isolated view'.
Once I have a decent amount of signatures I am going to send the petition to brands to prove it is not an isolated view.
I hope that this will open their eyes and encourage them to follow in the footsteps of other companies.
There are so many avenues I'm eager to explore and would love to do as a job. I currently have a website/blog that I love writing. I also started vlogging this year which has inspired me to want to make a documentary one day.
I'm also a firm believer that mental health education needs to be in school and from a young age, so I would love to get involved with that.