A hotel, nicknamed 'The Meow-maison' for the thousands of rescue cats it has homed, cost its owner £430,000.
Jane Lynegar, 54, from Swanwick, Derbyshire, has taken in over 3,000 unwanted cats in 23 years but had to build a separate bungalow in her back garden just to accommodate them all.
And although the cats who frequent the self-styled hotel live in luxury – with sky television and a kitchen complete with dishwasher and washing machine – Jane and hubby Paul, 58, even have 15 live in moggies of their own.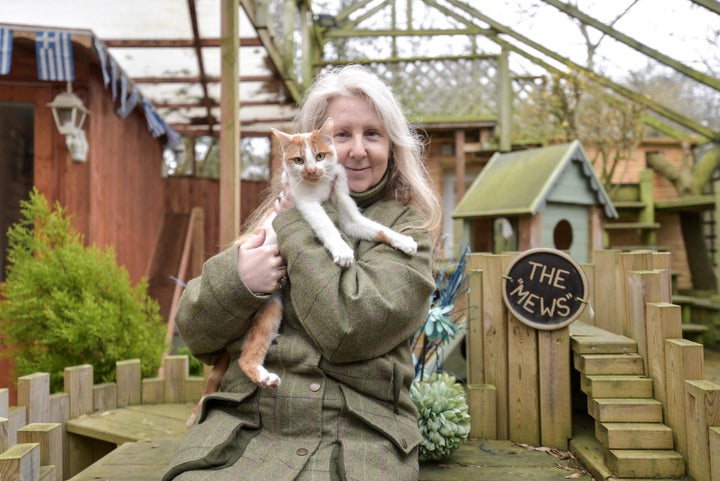 On average, Jane has rescued 150 cats a year and while she originally had a shed to keep all of her charges Paul, a technical director, built a bungalow for them all to stay as her passion increased.
The hotel is particularly docile as, according to Jane, none of the residents ever feel like they are the 'Top Cat' and instead prefer to curl up in front of the television to watch 101 Dalmatians and Rick Stein's cooking fish.
But the couple's project has increased to the point that they even have a separate cat lodge which can be hired out for at a daily rate by owners wanting to pamper their pet.
All of the proceeds from the lodge feed back into the hotel to help pay for its running costs.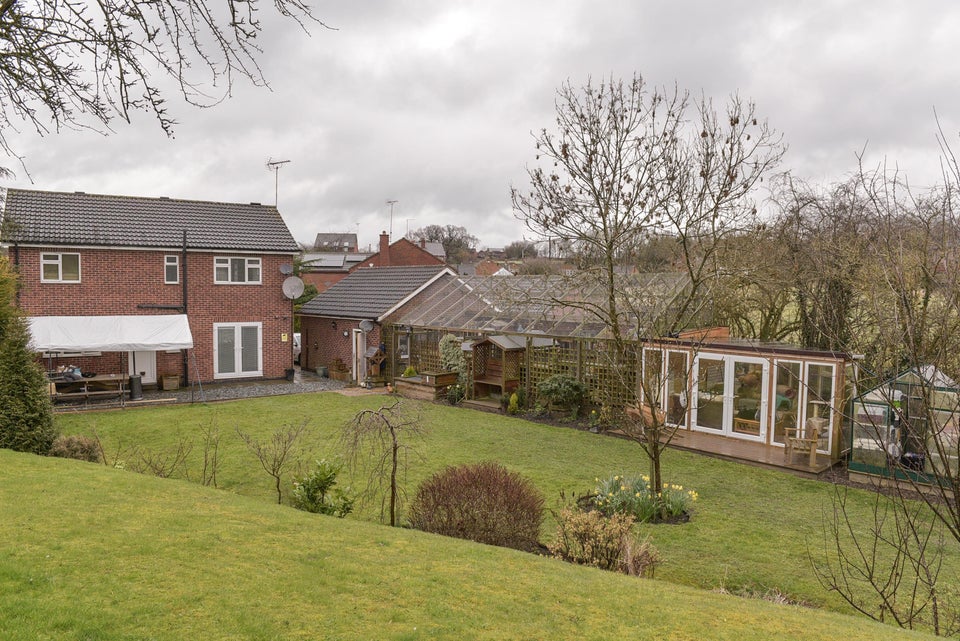 Welcome To The 'Meow Maison'
Fortunately though, Jane now has assistance in the form of volunteers who help with the mammoth task of feeding the felines, cleaning each room daily and dealing with all the washing up.
Jane said: "I rehome about 150 cats a year and have taken in over 3,000 cats over the years I have been doing it, so it's no wonder I'm always worn out.
"The cats have a Sky TV room, bedrooms and even a front lounge. We also have a galley with all mod cons in it and a kettle – it's like a hotel, you might call it the Meow-maison.
"I once walked into the TV room and was surprised to see all the cats sat in front of the television watching 101 Dalmations – they liked watching Rick Stein cooking fish as well."
She added: "One of the volunteers recently worked out that it cost £362 a week to run, which comes to just under £19,000. Over the years that'd work out at over £430,000.
"The kitchen is practical as it means I don't have to go back and forth from the house to do all of the washing and food preparation – we can do it in the rescue centre now.
"We added on a conservatory for the cats as well which is rather posh and they have a 12 ft kitty castle, complete with portcullis and battlements that they can have an adventure in.
"I make sure that they all get the best food and biscuits – I'll always get them Felix and gourmet cat foods, as a lot of them have had a hard start in life and deserve to be in luxury.
"I don't think my husband or I realised how big our project would become. I rescued cats as part of my local cat league for 14 years, but since striking out alone it has gathered pace and the shed I originally used became too small.
"Paul built the rescue hotel himself to house all the cats we took in, but has said that we aren't allowed to have any more in our home. 15 is enough."
With so many to cater for, Jane admitted that she had a hard time naming them all but tries to give each one an unusual name.
Jane said: "Of the cats that are the family pets, three are named Rachel, Monica and Joe Joe after the characters in Friends and another is named Benson because I found him I a hedge.
"I always try and give the cats unusual names because people are bored of names like sooty. It helps them to get rehomed.
"But I do run out of ideas to name them all, so try to think of themes. So we've previously had a lot of cats that were named after flowers, for example.
"I grew up around cats and dogs, so I have always had a love of animals. According to my parents, as a young girl I used to sleep with a cat in my bed.
"My family know what I'm like, so they are completely used to having a lot of cats around – they don't know any different.
"The shed that we had in the back garden when I first started rehoming cats only had four pens, so it wasn't very big. These days, I'll have up to 30 cats at a time, but don't like to have more than that.
"The rescue centre hotel has become a bit of a social thing in the area – parents have come to see the cats before and asked if they could leave their kids there, but I always tell them: 'I don't take kids'."
CAT LODGE ROOM RATES:

Room 1 – large room, double bed, TV and DVD player, cat videos and radio

£25 per day for 1 cat, £35 for 2 cats, £45 for 3 cats.

Can fit up to 8 cats from the same household

Rooms 2, 3, 4, 5 - Log cabins

£15 per day for 1 cat, £25 for 2 etc

Take up to 4 cats each for each household
Related