The UK may have experience the warmest September day in more than 100 years this week, but the sunny weather is about to be washed away.
Tuesday was the hottest day of the year so far with a temperature of 34.4C recorded at Gravesend forecasters, but by this evening forecasters predict much of the country will be hit by heavy downpours.
Temperatures are also expected to drop below the 20s.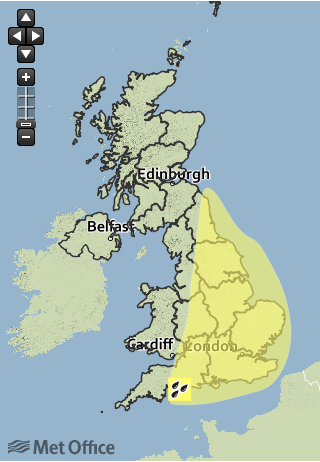 The Met Office on Thursday issued a yellow weather warning for several areas.
The Met Office chief forecaster said: "Isolated thunderstorms developing later on Thursday are expected to become more widespread across southern, central and eastern parts of England overnight and during Friday morning, whilst more isolated downpours may develop further north and west ahead of an eastwards moving cold front.
"This brings the risk of 30-40 mm of rain in an hour in places and more than 50 mm in a few hours.
"At this stage, there remains uncertainty in the location of the most disruptive thunderstorms, although the area south of a line from The Wash to Bristol is considered to be at greatest risk during Friday morning. The warning will be kept under review and updated as necessary."
There were a number of dramatic pictures from the storms, which saw thunder and lightening lash Manchester, as well as Huddersfield, Leeds and Sheffield.
Devon and Cornwall were also dealing with flooding thanks to the torrential rain - although according to forecasts, the south-west will actually get a comparatively easy ride while eastern Britain bears the brunt of Friday's weather.