More than 20 children have been found dead in the rubble of a collapsed primary school in Mexico after a major earthquake battered the country's central cities, killing at least 216 people.
Citizens joined emergency crews in the desperate search for survivors after the 7.1 magnitude quake toppled dozens of buildings, broke gas mains and sparked fires.
Mexican President Enrique Peña Nieto said late on Tuesday night that two adults had also been found dead at Colegio Enrique Rebsamen School in Mexico City, while another 30 children and 12 adults remained missing.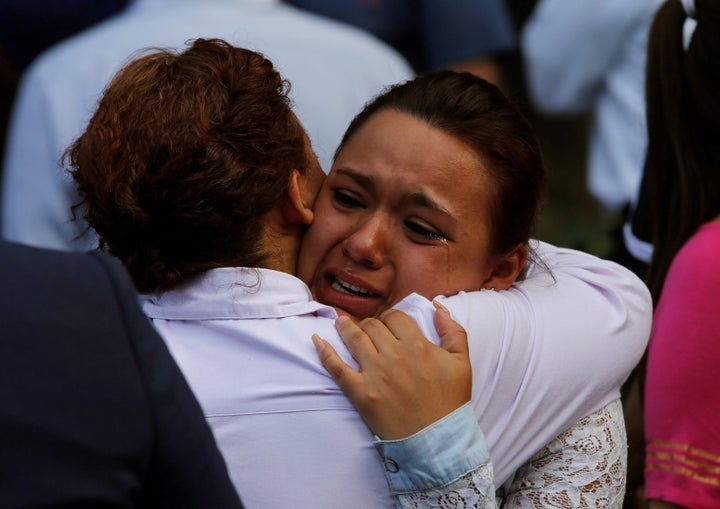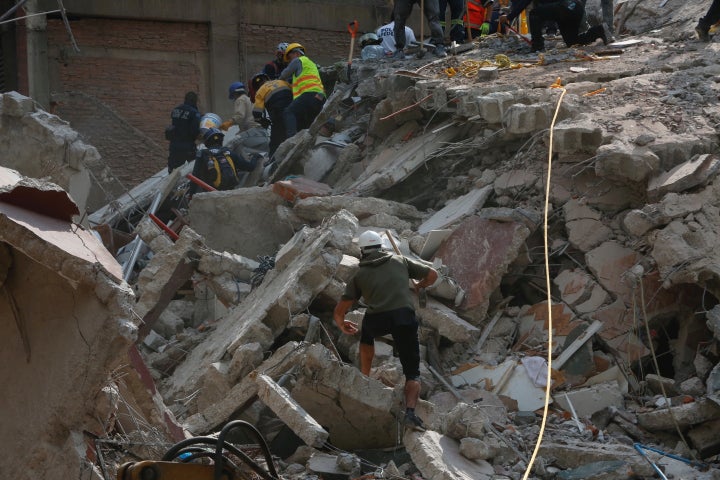 There were chaotic scenes at the school as parents clung to hope their children had survived.
"They keep pulling kids out, but we know nothing of my daughter," said 32-year-old Adriana D'Fargo, her eyes red after hours waiting for news of her seven-year-old. Three survivors were found at around midnight.
The disaster comes less than two weeks after another powerful temblor killed at least 98 people in southern Mexico.
It also hit just hours after emergency drills marked the anniversary of a quake that killed thousands in the country in 1985.
According to Reuters, millions of people fled into the streets to shelter when the earthquake began.
Mexico City's mayor said that as many as 44 buildings were reduced to rubble, including a supermarket and a factory.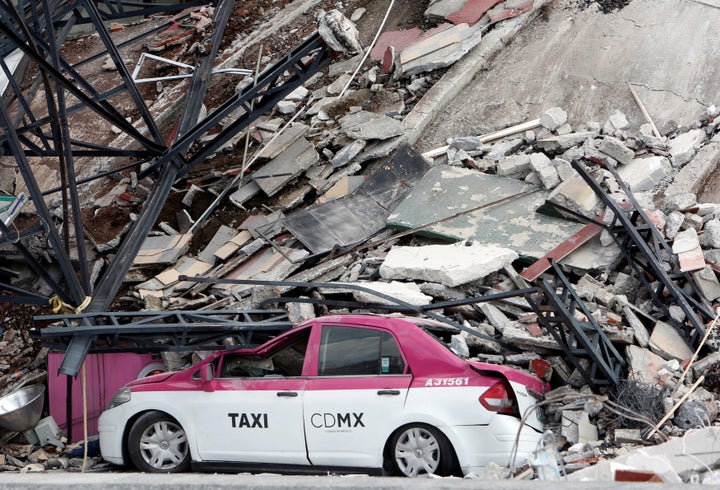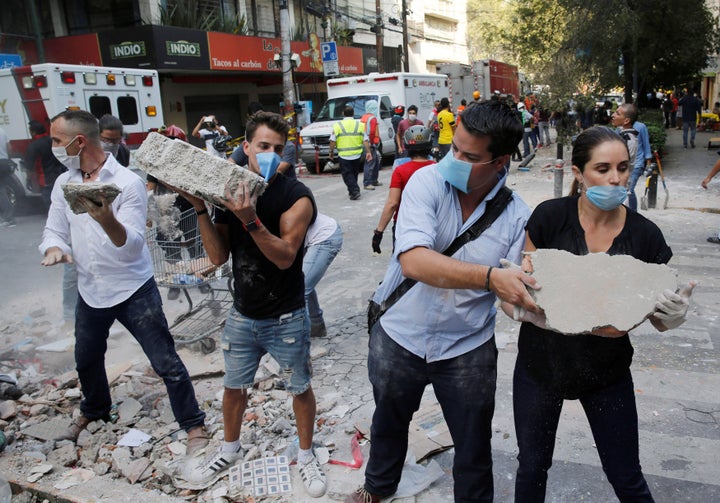 Rescue workers and soldiers toiled around collapsed buildings where heat-sensing equipment suggested survivors could still be trapped, while Mexican media showed images of desperate locals forming human chains in search of people.
Much of the rescue work was carried out in the dark or by torch light after around 4.6 million homes and businesses had their power knocked out by the temblor.
"My wife is there," said Juan Jesus Garcia, 33, choking back tears outside one building in Mexico City.
"I haven't been able to communicate with her. She is not answering, and now they are telling us we have to turn off our cellphones because there is a gas leak."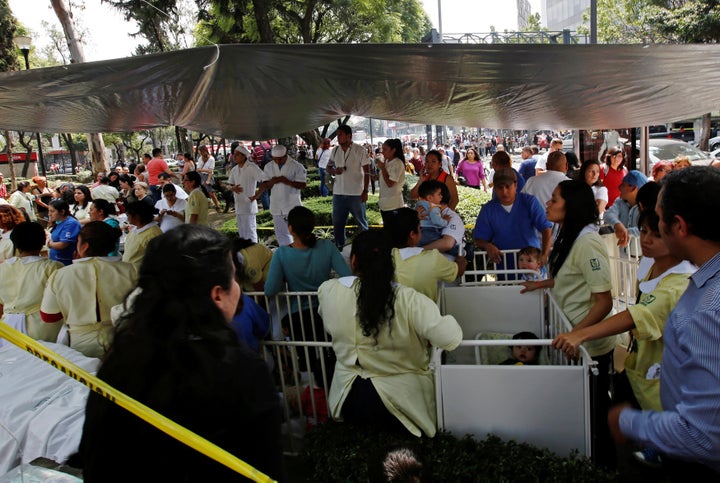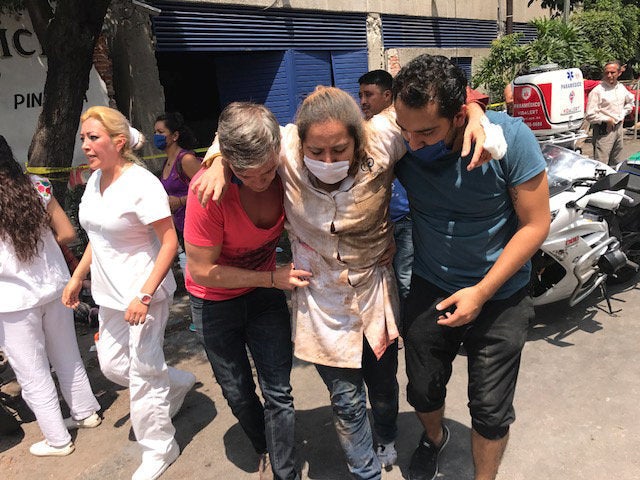 The quake had killed 49 people in the capital by late Tuesday, according to civil defence chief Luis Felipe Puente. The highest toll, he said, was in Morelos State, just to the south, where 55 people were killed.
Another 13 people were reported killed in the neighbouring states of Mexico and Guerrero. Thirty-two deaths had been counted in the central state of Puebla, also to the south, where the US Geological Survey (USGS) located the quake's epicentre.
In Puebla, university student Jevon Minto, 24, said he had just arrived at class when he felt the shaking. "We were seated when the place started shaking real, real hard ... You can literally feel the fear and the panic in this city."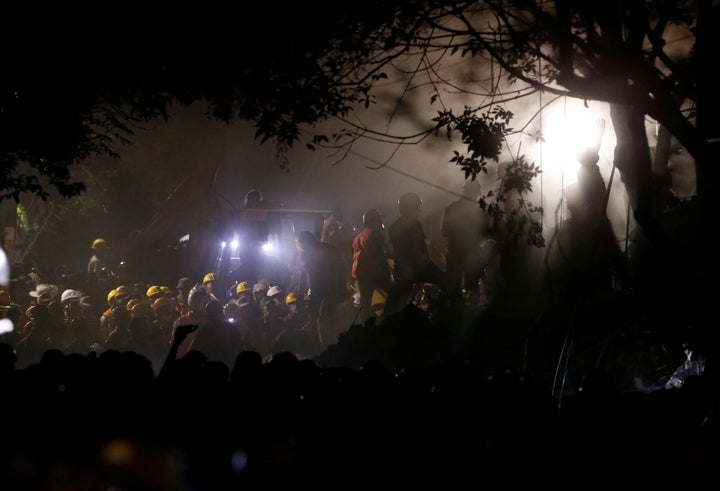 Banker Jesus Gonzalez Hernandez, 55, said office lamps and furniture swayed when the tremor began. He and colleagues rushed to evacuate. "But while exiting down the stairs, the walls were coming apart," said Gonzalez Hernandez, who fractured his ankle in the chaos.
At the same time as the earthquake, Mexico's Popocatepetl volcano had a small eruption. A church collapsed during mass, killing 15 people, in Atzitzihuacan on the slopes of the volcano, Puebla Governor Jose Antonio Gali said.
US President Donald Trump said on Twitter: "God bless the people of Mexico City. We are with you and will be there for you."