Investigators have unveiled new evidence MH17 was shot down by a Buk missile moved into eastern Ukraine from Russia.
Russia has fiercely contested claims that the passenger jet, which crashed killing all 298 people aboard on July 17, 2014, was shot down by pro-Moscow rebels with Russian equipment.
But the head of the Central Crime Investigation department of the Dutch National Police revealed intercepted communications showed the rebels had called for deployment of the mobile surface-to-air weapon and reported its arrival.
Wilbert Paulissen told a press conference that this and other evidence led him to conclude:
"MH17 was shot down by a 9M38 missile launched by a Buk, brought in from the territory of the Russian Federation, and that after launch was subsequently returned to the Russian Federation."
The conclusions were the result of a two-year Dutch-led criminal probe of the disaster. More than half of those killed on the Amsterdam to Kuala Lumpur flight - 193 - were Dutch.
A separate investigation by Dutch safety officials last year concluded that the flight was downed by a missile fired from territory held by pro-Russian rebels.
On Monday, the Russian military said it has new radio-location data that show the missile that downed the Boeing 777 did not originate from rebel-controlled territory, and said it would turn the data over to investigators.
A Kremlin spokesman reiterated that assertion on Wednesday ahead of the Dutch report.
"If there was a rocket it could only have been launched from a different area," he told reporters, referring to Russian radar data. "You can't argue with it, it can't be discussed."
In the Joint Investigation Team, Dutch police and judicial officials have been working with counterparts from Australia, Belgium, Malaysia and Ukraine, seeking to gather the best possible evidence for use in prosecution of the perpetrators.
They have faced extraordinary challenges: the crime scene in Ukraine's eastern Donetsk oblast where the plane crashed on July 17, 2014, was located in an active war zone, and during the days following the crash pro-Kremlin militants limited access to the site.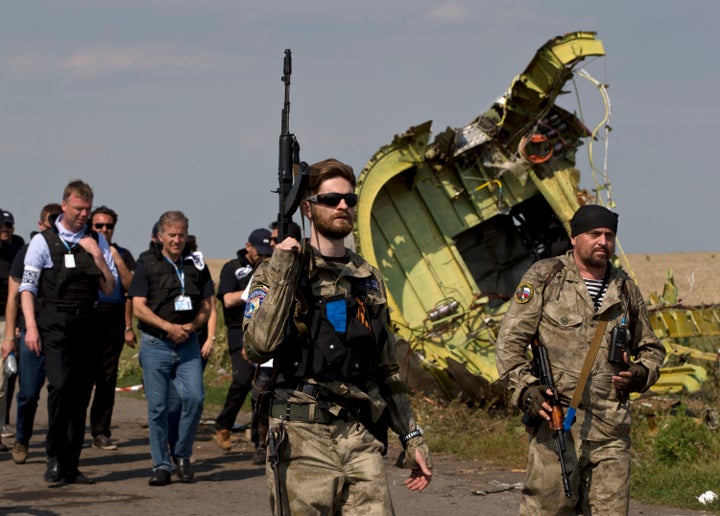 Eleven containers crammed with debris from the jetliner were ultimately brought to the Netherlands.
A research team took soil samples in eastern Ukraine and established the location of cellphone towers and the layout of the local telephone network.
Forensic samples were taken from passengers' and crew members' bodies and luggage, and satellite data and communications intercepts were scrutinised. The team also appealed for information from witnesses who may have seen the missile launch.
Malaysia proposed setting up an international tribunal to try those responsible for the plane's destruction, but Russia vetoed a U.N. Security Council resolution in favour of it.
Related