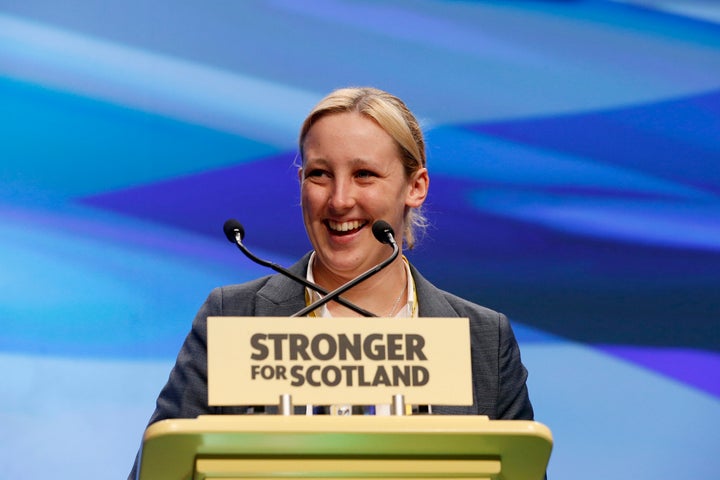 Mhairi Black has said she would welcome the Conservative government taking the UK out of the single market as it would help the SNP achieve independence for Scotland.
The MP told Politico: "Keep it coming: the more they treat us like this, the quicker we get to independence."
Scotland's First Minister Nicola Sturgeon told delegates at the SNP conference over the weekend that Scotland "will one day become an independent country" as she stressed her intention to keep the nation "at the very heart" of Europe.
Sturgeon said that she would work with parties from across the political divide to oppose a "hard Brexit" and keep Scotland in the Single Market.
But she added: "If it (Theresa May's government) insists on taking Scotland down a path that hurts our economy, costs jobs, lowers our living standards and damages our reputation as an open, welcoming, diverse country, then be in no doubt Scotland must have the ability to choose a better future. And I will make sure that Scotland gets that chance."
Anxiety over the UK government's apparent support of a "hard Brexit" outside the European single market has reached new heights, with devolved leaders calling for their own bespoke deals with the EU, renewed cross-party calls for a vote on the negotiating strategy, and reports of splits within the Cabinet.
Northern Ireland's Deputy First Minister Martin McGuinness warned of economic "disaster" for the country outside the single market, with a knock-on effect on its neighbour Ireland.
He renewed calls for Northern Ireland to have special EU status.
Mr McGuinness told the Guardian: "Fifty-six per cent of the population voted to Remain and we could not have achieved that result without a substantial section of the unionist community voting for a future in Europe.
"The vote was not on sectarian lines, but on how destructive it would be politically, socially and economically.
"May says she is negotiating on behalf of the United Kingdom, but there is absolutely nothing united about a so-called United Kingdom. We don't agree. We see our future in Europe. Scotland sees its future in Europe."
Theresa May is seen as increasingly likely to pull the UK out of the single market due to her desire to regain full control over immigration, seen as incompatible with membership of the free trade zone by European leaders.
According to the Telegraph and the Times it has led to a rift in the Cabinet as Chancellor Philip Hammond argues against colleagues' policy ideas that would be incompatible with membership.
It is reported that Mr Hammond urged caution after Home Secretary Amber Rudd raised plans for a work permit scheme for skilled migrants last week.