Former Tory deputy prime minister minister Michael Heseltine has delivered a brutal assessment of what Theresa May should do with trouble-making Boris Johnson.
Speculation is mounting over whether the Foreign Secretary, who has faced a backlash from his own MPs for a series of Brexit interventions that critics say undermine the PM's authority, will lose his job in a reshuffle.
His popularity has also been soured by his comments at the Conservative Party conference that Libya would be an investment hotspot once it had "cleared the dead bodies".
In an interview with The Sunday Times, May said signalled she could shake-up her top team but dodged whether Johnson was in the firing line.
Appearing on Sky News, Lord Heseltine, who himself was sacked by May as a government adviser after rebelling over Brexit, was questioned about Johnson's antics.
The peer, once touted as a Tory leader, said there was "no way of silencing him" and "so she has to make up her mind what best to do". He was then asked by presenter Kimberley Leonard:
"If you were in Theresa May's position and you were going to reshuffle, where would you put Boris Johnson?"

Heseltine: "Mongolia, somewhere like that."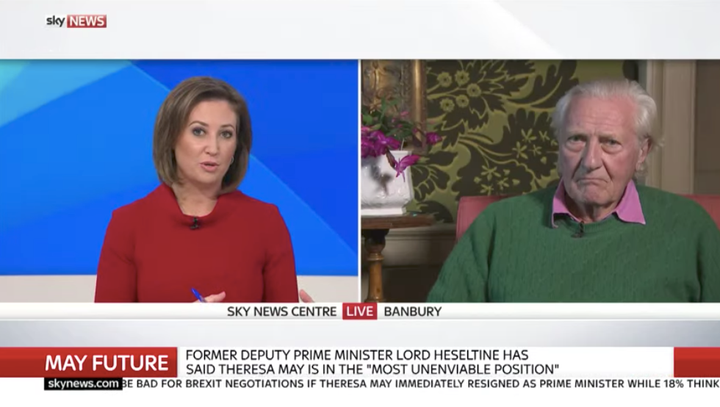 It was a rough day for Johnson, with other Tory colleagues piling in. Culture Secretary Karen Bradley said on ITV's Peston On Sunday that she didn't think his Libya remarks were "terribly witty".
"I don't think it was funny," she added. "It is a very important life lesson for all politicians and I suspect Boris is reflecting on that himself after those comments.
"I am sure he is reflecting on the comments he made and regretting that he even considered making those comments never mind that they were actually said but the important point is that we get on with the job."
The Scottish Tory leader Ruth Davidson said Johnson must prove his loyalty to May, telling the BBC's Andrew Marr Show: "He has come out to say he is fully behind every dot, comma, T and word of the Florence speech. I want to see the prime minister hold him to that."