A mum-of-three who had a black bra tattooed across her chest after losing both breasts to cancer is brimming with confidence thanks to her new ink.
Michelle Cole, 42, of Leeds, west Yorkshire, who had a double mastectomy and reconstructive surgery after discovering she had breast cancer in January 2012, celebrated the fifth anniversary of her operation with the £720 inking.
The full-time carer said: "It's a bit different and a really great way to celebrate my breasts, five years on from the cancer.
"I don't like to be like everyone else, I've always done the opposite."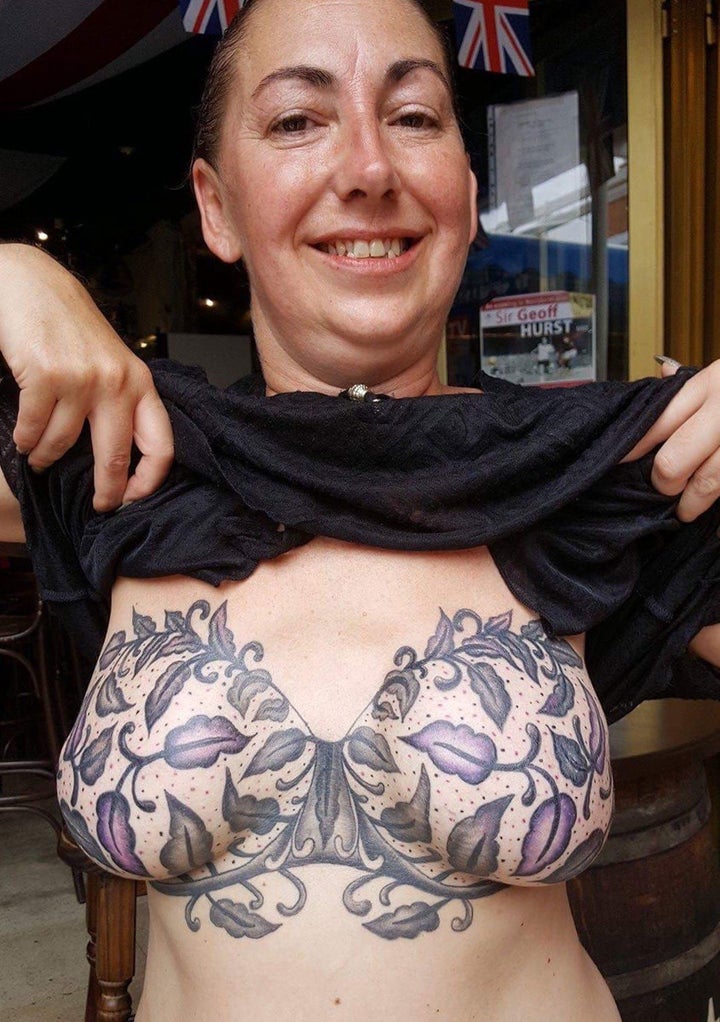 It took four months of three-hourly sessions every three weeks, between February and July this year, to complete Michelle's intricate tattoo at South Of Heaven Tattoo Studio, Wakefield, West Yorkshire - featuring a strapless bra, with lacy leaves curling off it.
She explained: "I'd been considering having a tattoo for a while, so I started to look online. That's when I came across the idea of a mastectomy tattoo, like a permanent inked bra."
Michelle, who has three children – Ellie Cole, 11, Anthony Thompson, 24, and Brett Thompson, 22 – was diagnosed with cancer after finding a lump in her right breast in bed one morning.
She was also told she carried the mutated BRCA1 gene, significantly increasing her risk of ovarian and breast cancer.
"My mum Kathleen Cole had breast cancer and died, aged 49, after it spread to her stomach, and my sister Deborah Dunnell also had breast cancer, which spread to her chest and she died, aged 39, so I had a feeling that I was going to get it too," she said.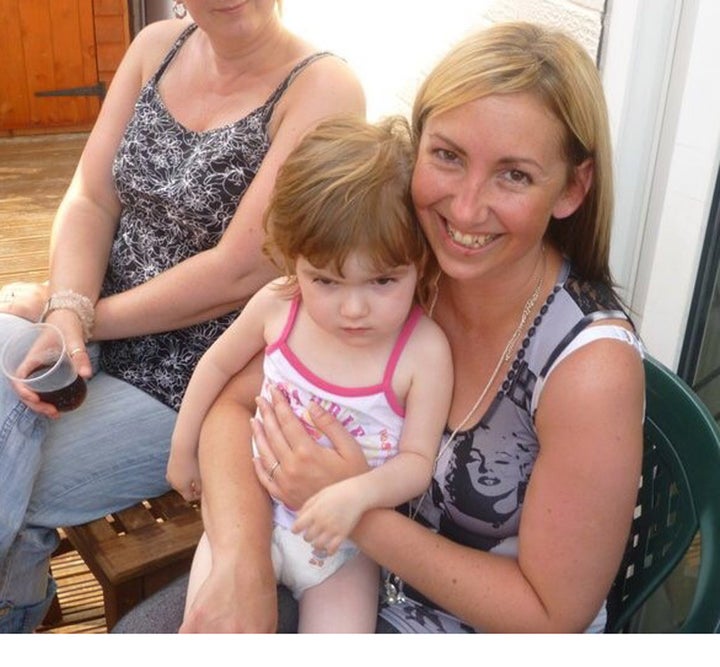 It took several scans at Leeds General Infirmary, before medics told Michelle and her plumber husband Paul Sephton, 58, that she had an aggressive form of breast cancer.
"They said I'd need chemotherapy straight away, but I should think about having a mastectomy in case the genetic testing came back showing my cancer was hereditary," she recalled.
"My sister had the mutated BRCA1 gene, so it was likely that I was a carrier too."
Devastated, Michelle had eight sessions of chemotherapy between February and May 2012. She then opted for a double mastectomy and reconstructive surgery in July – taking 10 hours - after discovering she had BRCA1.
A carer for her daughter Ellie, who has cerebral palsy, she continued: "It was a big deal, but I just wanted to get myself better and make sure the cancer didn't come back again.
"I had a young daughter to think about. I couldn't leave her without a mum."
In June 2015, Michelle decided to have a hysterectomy to reduce her risk of getting ovarian cancer.
A biopsy after the operation showed a cancerous tumour on her ovaries, although medics said it had been removed during the surgery and she was cancer free.
This year, after being left with breast scarring and without nipples, Michelle started thinking of ways to celebrate her survival.
This February, she marked it being five years since she had the double mastectomy, with the tattoo – proudly displaying it to her friend Jodie Bielby's hen party in Benidorm, Spain, this June, by sunbathing topless.
She laughed: "I went topless by the hotel pool and other holidaymakers mistook my tattoo for a bikini top. It encouraged everyone else to get their tops off, and there was a lot of staring.
"I even had strangers coming up to me, asking me what I had on my chest, because they were so amazed by it - calling me a 'legend'.
"It made me feel really proud of everything I'd been through. I'm so grateful to the tattoo artist Hope McPherson, she did an amazing job."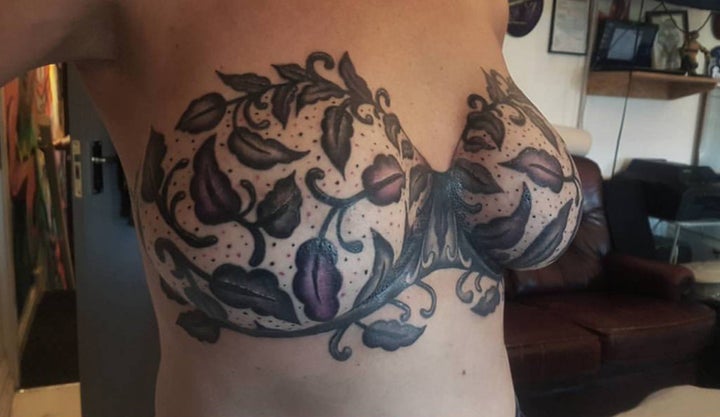 Michelle – who worries her little girl will have the BRCA1 gene – says her husband Paul, who she met 10 years ago DJing in a pub, loves her tattoo.
"Paul thinks my tattoo is great. I've been positive about everything as I have to be. I will encourage Ellie to get tested for the gene and support her if it comes back positive."
Meanwhile, Paul remains Michelle's biggest fan. He said: "We have an amazing relationship. I'm so proud of her and everything she's been through."
John Newlands, senior cancer information nurse specialist at Macmillan Cancer Support, advised women who have mastectomy tattoos to be aware of possible risk factors.
"It's important that women who have had surgery for breast cancer remain breast aware," he said.
"Redness or a rash around the nipple, skin or scar area may be an early sign of a reoccurrence of breast cancer.
"An artistic tattoo could potentially hide this sign. Any woman considering having an artistic tattoo should discuss this with their breast team first."