Chaotic scenes erupted in central London on Saturday night as riot police attempted to move on the crowds at the end of the Million Mask March which coincided with the Metropolitan Police's website crashing.
Police said on Sunday that "whilst the majority of those taking part were peaceful" disorder broke out in several places and a number of fireworks were thrown. There were no reports of injuries.
The Evening Standard further reported that demonstrators launched bottles at police and charged officers shouting "fuck the police" and "police brutality" as they tried to break up the event which was scheduled to finish at 9pm.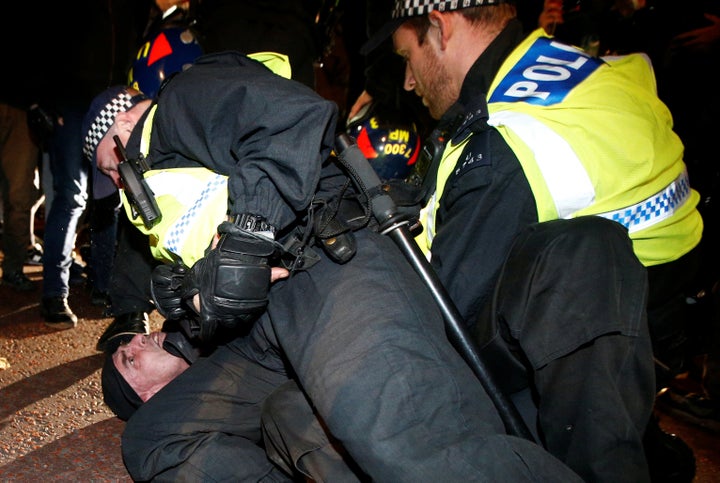 Hundreds of activists reportedly refused to leave, sparking a stand off with police around Trafalgar Square.
Police made 53 arrests for offences including obstruction, possession of an offensive weapon, public order and drugs.
Meanwhile, according to reports on Sunday the Met's website crashed around the same time they were dealing with demonstrators in at attack social media users have linked to Anonymous. The group have not commented on the suspected hack.
The Met has confirmed a section of the force's website used for media purposes was brought down from Saturday evening until 7am Sunday but has not commented on the cause.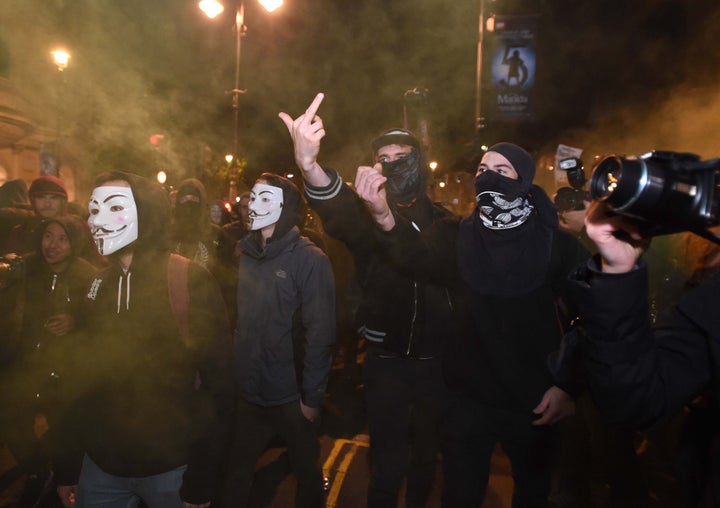 An investigation into the fault has been launched, the Standard reported.
The Express said a hacker called 'Crash OverRide' had claimed responsibility for the Met's website crashing and had written on twitter: "Arrests = Downtime bitches."
The newspaper said the hacker had claimed to be part of a group affiliated with Anonymous and splinter group Lulzsec.
Conditions imposed on the Million Mask March dictated that the march take place between 7pm and 9pm.
Police commander BJ Harrington said police managed to "keep disruption in the capital to a minimum and dispersed the group swiftly and without the need for containment".
He added that it was a "challenging event" for officers and thanked those "participants who conducted themselves in a peaceful manner as well as Londoners and those visiting our city for their patience and tolerance".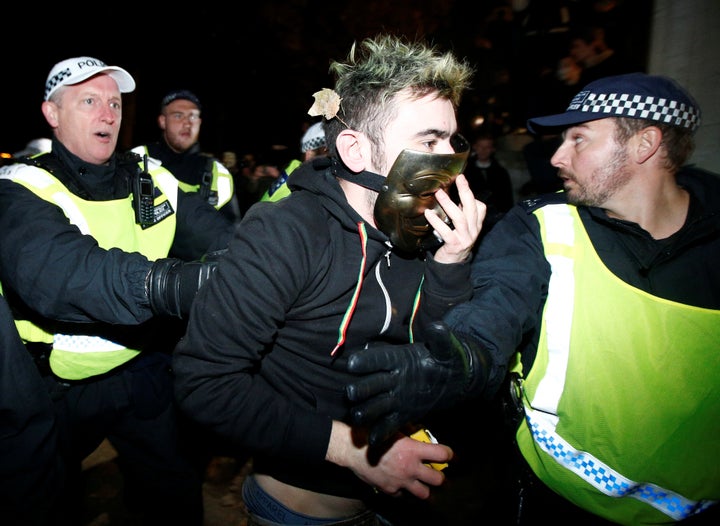 Harrington said police facilitate hundreds of peaceful protests every year in London usually with the co-operation of the organisers - something that did not happen with the Million Mask March.
"On this occasion although the organisers did not engage with police, the majority of protesters did adhere to the conditions imposed. Only a small minority chose to breach the conditions and engage in criminality."
Before the event some 20,000 people said on Facebook that they were planning on attending the march.
Of the march, one of those who planned to attend wrote on HuffPost UK: "The Million Mask March is a chance for the world to see our fight that continues day after day online.
"The people united can never be defeated, you can't arrest an idea."