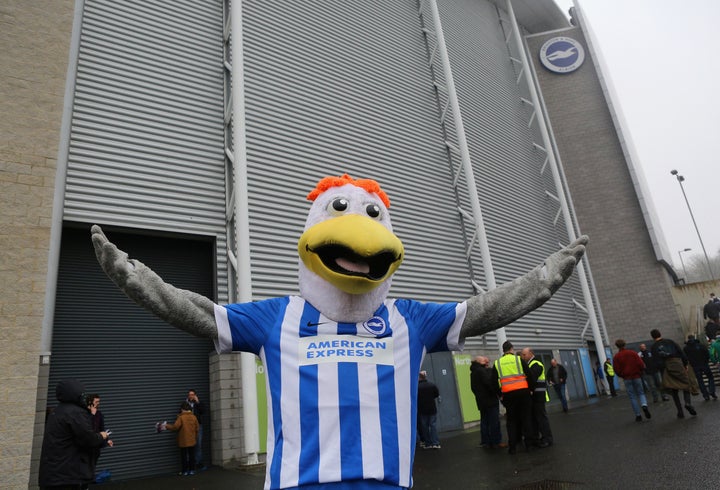 Football clubs, a luxury spa and a posh country pub in David Cameron's constituency have all been named and shamed for not paying the minimum
The business were part of a list of almost 200 companies released by the Government today who owed their workers almost half a million pounds in unpaid wages.
Among those companies listed is Championship club Brighton & Hove Albion, which owed £2,861.64 to 1 worker and League 2 side Blackpool, which had to pay £517.88 to 1 worker.
Formby Hall Golf Resort & Spa in Merseyside, which charges £185 for a night in one of its executive rooms, was also found guilty of not paying the minimum wage - which is £5.30 per hour for 18 to 20-year-olds and £6.70 for over 21s.
It had to pay £1,047.00 to 1 worker.
The Chequers, in Chipping Norton, located in Cameron's constituency of Witney in Oxfordshire owed £1,190.68 to 1 worker.
Business Minister Margot James said: "This Government is determined to build an economy that works for everyone, not just the privileged few.
"That means making sure everyone gets paid the wages they are owed – including our new, higher, National Living Wage. It is not acceptable that some employers fail to pay at least the minimum wage their workers are entitled to.
"So we'll continue to crack down on those who ignore the law, including by naming and shaming them."
In a statement, Brighton and Hove Albion claimed the indiscretion came about because the club were "over generous in paying the expenses of an individual on work experience placement at the club two years ago."
The club then suspended its work experience programme after being censured by the tax office.
A spokesperson said: "As a business we feel our reputation as a responsible employer has been very unfairly tarnished. We are one of the few clubs who pays its staff over and above the national living wage.
"Unfortunately, in light of this, we are now more risk averse in terms of offering work experience opportunities. This means we are unable to give as many valuable on-the-job work experience opportunities to those looking to further their careers or break into this highly competitive industry."
Since the name and scheme was introduced in October 2013, 688 employers have been publicly embarrassed, and more than £3.5 million has been paid to workers.
The latest list – the tenth since the scheme was launched – only includes business caught not paying the minimum wage, and does not take into account the National Living Wage, introduced in April
The current minimum wage rates are:
National Living Wage (25 years and over) - £7.20 per hour

adult rate of National Minimum Wage (21 years and over) - £6.70 per hour

18 to 20-year olds - £5.30 per hour

16 to 17-year olds - £3.87 per hour

apprentice rate - £3.30 per hour
The 198 employers named today are:
San Lorenzo Ltd, Wimbledon, London, owed £99,541.98 to 30 workers

Premier Recruitment Ltd, Derby, owed £34,797.33 to 424 workers

Regis UK Ltd, Coventry, owed £25,712.19 to 604 workers

RD Resourcing Ltd, Eastleigh, Hampshire, owed £14,350.00 to 122 workers

TM West Plumbing Services Ltd, Leeds, owed £12,617.76 to 2 workers

Mr Ronald McConnachie, trading as Bay Newsagents, Weymss Bay, Renfrewshire, owed £12,527.97 to 3 workers

SLW Ltd, trading as Sycamore Care Centre, Sunderland, owed £10,212.05 to 98 workers

Kushi Care Ltd, Leicester, owed £9,726.23 to 46 workers

Busy Bee Nursery (Newport-on-Tay) Ltd, trading as Little Beehive Nursery, Fife, owed £9,065.14 to 7 workers

Omega Proteins Ltd, Halifax, owed £8,977.51 to 5 workers

Mr Moo's Family Butchers Ltd, Billingham, Cleveland, owed £7,371.25 to 4 workers

Rice Chamberlains Estate Agents Ltd, Birmingham, owed £6,580.63 to 3 workers

Black Swan (Yorkshire) Ltd trading as The Black Swan Hotel, York, owed £5,836.66 to 10 workers

Michael Holmes, trading as Fitzroy Builders, Newtownards, County Down, owed £5,371.76 to 2 workers

Voyage 1 Ltd, Lichfield, Staffordshire, owed £5,337.73 to 3 workers

Minee Monkeys Ltd (previously Mini Monkeys Ltd), Oldbury, owed £5,209.96 to 1 worker

Haven Care Ltd, Ilford, owed £4,695.89 to 101 workers

Mr Ray Macfarlane, trading as Rays Auto Custom Services, Blackburn, owed £4,396.74 to 2 workers

Catering Academy Ltd, Tamworth, Staffordshire, owed £4,220.48 to 1 worker

A & G Precision & Sons Ltd, Poulton Le Fylde, Lancashire, owed £3,723.24 to 1 worker

Azafran Ltd trading as Bluebird Care (Coleraine), Coleraine, owed £3,707.92 to 67 workers

Woods Hair Ltd, trading as Chapters Hair Design, Witney, Oxfordshire, owed £3,676.87 to 1 worker

Mr Keith Smith & Mrs Lynda Smith, trading as KLS Electrical Contracting, Goole, East Yorkshire, owed £3,619.70 to 1 worker

SPRIM V.P.I Limited, London, SW1V, owed £3,543.44 to 1 worker

Mr Prakas Kitto, trading as Kash's Off Licence, Spennymoor, County Durham, owed £3,445.88 to 1 worker

Topstaff Employment Ltd, Glasgow, owed £3,355.25 to 20 workers

Playdays Daycare Nursery Ltd, Bolton, owed £3,277.04 to 1 worker

Mr Ben Wilkins and Mr Harry Williamson, trading as BHW Property Solutions, Bedford, owed £2,933.48 to 1 worker

Castle Carpets Ltd, Shrewsbury, owed £2,898.12 to 1 worker

Brighton & Hove Albion Football Club Limited, Brighton, owed £2,861.64 to 1 worker

KAB Development & Construction Ltd, Sandbach, Cheshire, owed £2,815.51 to 1 worker

Mr Nicholas & Mrs Christina Winstone-Partridge, trading as Wholesale Autoparts, Kidlington, Oxfordshire, owed £2,691.73 to 1 worker

Pine View Care Home Ltd, trading as Royal Manor Nursing Home, Derby, owed £2,620.45 to worker

Silverdale Care Homes Ltd, Newcastle-under-Lyme, Staffordshire, owed £2,590.99 to 1 worker

Mrs Margaret Pink, trading as Gems Childcare, Croydon, owed £2,558.80 to 4 workers

UK Education Providers Ltd, Romford, owed £2,494.83 to 2 workers

Ro-Ro Restaurants Ltd, trading as Oldfields Noted Eating House, Durham, owed £2,463.98 to 3 workers

Betterstaff Industrial & Commercial Recruitment Limited, Sidcup, Kent, owed £2,441.92 to 23 workers

Bambinos Ltd, Plymouth, owed £2,381.97 to 58 workers

Prestwood Motors Ltd, Great Missenden, Buckinghamshire, owed £2,375.00 to 1 worker

G C Motors Ltd, Harrogate, owed £2,328.83 to 2 workers

Flavourfresh Salads Ltd, Southport, Merseyside, owed £2,154.94 to 3 workers

Mr Chi Kin Cheng, trading as The Modern Chinese Takeaway, Derby, owed £2,124.58 to 1 worker

Macdonalds Hotels & Resorts Ltd, Bathgate, West Lothian, owed £2,123.10 to 6 workers

Paper Innovation Ltd, Preston, owed £2,024.82 to 4 workers

Hairstopper Limited, Ayr, owed £2,021.07 to 2 workers

Ms Susanna Ross, trading as Susanna's Hair & Beauty, Ayr, owed £2,013.22 to 1 worker

Messrs Robert Goodwin & Paul Coxhead, trading as Instant Services (Domestic Appliances), Rochester, Kent, owed £1,978.68 to 1 worker

K Construction (Scotland) Ltd, Edinburgh, owed £1,916.61 to 2 workers

The Buck Project Ltd, Chalgrove, Oxfordshire, owed £1,915.15 to 1 worker

Philips Hair Salons Ltd, Wakefield, owed £1,904.00 to 4 workers

The Hobbs Hairdressing Partnership Ltd, trading as Hobbs Hairdressing, Bristol owed £1,883.90 to 2 workers

Mr Snippers Ltd, Kings Lynn, Norfolk, owed £1,867.54 to 1 worker

Newlay Civil Engineering Ltd, Airdrie, North Lanarkshire, owed £1,860.60 to 1 worker

Mr Ronald Archibald Mutton and Mrs Sandra Anne Mutton, trading as A1 Plumbing & Heating, Oxford, owed £1,834.13 to 1 worker

Cheasty Ltd, trading as Papa Johns, Edinburgh, EH8, owed £1,811.33 to 19 workers

Mr Darren Harding & Mrs Amy Harding, trading as The Wheatsheaf, Titchmarsh, Northamptonshire, owed £1,792.69 to 2 workers

Mrs Elizabeth Richardson, trading as Poppies, Durham, owed £1,772.13 to 23 workers

Mrs Sheena Lyttel, trading as Pamela Clair, Derby, owed, £1,699.01 to 1 worker

AA Dispatch (UK) Ltd, Thetford, Norfolk, owed £1,669.41 to 1 worker

Mrs Jeanette Mullen, trading as Fleetcare, Bristol, owed £1,665.38 to 1 worker

Mr Carl Smith, trading as Nottingham & District Gun Club, Oxton, Nottinghamshire, owed £1,635.03 to 2 workers

Gwynedd Electrical Contractors Ltd, Anglesey, owed £1,625.92 to 1 worker

McLeod Hotels Ltd, trading as Beechwood Close Hotel, York, owed £1,526.20 to 13 workers

Small Talk Nurseries Ltd, Birmingham, owed £1,499.30 to 10 workers

Preston Flowers Ltd, Preston, owed £1,493.40 to 1 worker

A1 Independent British 4x4 Specialists Ltd, Bury, Lancashire, owed £1,422.44 to 1 worker

High Peak Hospicecare, Chapel en le Frith, Derbyshire, owed £1,363.13 to 1 worker

Avanti Express Ltd, Hyde, Greater Manchester, owed £1,300.16 to 1 worker

Mr Mark & Mrs Elizabeth Leicester, trading as Yorkshire Chimney Supplies, Harrogate, owed £1,264.76 to 1 worker

Mr Thomas Till and Mrs Pauline Till, trading as Misters of Stafford, owed £1,254.76 to 1 worker

Huddlebuy Ltd, London, EC4V, owed £1,236.88 to 1 worker

Mitie Property Services (UK) Ltd, Bristol, owed £1,226.37 to 1 worker

Airspeed Tyres & Exhaust Ltd, Ipswich, owed £1,198.75 to 1 worker

The Dinner Bell Ltd, trading as The Chequers, Chipping Norton, Oxfordshire, owed £1,190.68 to 1 workers

Mobile Buddy Ltd, Swansea, owed £1,162.77 to 1 worker

Mrs Rebecca Hodges & Mr Rob Hodges, trading as Flame Hair Studios, Towcester, Northamptonshire, owed £1,146.46 to 2 workers

Miss Olivia Smith, trading as The Cutting Rooms, Wetherby, West Yorkshire, owed £1,132.65 to 1 worker

Crown Care II LLP, North Shields, owed £1,129.74 to 60 workers

Mr Richard Harris and Mrs Myrtle Harris, trading as Honiton Garage, Honiton, Devon, owed £1,121.55 to 1 worker

Universal Care Services (UK) Ltd, Nuneaton, Warwickshire, owed £1,085.93 to 7 workers

Sunnybank Day Nursery Ltd, Leeds, owed £1,083.45 to 2 workers

Formby Hall Golf Club Ltd, trading as Formby Hall Golf Resort & Spa, Formby, Merseyside, owed £1,047.00 to 1 worker

Sine Hair & Beauty Salon Ltd, Glasgow, owed £1,027.65 to 1 worker

JR's Hairdressing Ltd, Glasgow, owed £1,000.16 to 2 workers

Ms Lorna Bainbridge, trading as Passion 4 Hair and Beauty, Stockton-on-Tees, owed £997.45 to 2 workers

Three Points Limited, Bristol, owed £972.64 to 1 worker

Mrs Rosemary Wight, trading as AJ'S Hair & Beauty Salon, Wellingborough, Northamptonshire, owed £972.41 to 1 worker

Ryce Limited, Fife, owed £935.96 to 1 worker

Mr Abdul Muslim, trading as Light of India, Oban, Argyll and Bute, owed £927.60 to 1 worker

Sanctuary Home Care Ltd, Worcester, owed £918.65 to 1 worker

Interserve FS (UK) Ltd, Dudley, owed £894.03 to 4 workers

Forest Gate (Corby) Ltd, Corby, Northamptonshire, owed £878.57 to 4 workers

William Priestley Salon Ltd, Halifax, owed £830.69 to 1 worker

SGUK Limited, Wolverhampton, owed £809.66 to 1 worker

Mr Steven Jenkins, trading as Rock Salt Café & Brasserie, Plymouth, owed £779.00 to 2 workers

Edward Marshall LLP, Chelmsford, Essex, owed £776.50 to 1 worker

Lifestyle (Abbey Care) Ltd, Richmond, North Yorkshire, owed £775.12 to 1 worker

Automaster (South Wales) Ltd, Pontyclun, Mid Glamorgan, owed £770.56 to 1 worker

Thomson ID Ltd, trading as Austen Thomson Hair, Edinburgh, owed £759.32 to 1 worker

Mead Medical Services Ltd, trading as Lydiafield Care Home, Annan, owed £741.67 to 13 workers

Ms Sue Newton, trading as Play 2 Learn Day Nursery, Northampton, owed £735.48 to 1 worker

Brick Peers Ltd, Wells, Somerset, owed £735.25 to 1 worker

McKinlays Lettings Crewkerne Ltd, Crewkerne, Somerset, owed £713.18 to 1 worker

Temple Doors Ltd, Stockport, Cheshire, owed £674.98 to 1 worker

Mr Harpinder Singh Dhamu, trading as Holloway Dental Practice, London, N7, owed £671.37 to 1 worker

Mr David Curran and Mrs Deborah Curran, trading as Gazeley Stud, Newmarket, Suffolk, owed £646.20 to 1 worker

Devon Dogs Ltd, Okehampton, Devon, owed £638.49 to 1 worker

Legal Claimline Ltd, Manchester, owed £612.49 to 1 worker

Fisher & Donaldson (St Andrews), Cupar, Fife, owed £574.32 to 6 workers

U K P Leisure Club, Sittingbourne, Kent, owed £566.62 to 1 worker

Olyness Ltd, trading as The New Westmere Day Nursery, Blackpool, owed £561.96 to 1 worker

Ms Alison Vallance, trading as Vallance Hair & Beauty, Edinburgh, owed £547.20 to 1 worker

Murdock Ltd, London, WC2H, owed £546.00 to 1 worker

Krystal Dry Cleaners Ltd, London, SW16, owed £544.46 to 1 worker

Blackpool Football Club, Blackpool, owed £517.88 to 1 worker

Mr Alex Okolidoh & Mrs Victoria Okolidoh, trading as Elite Property Solutions, Norwich, owed £511.20 to 1 worker

Crown Care IV Ltd, North Shields, owed £505.86 to 25 workers

247 Home Rescue Ltd (Named changed to 123 SRS Limited), Accrington, Lancashire, owed £493.05 to 1 worker

Collective Apparel Ltd, Kingston-upon-Thames, owed £487.34 to 1 worker

Mr Robert Louis Craig, trading as Craigs Courier Services, Falkirk, owed £484.90 to 1 worker

Shiners Property Services Ltd, London, E14, owed £481.36 to 1 worker

Earn Extra 139 Ltd, Brighouse, West Yorkshire, owed £453.48 to 1 worker

Morleigh Ltd, trading as Tregertha Court Residential Care Home, Looe, Cornwall, owed £447.98 to 1 worker

Ebina Ltd, trading as Ebi Sushi, Derby, owed £447.97 to 4 workers

Dove's Nest Ltd, Manchester, owed £439.37 to 19 workers

Zeus Enterprise Ltd, trading as Yieldify, London, EC3R, owed £421.93 to 1 worker

Ms Tina Hamlin, trading as Mad Hatters, Orpington, Kent, owed £418.73 to 3 workers

Elite Complete Property Services Ltd, Plymouth, owed £414.85 to 1 worker

J. Electrical. Services. Ltd., Swansea, owed £410.00 to 1 worker

Toni Saade Ltd, trading as Toni Saade Hair Salon, Newmarket, Suffolk, owe £404.64 to 1 worker

Salim Uddin Khan, trading as Top Tread Tyres, Exhaust & MOT Centre, High Wycombe, owed £402.25 to 1 worker

Music Junkie Ltd, Leicester, owed £396.85 to 1 worker

Mr Kevin Boyd, trading as Billion Hair, Wigan, owed £396.07 to 1 worker

Scope, London, N7, owed £394.28 to 1 worker

Legends (Redditch) Ltd, trading as Legends Hair & Beauty Salon, Worcester owed £393.14 to 3 workers

Suzy Mcs Corporate Catering Ltd, Coventry, owed £392.18 to 1 worker

Simply Auto Enrolment Solutions Ltd, Bury, Lancashire, owed £390.00 to 1 worker

Care and Support Shop Ltd, London, E13, owed £389.74 to 28 workers

Contact Industrial Recruitment Ltd, Urmston, Manchester, owed £378.77 to 64 workers

Mr Stephen Wallace, trading as The Lunatic Fringe, Canterbury, owed £377.48 to 1 worker

Pasture Wood Fisheries Ltd, Barton-on-Humber, Lincolnshire, owed £373.95 to 3 workers

Hollywood Plant Services Ltd, Walsall, owed £372.41 to 1 worker

Terracotta Foods Ltd, trading as Freddy's Chicken & Pizza, Northampton, owed £370.80 to 1 worker

Your Electrical Supplies Services & Solutions (A) Ltd, Normanton, West Yorkshire, owed £369.88 to 2 workers

SLRS Ltd, trading as Stealth Security, Southampton, owed £366.26 to 1 worker

Industrial Medical Agency Ltd, Bradford, owed £365.37 to 1 worker

Le Nantais Bistro (Hove) Ltd, Brighton, owed £362.44 to 1 worker

Trident Design and Build Ltd, Warwick, owed £360.35 to 2 workers

Jackson Dairies Ltd, Stockport, owed £355.90 to 3 workers

Stephen Johnstone & Son Funeral Directors, Chester, owed £347.05 to 1 worker

Motorbody Accident Repair Centre Ltd, Ambleside, Cumbria, owed £338.27 to 1 worker

Beezy Beez Day Nursery Ltd, Leicester, owed £334.26 to 1 worker

Manchester Super Store (Rusholme) Ltd, Manchester, owed £315.50 to 1 worker

Lakhani Holdings Ltd, trading as Munro Pharmacy, London, E13, owed £312.00 to 1 worker

The Personnel People Ltd, Norwich, owed £298.58 to 15 workers

Smart Cool Ltd, Hull, owed £294.71 to 1 worker

Kent Coach Travel Ltd, Sheerness, owed £294.51 to 1 worker

Arcadia Care Ltd, Birmingham, owed, £286.00 to 1 worker

B2B Engage Ltd, Bracknell, owed £282.00 to 1 worker

Sollertia Limited, Newton Le Willows, Merseyside, owed £271.95 to 1 worker

Mrs R Goff & Mrs E Butt, trading as Cotswold Equine Training, Burford, Oxfordshire, owed £268.72 to 1 workers

Benkaz Ltd, Shotts, Lanarkshire, owed £266.71 to 1 worker

Kinza Beauty Lounge Ltd, Ashton-under-Lyne, Lancashire, owed £258.30 to 1 worker

Care 4 U Services (Lincs) Ltd, Lincoln, owed £257.27 to 1 worker

Mr Anthony Shields, trading as 2CV City, Bradford, owed £252.46 to 1 worker

Purple Pig Middlesbrough Ltd, Middlesbrough, owed £226.00 to 1 worker

Fury Murry's (Paisley) Ltd, Paisley, owed £216.14 to 1 worker

Greene King Retail Services Ltd, Bury St Edmunds, Suffolk, owed £211.89 to 1 worker

Consummate Care UK Ltd, Coventry, owed £201.36 to 1 worker

Professional Print Finishing Services Limited, London, N18, owed £198.25 to 1 worker

Supreme (UK) Ltd, Woking, owed £197.41 to 1 worker

Dimples Riverside Day Nursery Ltd, Middlesbrough, owed £195.23 to 5 workers

Poundstretcher Ltd, Huddersfield, owed £182.94 to 2 workers

Wood & Co (Leicester) Ltd, Leicester, owed £179.17 to 1 worker

Pomodoro 1 Ltd, Bewdley, Worcestershire, owed £177.64 to 2 workers

Mr Isni Balija, trading as Letchworth Hand Car Wash, Letchworth Garden City, owed £173.33 to 1 worker

Euro Dental Laboratory Services Ltd, Chorley, owed £173.00 to 1 worker

Plum Buffets Ltd, Coventry, owed £156.00 to 1 worker

Safe Night Security Ltd, Sunderland, owed £156.00 to 1 worker

Miss Alison Margaret Smith, trading as AMS Hair & Beauty, Edinburgh, owed £150.00 to 2 workers

Food n Tipple Ltd, Bolton, owed £148.28 to 1 worker

Biton System Consultants Ltd, Chelmsford, Essex, owed £145.00 to 1 worker

Shepherdess Café Ltd, London, EC14, owed £141.70 to 1 worker

Beau Visage Beauty Ltd, Manchester, owed £141.00 to 1 worker

Assist Homecare (Scotland) Ltd, Stevenston, Ayrshire, owed £134.21 to 1 worker

TS Developments Ltd, trading as Imperial Workforce, Darlington, owed £130.30 to 12 workers

Lifeline Homecare Ltd, Frome, Somerset, owed £130.02 to 3 workers

IPizza UK Ltd, trading as IPizza, London, W3, owed £130.00 to 1 worker

Nu U 2 Ltd, Sittingbourne, Kent, owed £125.57 to 1 worker

Quest Cleaning Services Ltd, Staverton, Wiltshire, owed £125.13 to 1 worker

My Home Choice (Essex) Ltd, trading as Bluebird Care Colchester, Colchester, owed £120.53 to 1 worker

L M Bubble Tea Ltd, trading as Mooboo, Liverpool, owed £117.19 to 1 worker

Newline Care Home Ltd, Bradford, owed £116.31 to 1 worker

Peppermint UK Foods Ltd, trading as Subway, Brentwood, owed £107.20 to 1 worker

Miss Despina Glykeriou and Mrs Jane Waldrum, trading as P W W Ice Cream Supplies, St Leonards-on-Sea, East Sussex, owed £106.72 to 1 worker

Micro Fitness Ltd, Cumbernauld, Glasgow, owed £104.93 to 1 worker

Silenster Building Services Ltd, Thetford, Norfolk, owed £103.48 to 1 worker