Chris Grayling's Department for Transport has abandoned publishing the full cost of running ministerial cars despite previously boasting about how the government had saved money compared to Labour.
In a pointed reference to the previous Labour administration, the department pointed to the official Government Car Service reducing its running costs "by three-quarters since 2010" - and highlighted "equivalent figures for the £6.7 million charges" accrued prior to 2010.
In response to a Freedom of Information request from HuffPost UK, the Department for Transport said it was too expensive to compile the data for either of the subsequent two years as it indicated the breakdown was no longer being published routinely.
It said the details for 2016-17 and 2017-18 are not held "centrally within an operational IT system capable of producing a report for the specific data requested". HuffPost asked for the exact same data as published for 2015-16.
The Labour Party said the "lack of transparency and accountability" are the "hallmarks of Chris Grayling's calamitous tenure as Transport Secretary".
Grayling, who has faced criticism over his handling of rail improvements and handing a Brexit ferry contract to a firm without any ships, has been secretary of state for transport since July 2016.
Ministerial cars are deployed to ship senior members of the government – and the 'red boxes' that contain their sensitive documents – securely around Whitehall, to their constituencies, and visits across the country.
The DfT has also refused a separate FOI request from HuffPost UK to release information on the cost of driving only ministerial briefcases around, despite providing these figures for the previous six years.
HuffPost UK previously revealed £44,010 was lavished on ferrying documents - and no passengers - between government departments and a minister's home in 2016-17, just under £3,000 more than the previous year.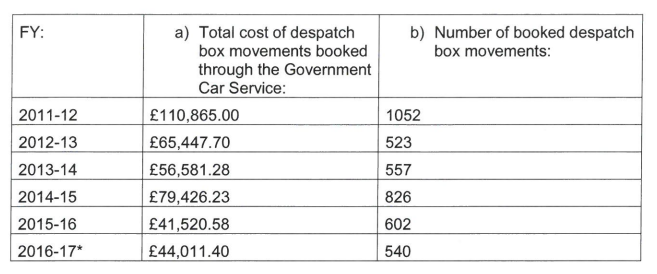 Andy McDonald, Labour's shadow transport secretary, said: "That the Department for Transport are refusing to say how much has been spent on ministerial cars suggests they have broken their pledge to reduce costs to the taxpayer.
"An inability to keep promises, wasting public money and a lack of transparency and accountability are the hallmarks of Chris Grayling's calamitous tenure as transport secretary."
The last time the DfT published the figures for the total costs of ministerial cars, it provided details of how much was spend on the Government Car Service (GCS) and an additional "pre-booked service".
It says GCS is "not the sole provider of vehicles" and many departments "now have alternative arrangements with external providers".
A DfT spokesperson said: "We are committed to being open and transparent.
"All usage of the Government Car Service is governed by the ministerial code, and is monitored to ensure it represents value for money for the taxpayer."