A 15-year-old grammar schoolboy who disappeared nine weeks ago left a letter for his anguished parents saying he was 'bored of life' - but would return within a year.
Arthur Heeler-Frood vanished after leaving home as normal to cycle the seven miles to school on September 6.
He had just received 'outstanding' GCSE grades and started his A levels the previous day at Colyton Grammar in Devon, one of Britain's top-rated state schools.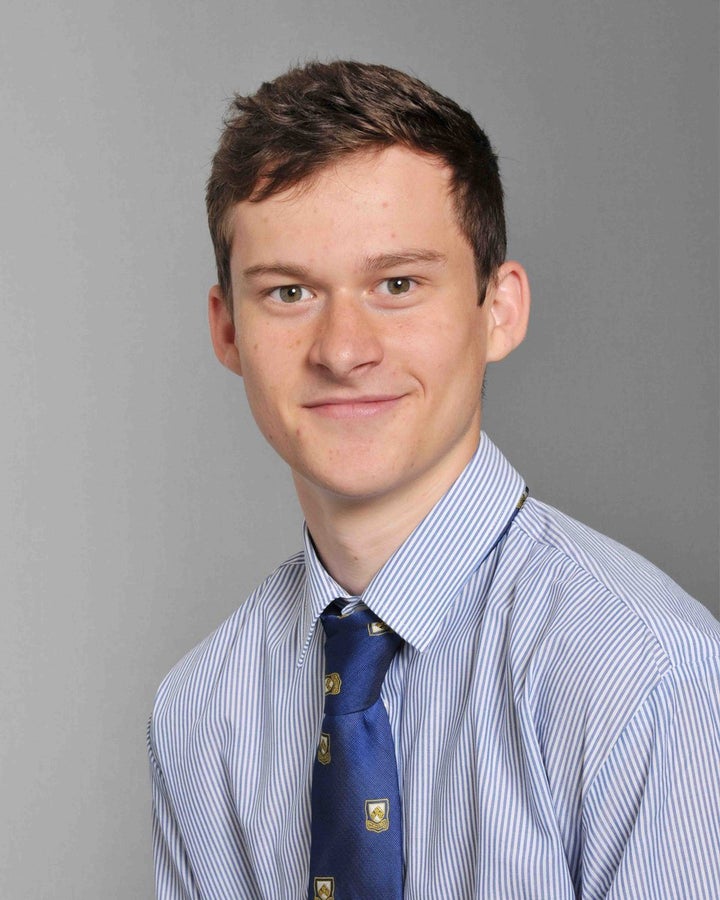 His parents Caroline and Jeremy have made several tearful public appeals for him to get in touch but without success.
The couple have now released a letter Arthur left behind - asking them not to try to find him, but promising to return within a year.
"To Mum and Dad,

"I have run away because I am bored of my life. Please don't try to find me or make me come home.

"I don't know how long I will be away for, but it won't be any longer than a year.

"You will find my school uniform in a bin bag in a small barn in the field on the green, down the road from Membury church. My bike is chained to the fence, there is a spare key to the lock on the window.

"Please can you apologise to the restaurant and tell them that I will no longer be able to work there.

"I know you will be upset, but understand that I have to do this. From Arthur."

Arthur's clothing and bike were found as he described - but there has been no sightings of him.
Speaking at a police press conference last month his mother Caroline, of Membury, near Axeminster, Devon, said: "Arthur, we miss you terribly.
"We don't know whether you are safe or what situation you are in.
"I don't think you realise how hard it is for us. Please make contact.
"Just let us know you are safe Arthur. Please."
This week she told The Guardian her son was "adventurous" with a strong interest in current affairs and politics, adding: "The book he was reading before he left was [George Orwell's] Down and Out in Paris and London. You wonder if that had been an influence... We think that he felt he wanted his own adventure."
"Better still come home and talk to us.
"If there are aspects of your life you are unhappy about there are other options that we can consider together."
Arthur's older sister Hester has also appealed for information on Facebook.
Police said Arthur admired his older brother who had hitchhiked around Europe funded by work he picked up on the way.
Arthur is white, 5ft 4in tall, with a slight build and short light brown hair.
Detective Constable Mark Boon said: "Arthur left a detailed note expressing his wishes to travel and his reasons, and at this time we are asking anyone who has seen him to get in touch.
"Arthur's hair clippers are missing from his room indicating that he may now have considerably shorter hair, possibly shaven.
"I would also like to stress that Arthur is not in trouble and we are desperate to hear from him to know that he is okay.
"When he was last seen he was wearing his school uniform and carrying a black rucksack, but is now thought to be wearing blue jeans and a black hoody."
Colyton Grammar is a state-funded, co-educational grammar rated 'outstanding' by Ofsted in three successive reports.
Headteacher Tim Harris said: "We are helping the police in the search for Arthur.
"He is a bright, popular and sociable boy who has just got outstanding GCSE results this summer and has just started his A-levels.
"We urge Arthur to make contact with his family to let them know he is safe and well."
MISSING PEOPLE HELPLINE

If you're missing, thinking of going missing or someone you know is missing, and you want to talk
Call Freefone: 116 000
Text: 116 000
Email: 116000@missingpeople.org.uk
Useful websites and helplines: