Model Iskra Lawrence stripped down to her underwear on public transport to spread an important message of self-worth and body positivity.
Lawrence, 26, stood on a packed subway carriage in New York and told commuters: "I want to talk about the most important relationship we have in our lives, which is the one we have with ourselves.
"I want to make myself vulnerable today so we can see truly the journey I've come on with my own body and how I feel about myself today."
The size 14 model, who was recently named in the BBC '100 Women Of 2016' list for promoting healthy bodies instead of unrealistic beauty standards, continued: "I'm going to reveal myself to you to prove that we are in control of how we feel about ourselves. No one else holds our self worth but us."
At this point, she took off her dress and stood before the crowded carriage in just her bra and knickers.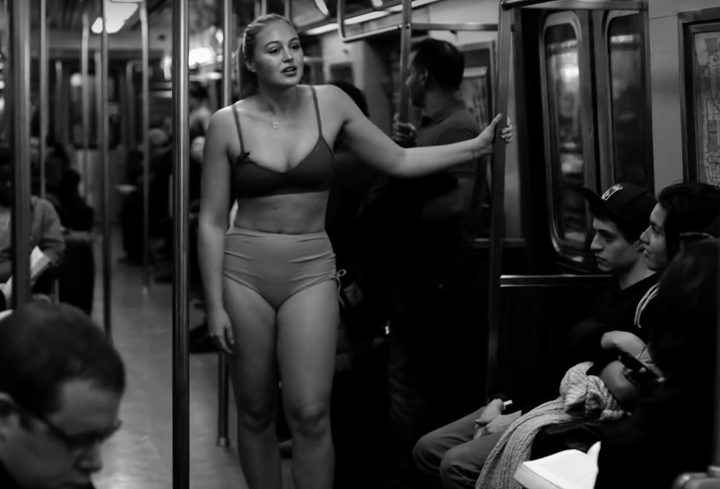 "I grew up hating what I saw in the mirror because society told me I wasn't good enough," she told strangers. "I thought there was something wrong because I didn't have a thigh gap, that I had cellulite, that I wasn't skinny enough.
"That is the media, that is society, making a small standard of beauty when we are so much more than that."
She added: "This body is not just something to be objectified, to be grabbed, to be looked at. This is my vessel, this is my home, I respect it. No matter what I'm wearing right now, do not judge me because I am more than what I am.
"We all look different, but God created us equal. We are meant to be on this earth because we have so much more to give. And what I really hope by sharing this with you today is that you are going to see yourself differently."
While she spoke, some passengers acknowledged her, while others looked awkwardly at the ground.
"Every single one of us has so much value and so much worth that is much more than just skin," Lawrence, who is originally from Worcester, continued.
"We are all brothers and sisters, we are all equal, this is just our vessel. So please, when you look in the mirror when you get home, do not pick out your insecurities, do not look at the things that society told you wasn't good enough because you are so much more than that.
"Look at your body and see why we appreciate it, what it does for us, our strength, what we are grateful for, and start talking to yourself, celebrating who you are and respecting that."
She concluded by telling passengers that they should not only change how they view themselves, but should also stop being judgemental towards others.
"We can grow (every single day) this beautiful relationship that we have with our selves, that we have with our bodies and that we have with each other," she said.
"You deserve to love yourself [and] you deserve to feel comfortable and confident."