A model has called out the many issues women face when shopping for plus-size swimwear on the high street - and she has some very good suggestions for designers.
Sonny Turner, who is signed with Milk Model Management, had a moment of clarity when out bikini shopping and she decided to share her insight into the problems with swimwear designs.
"Changing rooms can be scary places," she wrote in an Instagram post titled: "The reality of bikini shopping as a thick/plus-size woman".
"I am wearing the largest size from one of the most popular high street stores sells in bikinis, which is 12-14.
"High street store bikinis do not cater for women of my body type. Majority of online stores don't either. No one gets it."
Turner told HuffPost UK that she is shocked by the high street's attitude to sizing.
"When I picked up the bikini I knew they weren't going to fit," she said.
"I was just shocked that a size 12-14 is the biggest size they stocked. So I wanted to try them on to confirm.
"How can brands genuinely think a size 12/14 is the biggest body of women who wear bikinis!"
Turner offered the following advice for designers working on swimwear lines:
:: "Big breasts need underwire for support and a youthful lift.
:: "We need cup sizes that correlate to bra sizes and they need to go past DD.
:: "We need cups that actually cover more than our nipple.
:: "We need cups that bring our boobs together so there's not a massive gap in-between them.
:: "We need straps that aren't so tight it's as thought our neck is about to snap off.
:: "We need bikini bottoms that don't give us wedgies when we walk.
:: "We need string bikinis that don't expose our vagina lips.
:: "We need swimsuits that fit over our hips without dragging the neck of the costume down causing neck ache
:: "We deserve more choice in the selection for our body type that isn't just the generic black swimsuit with a kimono. Yes, believe it or not, some of us actually want a thong bikini, the whole selection doesn't have to be high-waited.
:: We're gonna need you to stop using models with fake boobs that aren't a real depiction of what the bra would look like on our droopy ones."
Turner's experience in the changing room led her to conclude: "It's not fair that we can't wear cute swimwear just because we are built differently.
"We deserve to walk into a store and pay £10 for a nice bikini without breaking the bank and our body confidence."
So any designers out there please note Turner's bottom line is that you should "make clothes for all sizes and bodies."
Turner's post received more than 11,000 likes within 15 hours of being posted.
"I was slightly shocked at the reaction," she said.
"I didn't realise how many other women have the same issue with finding a bikini that fits top and bottom half.
"It's crazy that we have to go through this in 2017."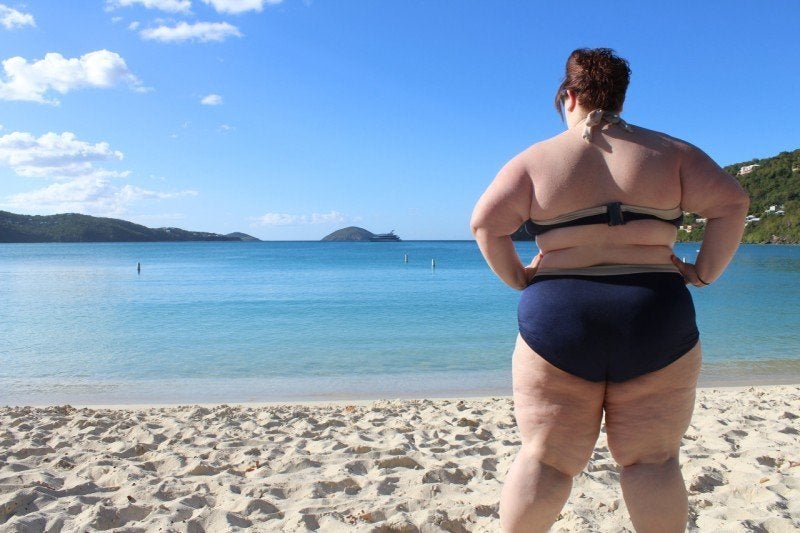 We Exist: Diversity In Plus Size Bodies