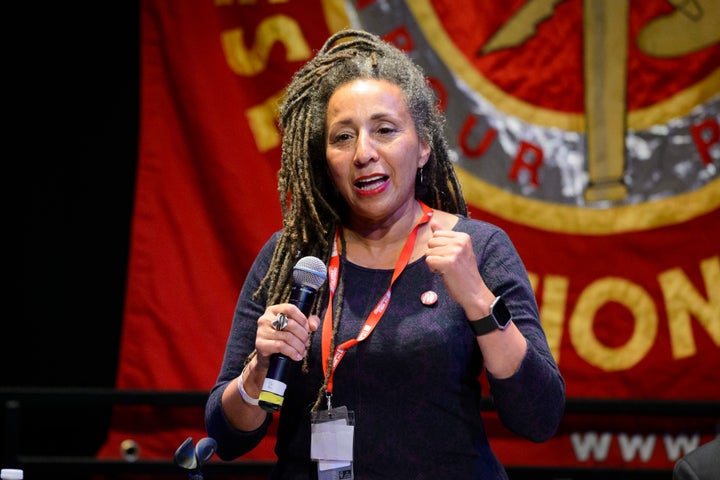 The pro-Jeremy Corbyn Momentum campaign group has been asked by some of its activists to condemn what they see as an "anti-Semitism witch-hunt" designed to "discredit, isolate and destabilise" the Labour leader.
Members have have warned there is a "united front of the mainstream media, the Conservatives, and the Labour right" against Corbyn which is using claims of anti-Semitism to undermine the the left of the party.
On Saturday, Momentum's National Committee will meet in Birmingham. It's regional branches have submitted motions, which can be read in full below, to be debated and possibly adopted by the organisation.
Momentum branches also call for local activists to be given the right to remove the whip from Labour MPs, note the "discontent" felt by some Momentum members and condemn "personal abuse" directed at its founder Jon Lansman
Activists are also pushing for the creation of an international wing of Momentum "to fight back against the global elites who will be doing everything they can to destroy a Corbyn government".
During the Labour Party conference in September, video footage obtained by The Huffington Post showed Walker, who is Jewish, criticising Holocaust Memorial Day for not including non-Jewish genocide victims. Walker, who was heckled during the meeting, also questioned the need for security at Jewish schools, and said she hadn't heard an anti-Semitism definition she could "work with".
In its motion, Momentum's South East Region condemned the decision to remove Walker from her Momentum post and called for her "immediate" reinstatement.
"It is clear that Jeremy Corbyn's election, together with the unprecedented growth in membership this has generated, is seen as a threat by the establishment and mass media, together with some within the movement. They will stop at nothing in their efforts to undermine, demoralise, confuse and divide this movement and remove him from office," the motion reads.
"Accusations of anti-Semitism, like those of misogyny and bullying, are just one aspect of this 'guerrilla warfare'. Removing Jackie from her position will not appease these people rather it will embolden them to continue their attacks."
Momentum's London Region calls for "all suspensions by the Labour Party" to be "lifted immediately" and for Momentum nationally to "fight back against the witch-hunt and campaign for the rights of Palestinians".
It adds: "The attacks on Jeremy Corbyn and the Labour left by a united front of the mainstream media, the Conservatives, and the Labour right demonstrate the high stakes involved. The anti-Semitism witch-hunt is part of a wider assault and purge designed to discredit, isolate and destabilise the Labour leadership, as well as closing down the space for debate about the politics of the Middle East by equating anti-Zionism with anti-Semitism."
And the Yorkshire and Humber Region argues anti-Semitism has "once again, been used as a political football in a way that undermines real complaints of this pernicious form of racism".
Its motion states: "Thousands of Labour Party members have been suspended in the purge and Jackie is unfortunate enough to have been targeted twice. This could happen to any one of us and if we don't want activists to be cowed by the threat of suspension, to keep their heads down and allow democracy and freedom of speech in the Labour Party to be eroded further then we must oppose unjust suspensions. This includes Jackie Walker."
Another motion submitted by South East Branch of the group also calls for Labour Party members to be given the right to vote to withdraw the party whip from MPs.
The group, which covers the area of Brighton and Hove, wants Momentum to to back the idea of allowing each Constituency Labour Party to "withdraw the whip of its MP at any point upon a members vote upon a majority to be determined".
Hove and Portslade MP Peter Kyle has been targeted by some activists who want in to be replaced as the candidate for the 2020 election. Corbyn has said he will not "interfere" to prevent "democracy" in CLPs.
Earlier this week, John McDonnell said he would not intervene to prevent former foreign secretary Hilary Benn remains a Labour MP if local activists in Leeds Central attempt to force him out.
In a sign of the internal-divisions within Momentum, its youth and students wing have submitted a motion warning about "abuse" of staff, it reads:
Momentum Youth and Students notes the discontent of the membership in recent weeks and recognize that there are issues that need addressing within Momentum. However, we do not believe this to be fault of Jon Lansman and are very concerned by the personal attacks he has been subjected to. In the spirit of Jeremy's style of politics, we condemn all personal abuse aimed at Jon and offer him solidarity.

We also note that there has been a lot of abuse aimed at Momentum staff members. Momentum Youth and Students NC believe this to be completely unacceptable and would like to thank the staff for their tireless work during a difficult period. Whatever your opinion on the direction momentum should take personal attacks can never be justified and Momentum Youth and Students calls for more comradely behaviour in the weeks ahead.
Momentum National Committee Agenda:
Related