A hunter in the US has told how he shot a 4.5m long, 300kg alligator, that was treating his farm's livestock as a buffet.
Florida hunter Lee Lightsey said the reptile was one of the biggest he has come across in 18 years and required a tractor to move.
A picture of Lightsey's son, Mason, standing next to the alligator, as it is hoisted in the air, reveals just how massive the beast truly is.
Lightsey and hunting guide Blake Godwin discovered the alligator in a cattle pound while supervising a guided "gator hunt" hunt on Saturday.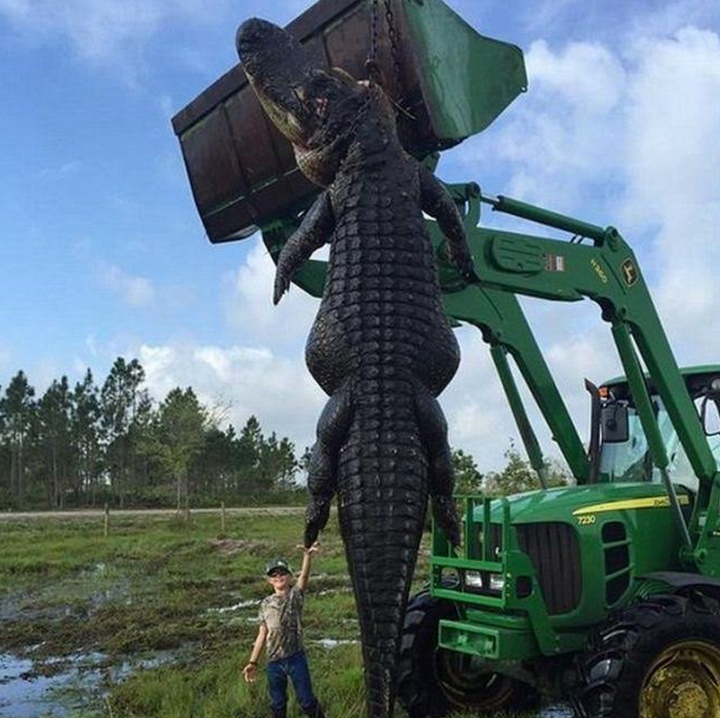 Lightsey told the BBC how the alligator surfaced about 6m away from them when they shot it.
He said he was not surprised by its size: "Although this animal is huge I was not that surprised it existed."
Lightsey said the hunters had come across lots of alligators that were only "a little smaller" over the past two decades. The largest alligator previously killed was just over 4m long.
"But what really drew our attention to this animal was the fact that it seems to have been feasting on the cattle on my farm, because mutilated body parts were found in the water. It was a monster which needed to be removed," he told the broadcaster.
Lightsey plans to get the alligator stuffed while the meat will be donated to charity.
Earlier this month the Huffington Post UK wrote about a Florida woman who was banned from keeping her potty-trained, quad-biking riding alligator 'Rambo' as he had grown too big.