Just one 330ml can of fizzy drink can contain more than the daily recommended amount of sugar, a study has found.
Sugar content in carbonated sugar-sweetened beverages such as ginger beer and cola is "alarmingly" high, experts said.
There is a large variation in sugar content between different flavours, with some drinks containing up to 12 teaspoons of sugar.
In light of the shocking findings, experts have called on fizzy drinks manufacturers to limit the sugar content in their products to 5g per 100ml.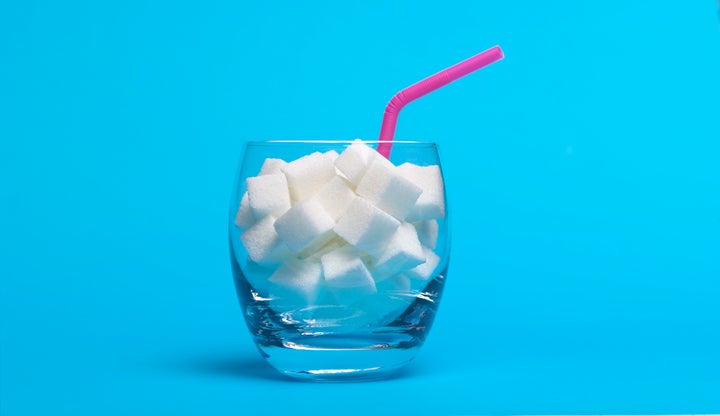 The maximum daily recommendation for sugar intake is 30 grams for an adult and 24 grams for a child, according to the NHS.
The study, published in the BMJ Open, found that on average ginger beer contained the highest amounts of sugar, followed by flavoured colas, fizzy orange drinks and cream soda.
Meanwhile ginger ale, elderflower, dandelion and burdock and lemonade contained the lowest amounts of sugar.
Supermarket brand cola was found to contain less sugar than branded products. However sugar content was still high in both, with branded cola often exceeding the daily recommended amount for adults - the average was 37.5g, or 9.4 teaspoons, per can.
Experts said that, with cola being the most popular flavour in the UK, even small reductions in sugar content would have a significant impact on the population's health.
More than half (55%) of fizzy drinks in the UK exceed the maximum daily recommendation for sugar intake (30 g) per 330ml can size. Meanwhile 73% of these products exceed the maximum daily recommendation for children.
Soft drinks are the main contributor of free sugars intake in children aged 4-10 years old and teenagers aged 11-18 years old. They are also the second main contributor in adults aged 18-64 years old.
The new study calls for all sugar sweetened drinks to be reduced below the 5g per 100ml threshold, as well as mandatory front of pack labelling of free sugars, public education, portion size reductions and warning labels put in place.
The government has proposed to bring in a sugar tax on fizzy drinks and this has already prompted some manufacturers to begin reducing sugar content in their beverages.
"This has already resulted in one of the largest supermarkets (Tesco) to reduce sugar in all their own brand soft drinks to below 5g/100ml. Suntory have also pledged that they will reduce sugar in all their sugar sweetened drinks to below the lower band levy, this includes for instance Lucozade and Ribena.
"Other supermarkets and branded companies must now follow suit, particularly Coca Cola and PepsiCo, as sugar sweetened drinks are the main contributor to sugar intake, in children and adolescents."
A spokesperson for the Obesity Health Alliance said: "It will be no surprise to most people that soft drinks contain a lot of sugar - but it's the sheer amount of sugar that will come as a shock to many. Drinking just one can of ginger beer or cola for example, would immediately take you over the daily recommended limit for sugar – significantly over if you're a child.
"This type of 'free sugar' is nothing but empty calories and is seriously endangering people's health. Type 2 diabetes, poor dental health and obesity are all on the rise and are becoming more prevalent amongst children and young people. It is no coincidence that sugary drinks are the main source of sugar intake for this age group.
"The case for the soft drinks industry levy, coupled with the reformulation of soft drinks to reduce their sugar content, has never been clearer. It is vital that this is implemented without dilution and the progress of voluntary reformulation monitored closely.
"It's encouraging to see certain industry leaders already taking action to reduce the amount of sugar in their products and others pledging to do the same. The nation's diet needs to be unsweetened – and fast."