The mother of a terminally ill three-year-old boy received an anonymous abusive note after parking in a disabled bay while she took her son to hospital.
Emma Doherty was visiting Alder Hey Children's hospital in Liverpool with her son Bobby Baldwin, who was born with three holes in his heart and has undergone three open heart surgeries, two stomach, lung and diaphragm surgeries and cannot walk long distances as a result.
Returning to her car - which had a blue disabled badge - after an appointment on 14 August, Doherty found the note, which called her a "lazy, conning bitch".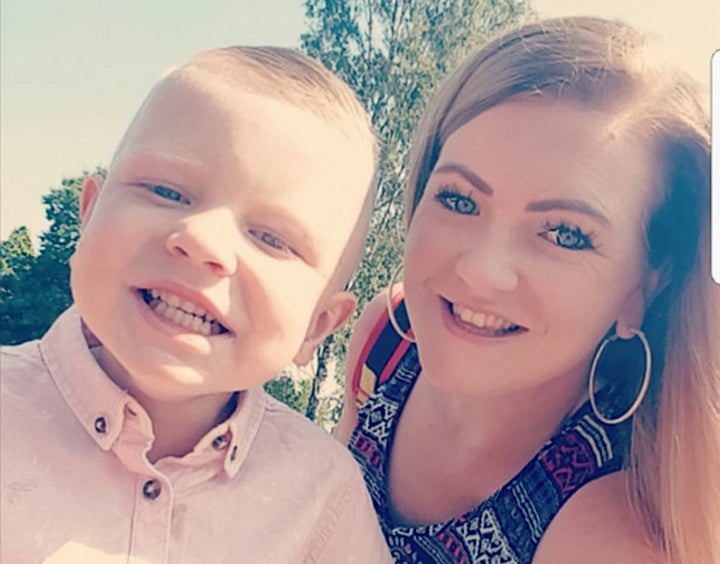 The 31-year-old mother - who carried her son into the appointment rather than use his wheelchair as they were running late - has said that the people who left the note on her vehicle are "cowards".
The whole note read: "You lazy conning bitch. You did not have a disabled person with you! These spaces are reserved for people who need them!"
Doherty, who is from Wigan, said this was the first time this had ever happened to her. "We were visiting the hospital as usual. When we found the note, I couldn't believe it. It's such a cowardly thing to do. They must have seen the badge and still decided to put the note on."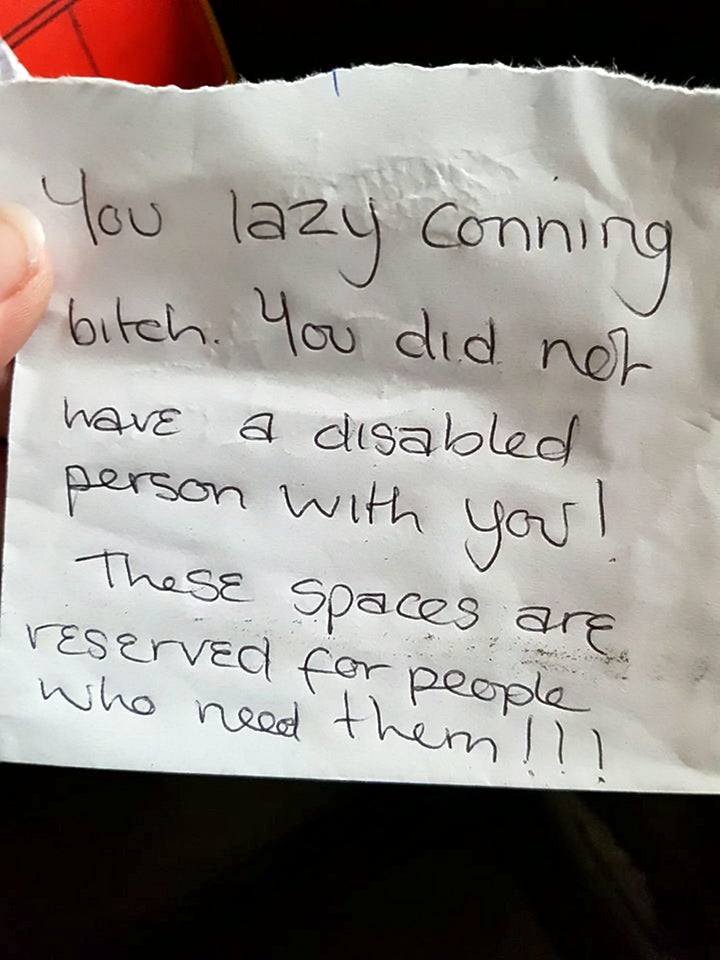 Doherty explained that "not all disabilities are visible" and that her son has spent half of his life in intensive care, undergoing 15 operations since birth, to treat his condition.
"Bobby's disabled pass is not a con, he is seriously ill," said Doherty. Although her son can walk short distances, because he struggles to pump blood around his body, any longer distances are impossible.
"People often look at us funny as we leave the car but this is the first time someone has actually left anything," said Doherty.
"Everyone needs to stop and think before acting, I hardly ever let anything upset me but this did."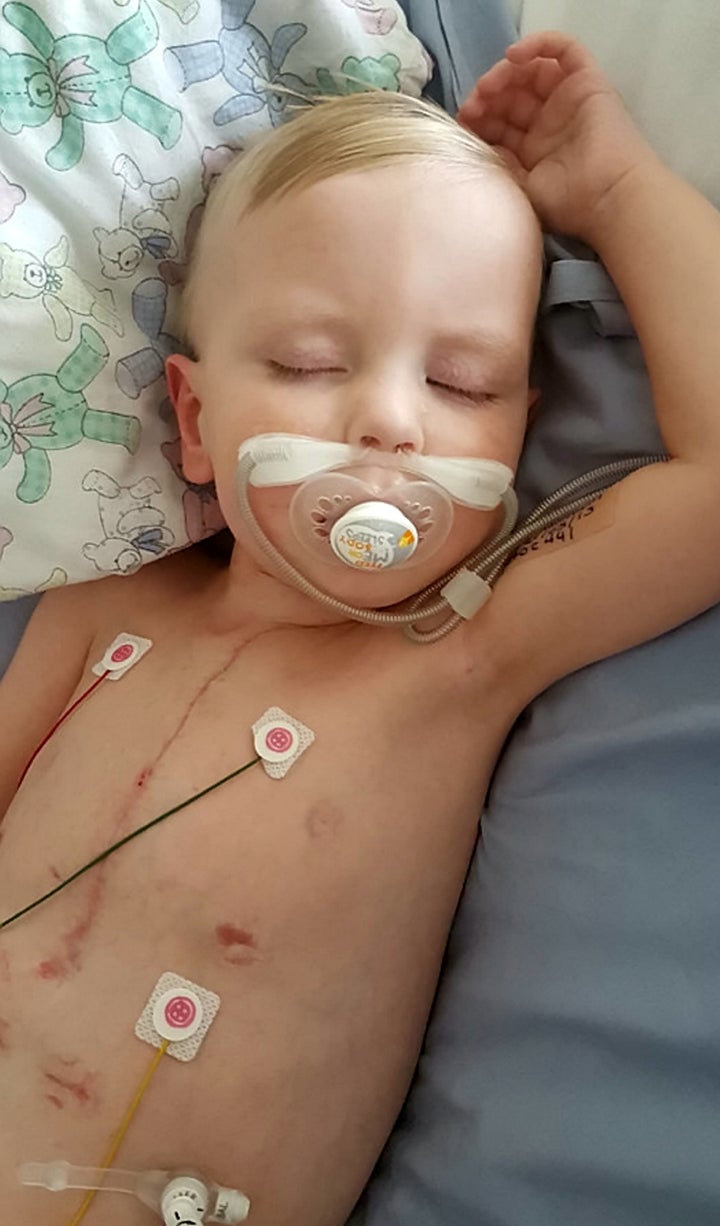 Since the incident Doherty has taken to social media to explain the distressing situation and has been overwhelmed by a huge amount of messages from other users who have experienced similar experiences.
She said: "The thing which has shocked me most is the amount of messages I have had from people who have been through something similar.
"My inbox is full of people who have told me they have been stared at or even spat at. This is a serious problem and I just want it to change. I am hoping by sharing what I went through people will start to think before acting."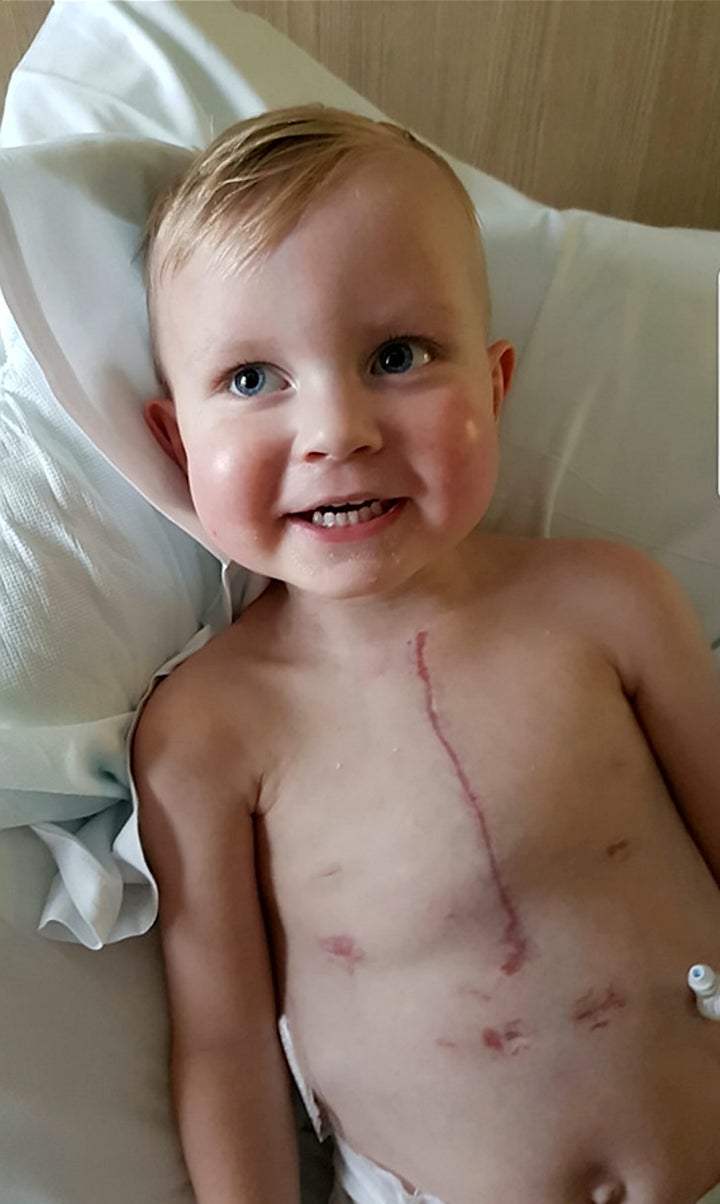 Although Doherty was upset with the situation, she thanked her family for their support and the staff at the children's hospital.
She said: "The staff at reception and in the hospital were so brilliant. I got upset after finding the note and they really helped. I couldn't thank them enough."