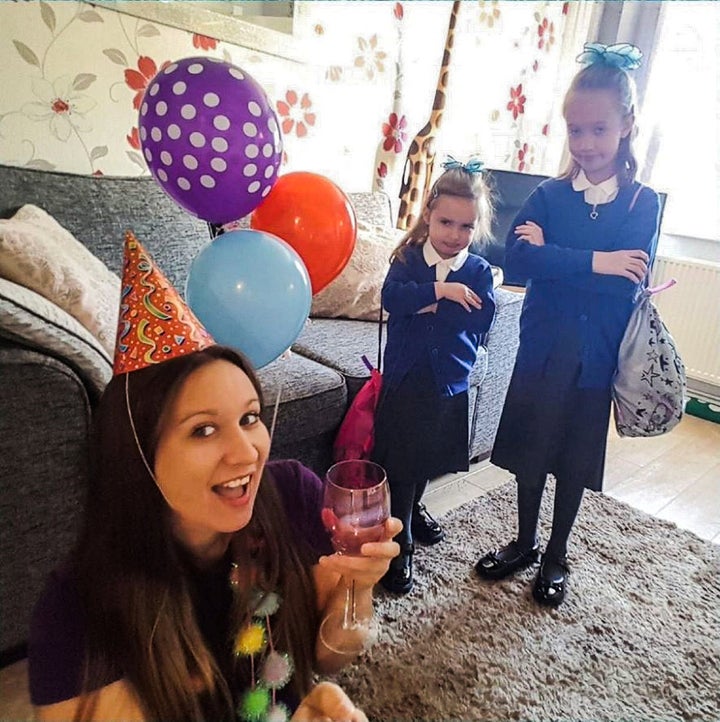 A mum celebrated her kids going back to school with a one-woman party – complete with balloons, a party hat and a glass of wine.
Lisa Sobis, from Bourton-on-the-Water, in the Cotswolds, posted an amusing selfie to counteract the traditional 'back to school' shots on social media, which usually show cute kids in oversized blazers standing by their front door.
In Sobis's shot, her daughters Ruby, eight, and Belle, five – who returned to Springback Primary Academy in Cheltenham, this week – are standing grumpily in the background with their arms crossed, while their mum looks joyfully at the camera. In reality, Sobis said, her children saw the funny side.
"My children know I love them dearly but when the first day of school comes around, it is nice to see them back off," she said.
"You see all these pictures on the first day back of school of children posing nicely in front of the fireplace or the doorway.
"I just wanted to do something different from the traditional."
As soon as I saw her tongue-in-cheek shot, I laughed too – because I can relate. Hard.
In fact, the most common greeting between parents outside my daughter's school yesterday? "Congratulations".
Not only have we made it through the summer holidays, and the constant juggling of childcare and work, but we've delivered happy, excited children to the school gate on time (or, almost).
And yes, I might have forgotten her PE kit, and no, I haven't managed to work out how to pay online yet for school lunches, and undoubtedly there have already been a couple of passive-aggressive message exchanges between mums on the Year 3 Parents WhatsApp group, but you know what?
I'm celebrating. At least until the October half-term.