The Munich shopping mall shooter responsible for the deaths of nine people was a German teenager who claims he had been "bullied for seven years".
The 18-year-old German-Iranian opened fire at a McDonald's restaurant at the Olympia-Einkaufszentrum (OEZ) - Bavaria's largest shopping centre - in the district of Moosach, around 6pm Friday.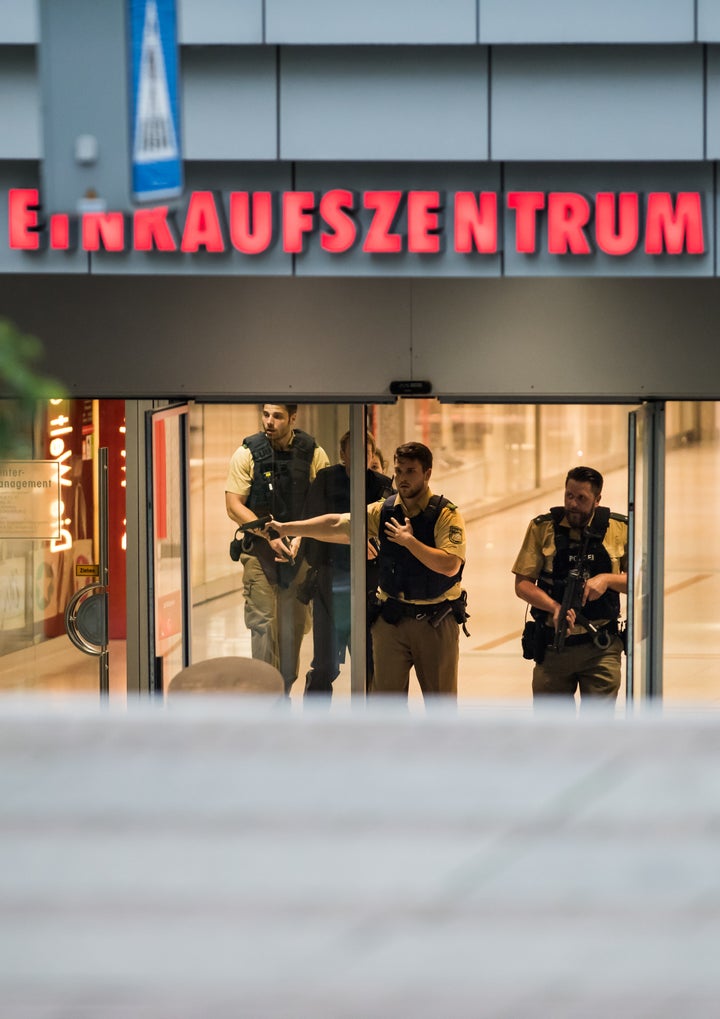 The gunman, who has not yet been named, was said to have shot himself. His body was found half a mile from the scene.
Witnesses said that the gunman screamed "I'm German" and "Allahu Akbar" before shooting at children.
Balcony man: "You fucking assehole you..."

Gunman: "Because of you I was bullied for 7 years..."

Balcony man: 'You wanker you. you're a wanker'

Gunman: "...and now I have to buy a gun to shoot you"

Balcony man: "A gun! Fuck off! Your head should be cut off/open you asshole"

The gunman and balcony man begin shouting at each other.

Balcony man apparently to people filming: "He's got a gun here the guy has one"

Unseen voice: "Fucking Turks!"

Balcony man: "Fucking foreigner"

Balcony man to someone else: "Ey! He's got a gun! He has loaded his gun. Get the cops here. He's walking around here the wanker"

Gunman: "I am German"

Balcony man: "You're a wanker is what you are"

Gunman: "Stop filming"

Balcony man: "A wanker is what you are. What the fuck are you doing?"

Shooter: "Yeah what, I was born here"

Balcony man: "Yeah and what the fuck you think you're doing?"

Gunman: "I grew up here in the Hartz 4 (unemployment benefits in Germany) area."

Balcony man and Shooter talk at same time.

Balcony man: "Yeah treatment is something for you"

Gunman: "I haven't done anything here for (unintelligible) ... 'Please shut your mouth"

Balcony man: "You cunt you"

Balcony man to people nearby: "Hey, he's on the upper floor here"

The cameraman goes into cover as the gunman starts firing. Balcony man calls him a cunt again.

Balcony man: "They must have been shitting into your head"

Gunman: "They have not. They have not, that's the thing. They have not"
Authorities had initially said that they had been searching for multiple suspects, possibly carrying rifles. But after an hours-long manhunt that led to the discovery of the suspect's body, police said they believed he was the sole shooter and had used a pistol.
Chancellor Angela Merkel's chief of staff, Peter Altmaier, said authorities could neither confirm nor rule out a link to terrorist groups while investigations are ongoing.
"Many shots were fired, I can't say how many but it's been a lot," one mall employee told Reuters on Friday, saying that staff were still hiding in storage rooms.
"All the people from outside came streaming into the store and I only saw one person on the ground who was so severely injured that he definitely didn't survive."
"There was one shot after another very quickly. ... We were just running for our lives."
The shopping center is next to Munich's Olympic stadium, the site of the 1972 Olympic Games. Those Olympics turned into a tragedy when the Palestinian militant group Black September took 11 Israeli athletes hostage and eventually killed them.
Related