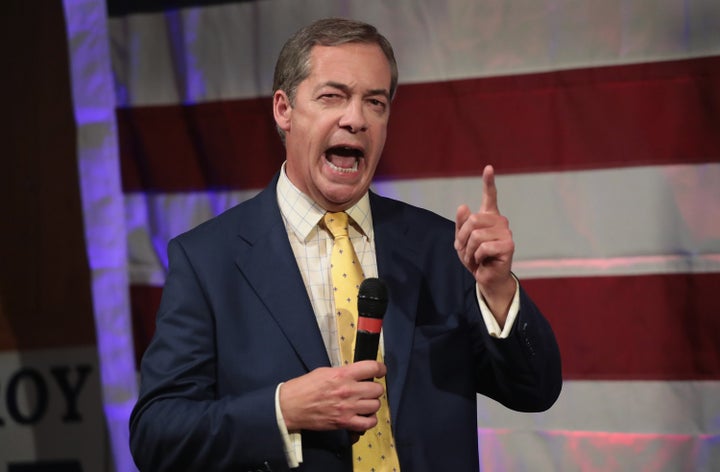 Despite police insisting the incident - which injured 11 people - was a road traffic collision, former UKIP leader Farage told Fox News that officers were "clearly" treating it as a terrorist incident.
"Certainly while we have heard nothing official, the Metropolitan Police are clearly not only treating this as a terrorist incident, but it looks to me like they expect there could be more," he said.
In a tweet sharing the audio clip, the 53-year-old added: "We have 3,000 suspected terrorists living in the UK & 23,000 people known to security services who could do us harm."
Farage's comments sparked widespread anger, with critics calling him "grossly irresponsible" and a "shameless attention-seeker":
However, while Farage - described by Fox News as "Brexit leader" - acknowledged in a later tweet that the incident in South Kensington was a traffic collision, he refused to back down completely.
He wrote: "Met say incident in South Ken is a traffic collision. But huge police response shows the state of high alert the country finds itself in."
Meanwhile, Hopkins tweeted a series of messages in the wake of the incident which appeared to suggest that it was a terror attack, telling tourists "right now, London is not worth the risk".
She also accused the BBC of state propaganda after the news website described the incident as a "crash".
However, the Mail Online columnist later deleted the tweets, telling followers "I hope you all stay safe".
But Hopkins' backtracking did not stop people slamming her for her initial reaction, calling her opinions "toxic".
Eleven people were injured after a car mounted the pavement and struck pedestrians outside London's Natural History Museum this afternoon.
A huge police presence descended on the scene in Exhibition Road, South Kensington, which is also near the Science Museum and the V&A Museum.
London Ambulance Service said it treated 11 people "mostly for leg and head injuries". Nine of them went to hospital.
However, after nearly four hours of speculation about the cause - and fears it was terrorism - police said this was not the case.
A man has been arrested in connection with the incident and is in custody at a north London police station, officers said.
Related