A 28-year-old man has been arrested over an online video which appears to show him teaching a dog how to make a Nazi salute.
The clip, which is still live on YouTube and has been viewed more than one million times, also shows Buddha the pug sitting in front of a computer screen featuring footage of Adolf Hitler.
Markus Meechan of Coatbridge, North Lanarkshire, is heard making reference to gas chambers and encouraging his girlfriend's pet to raise its paw as he repeats the Nazi chant "seig heil".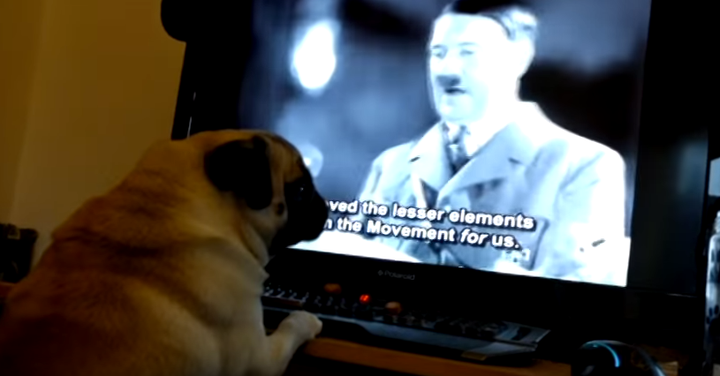 The Holocaust was a genocide in which Hitler's Nazi Germany and its collaborators oversaw the mass murder of six millions Jews and millions of other people leading up to and during the Second World War.
Large scale gas ovens were used for some of the mass killings.
Meechan was arrested on 28 April in relation to the alleged publication of offensive material online and was kept in custody overnight before being released on bail from Airdrie Sheriff Court the next morning. A report has been submitted to the Procurator Fiscal.
The call centre worker has since apologised to the Jewish community for the video, which he says was made to annoy his partner Suzanne.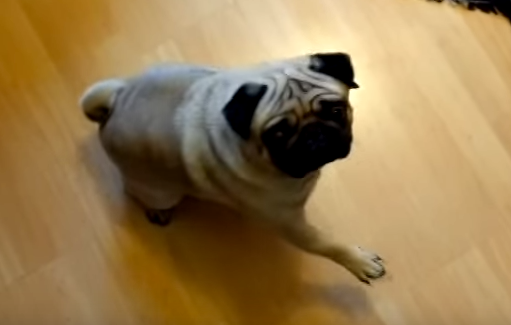 He told South West News: "I am not a racist at all, anybody who knows me could tell you that.
"I'm freaked out because everyone's going to actually think that I hate Jews now and I don't at all. I'm kind of panicked about it.
"Honestly, I don't hate anyone, the whole purpose of this was just to annoy my girlfriend.
"I just want everyone to know that I don't wish any ill-will on any race or anything, it's just how shock comedy works.
"It was strictly made to annoy my girlfriend and give my friends something to laugh at.
"I am so sorry to the Jewish community for any offence I have caused them. This was never my intention and I apologise."
Jonathan Sacerdoti, Director of Communications at the Campaign Against Antisemitism, said: "There is nothing remotely funny about this video.
"Mocking the death of over six million Jews - about a third of the entire Jewish people - demonstrates the dangers of ignoring antisemitism, denigrating the Holocaust through false comparisons and failing to educate the next generation."
DI David Cockburn, Coatbridge CID, said, "Posting offensive material online or in any other capacity will not be tolerated and police will act swiftly to tackle hate crimes that are motivated by malice or ill will because of faith, ethnicity, gender identity, sexual orientation or disability.
"This clip has been shared and viewed online, which ultimately has caused offence and hurt to many people in our community. There is no place for hate crime in Scotland and police take all reports of incidents seriously."