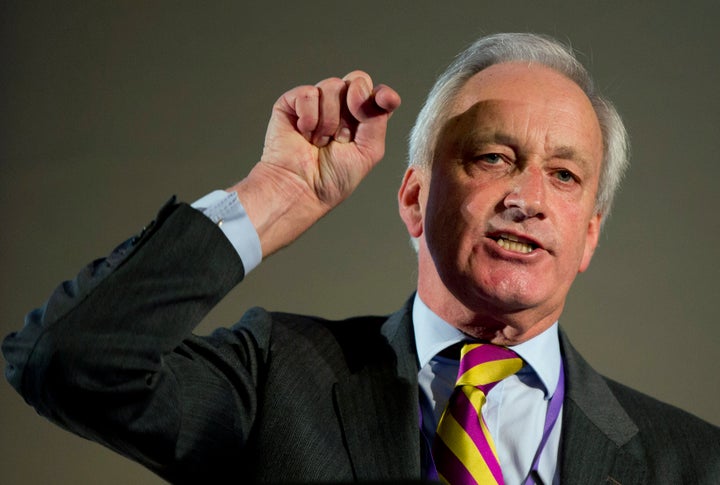 Ex-Tory MP Neil Hamilton has performed a sensational power grab in Wales, ousting Ukip's Welsh leader in his first act as an Assembly member.
The former minister, who in the 1990s was caught up in the cash-for questions scandal, was elected to the Welsh Assembly last Thursday as one of seven Ukip AMs.
This afternoon, Ukip Wales Leader Nathan Gill, who led the party to its greatest domestic electoral success in its history, was blocked from leading the group on the Assembly.
By four votes to three, Hamilton will be group leader – picking up an £84,000 salary in the process.
So while Hamilton leads Ukip in the Assembly, Gill will remain leader of Ukip Wales.
He said: "I have worked closely with Nathan Gill as leader of Ukip Wales. I have always found him to be hard-working, honest, and loyal.
"His removal after a successful Welsh Assembly election campaign is unjust and an act of deep ingratitude. In behaving like this, Ukip looks too like the other parties that we have fought so hard against."
Speaking to BBC Wales earlier today, Gill described the day's events as "slightly bizarre".
He said: "I guess only Ukip can do this kind of thing, replace somebody whose taken us to our greatest victory in domestic politics and then the AMs that got there, over half of them, four of the seven, decided to replace me as leader."
"Obviously it doesn't feel brilliantly. But let's face it, we've got a job to do.
"As far I'm concerned that job is on the 23rd of June for us to vote to leave the EU. That will now become my focus."
The four AMs which backed Hamilton's leadership were Gareth Bennett, Michelle Brow, Caroline Jones, and Hamilton himself.
Those backing Gill were former Tory MP Mark Reckless, David Rowlands and Gill.
Reckless, who lost his seat in Westminster as a Ukip MP last May, told the HuffPost UK he did not want to comment on the matter.
Evans was handed a six-month suspension in March after it emerged she had signed a petition opposing Alan Craig being a Ukip candidate in London.
She took the party to the High Court over the ban, as it meant she was no longer eligible to stand for Ukip in the London Assembly elections, held last week.
Evans lost her bid, but many colleagues felt she had been treated unfairly and Ukip MEP Patrick O'Flynn even started a petition calling for the suspension to be overturned.
Farage is no fan of Evans, and believes she was one of the ringleaders in a plot against him after he "unresigned" as party leader after last year's General Election,
The HuffPost UK has learned that at a meeting of Ukip's National Executive Committee yesterday, Evans's case was raised and it was agreed to move forward with her appeal hearing as quickly as possible.
A source close to the NEC said: "There's going to be a proper, fair hearing. They are going to find people to sit on it who aren't part of that Farage faction. This is done in defiance of them.
Despite being suspended by Ukip, Evans has remained a regular presence on television as she campaigns for the UK to leave the EU on June 23.
Speaking to the HuffPost UK, she said: "I have obviously been waiting for quite some time to have the appeal heard.
"I am confident I have done absolutely nothing wrong and I have done everything possible to promote the party in a very positive way.
"I am confident if the appeal is fair I will be exonerated.
"I look forward to getting back on the campaign trail with Ukip and to secure a leave vote in the EU referendum."