Eating disorder charity Beat have released a statement on Netflix's controversial new release 'To The Bone', admitting "disappointment" at certain aspects of the film.
Netflix describe the movie as being the story of "a 20-year-old with anorexia nervosa, [who] goes on a harrowing, sometimes funny journey of self-discovery at a group home run by an unusual doctor", but they've already drawn criticism for the way the sensitive topic is tackled.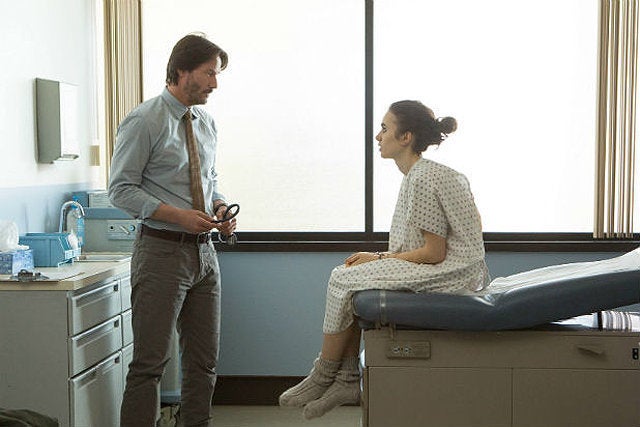 A spokesperson for Beat has now told HuffPost UK that they have watched the Netflix Original and consequently, published a statement on its content.
It reads: "It is important to recognise that 'To The Bone' is a fictional, dramatised story, with characters portrayed by Hollywood actors and models, and does not represent the reality of suffering with or finding treatment for an eating disorder, though many people affected will identify with the themes it presents.
"We were disappointed that at many points in the movie Ellen's family were depicted as the main cause of her eating disorder, where, in fact, eating disorders are complex, with no one single cause, and there is clear evidence that genetic and biological factors play a role."
They go on add that "there is a strong likelihood that people who have been affected by eating disorders would find the film highly distressing or triggering.
"It includes frequent references to calories, weight and eating disorder behaviours, and images of Ellen at a very low weight," they say. "We strongly urge any media reporting on this film to follow our media guidelines, to avoid any further distressing or triggering content."
The actress, who wrote about her own eating disorder in her debut essay collection 'Unfiltered: No Shame, No Regrets, Just Me', told Elle.com that losing weight for the film was "kind of nerve-wracking. You're doing it for a part, but it's something so close to you".
"There's a fine line between, are you going to fall back into it, are you not?" she said in April. "But I was so aware of why I was doing it — for a greater purpose — and also I was more mature.
"None of the reasons that had kickstarted my disorder in the past applied anymore."
Useful websites and helplines:

Beat, call 0808 801 0677 or email fyp@b-eat.co.uk
Samaritans, open 24 hours a day, on 08457 90 90 90
Mind, open Monday to Friday, 9am-6pm on 0300 123 3393