It came to light this week that the new note contains tallow, a rendered form of beef or mutton fat, sometimes used in the production of items including soap and candles.
But Professor David Solomon, who led a team which pioneered the technology which has seen polymer notes rolled out in a number of countries around the world, slammed the row.
He explained: "When they make the polymer they start out with pellets and I think it's a coating on the pellets that comes in. The pellet is mainly polypropylene which is the main material they use, and then it's made into a film and they stick two films together to get the thickness they want.
"So if there was any tallow in there at all, it's buried in there. There'll be trivial amounts of it in there."
Solomon added that the note had many benefits, including being more hygienic and requiring less trees to be cut down.
The Bank of England has said its supplier was now "working intensively" to find a possible solution to the issue, adding that the issues "has only just come to light".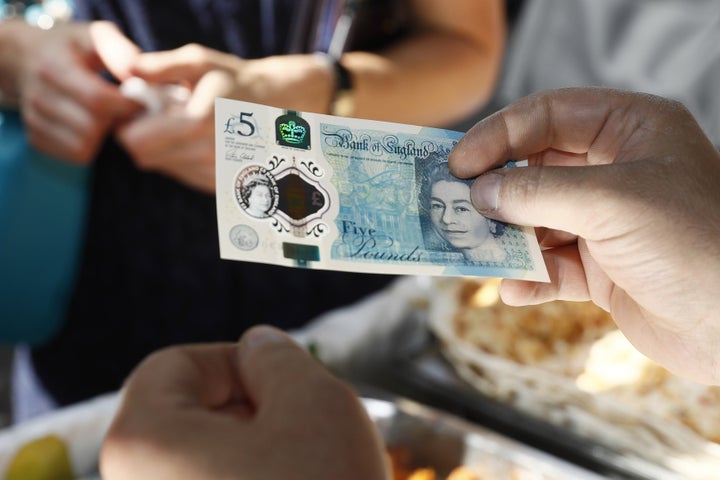 A statement from the Bank said: "We are aware of some people's concerns about traces of tallow in our new five pound note. We respect those concerns and are treating them with the utmost seriousness.
"This issue has only just come to light, and the Bank did not know about it when the contract was signed.
"Information recently provided by our supplier, Innovia, and its supply chain shows that an extremely small amount of tallow is used in an early stage of the production process of polymer pellets, which are then used to create the base substrate for the five pound note.
"Innovia is now working intensively with its supply chain and will keep the Bank informed on progress towards potential solutions."
The new note is said by the Bank to be cleaner, safer and stronger than paper notes, lasting around five years longer.
Governor Mark Carney said of the new note: "The use of polymer means it can better withstand being repeatedly folded into wallets or scrunched up inside pockets and can also survive a spin in the washing machine.
"We expect polymer notes to last at least two and-a-half times longer than the current generation of fivers and therefore reduce future costs of production."
Related