Street-artist Banksy has chosen a primary school in his probable hometown of Bristol as his latest canvas of choice.
The spray-painter, whose work has featured across the world, left a gift in the form of a new 14-ft artwork for children at Bridge Farm Primary School.
It was discovered today, when pupils reconvened at the school after half-term.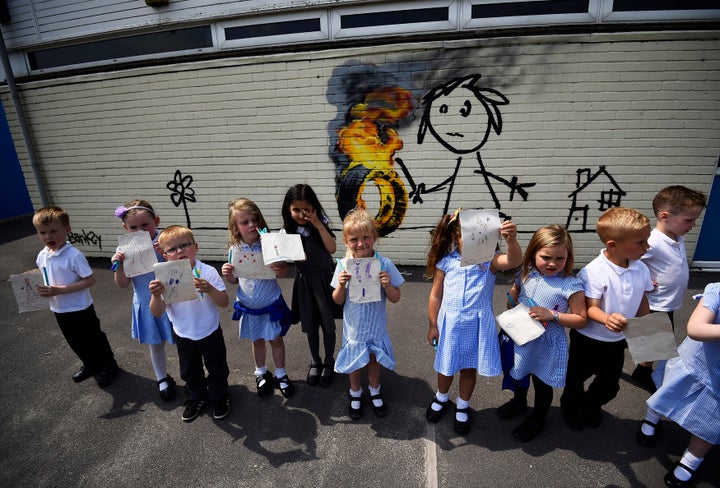 The children had sent Banksy a letter to inform him of their decision to rename one of their school's houses after him.
Headmaster Geoff Mason told the Bristol Post: "[The graffiti] was done after we ran a competition to change the house names, and we decided to name them after Bristol legends. We had to include Banksy."
In response, Banksy gifted the school with a new artwork that features a child playing with a burning tyre and a stick.
A note from the illusive spray-painter was also found at the school, which encouraged Bridge Farm pupils to add to to the painting themselves, reading: "I'm sure the teachers won't mind."
The street-artist signed off his note: "Remember - it's always easier to get forgiveness than permission."
Mr Mason said the visit by Banksy over the half-term holidays was "amazing".
"We are very thrilled about it, and it's great for the school community," he was quoted as saying in the Bristol Post.
"I'm sure it will inspire the children. The staff had to make quite a few calls this morning to make sure nobody cleaned it off.