The publishers of Britain's newest national newspaper have refused to comment on claims it will shut this week, just two months after it was launched.
Trinity Mirror launched its new daily paper The New Day in February, vowing to to be politically neutral and take an "upbeat, optimistic approach" to reporting events.
A spokeswoman for Trinity Mirror told HuffPost UK: "There's no comment I am afraid. There's been no announcement."
A source told HuffPost UK that Thursday would be the last working day for the paper's staff and Friday's paper would be the final edition.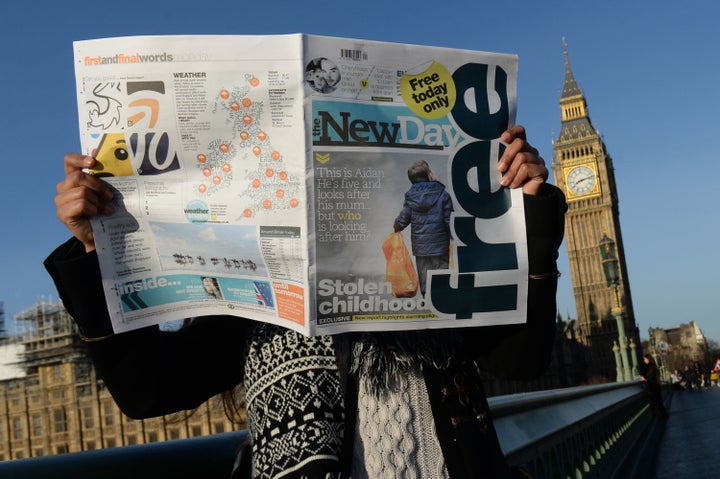 HuffPost UK understands that, while most of the journalists were on secondment from The Mirror and The Sunday Mirror, a handful were hired on short-term contracts to work exclusively for The New Day.
The paper's staff were told about the closure on Wednesday and it is expected to be formally announced on Thursday.
One journalist, who asked to remain anonymous, said: "The main feeling is just a sense of incredulity that they could be so short termist."
According to The Guardian, New Day editor Alison Phillips was "distraught" at Wednesday's internal meeting announcing the closure.
City AM said there might be "an update" on New Day's position when Trinity Mirror, which also publishes The Mirror, The Sunday Mirror and The People, issues a trading update on Thursday ahead of its AGM.
When New Day launched, Trinity Mirror chief executive Simon Fox told City AM he would close the paper if it did not succeed.
He said: "We'll watch that carefully over the next six months. We've said clearly if we've got it wrong and there isn't a demand for this paper, then, we're a commercial organisation, we're very commercially disciplined, and if there isn't such a demand we'll either have to radically change it in some way or not continue with it."
Journalists at other papers, themselves working in a volatile industry where titles must adapt to a rapidly changing media environment, reacted to the news with sadness.
The New Day's launch inspired some optimism about the future of print. Its birth came three weeks before The Independent ceased print publication after 30 years and became online only.
It was the first standalone national paper launched in Britain since The Independent launched in 1986.
The new paper was initially available for 25p for two weeks, then rising to 50p.
Tony Gallagher, editor of The Sun, previously said of New Day's launch: "I won't lie, I think it's a challenge to to expect people to pay 50p for it in an extremely competitive market.
"But I wish them every success. It's nice that we've got a new paper just as another one is dying."