Thousands of teenagers will be picking up their exam results today and finding out how they did in the new, reformed GCSEs, which has seen students across England assessed mainly on their exam performance following two years' hard work.
But the days of A*-G grades are almost gone, and parents and children alike this August will be learning to get their heads around the new 9-1 grading system for the majority of subjects.
What do the new 9-1 grades mean?
The new number system replacing the traditional A* - G grades does not offer a complete like-for-like comparison with the old system - which exams watchdog Ofqual has warned against doing - but it is possible to roughly translate them.
Grades 9, 8 and 7 are the top marks available, with a 7 roughly translating to an A grade. The old A* grade sits between an 8 and a 9 in the new system. Scoring a 6 or a 5 is akin to a B grade, while a 4 is close to a C grade, and numbers 3, 2, and 1 sit between the old D, E, F, and G marks. The numbers system as kept the U mark, which means ungraded.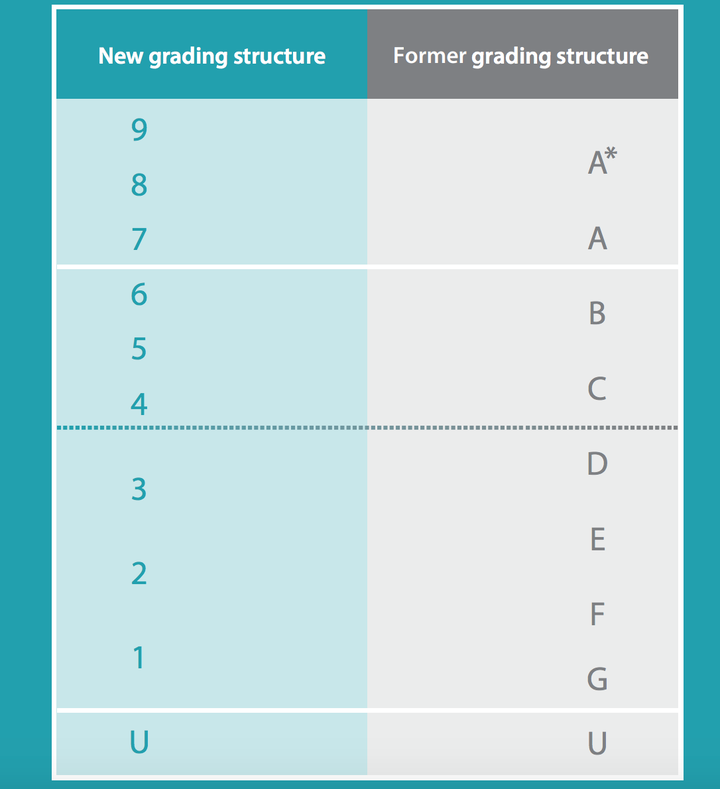 What is the difference?
The three grades at the top end of the spectrum are designed to better differentiate between the A and A* grades, but Ofqual has said that students scoring a 9 have "performed exceptionally". Ofqual said there will not be as many grade 9s awarded as there have been A*s in the past.
The grades are supposed to better differentiate between students of different abilities. But Ofqual says that "in the first year each new GCSE subject is introduced, broadly the same proportion of students will get a grade 4 or above as would have got a grade C in or above in the old system".
Scoring a grade 4 in in any subject is considered a "standard pass" that should be "valued as a passport to future study and employment," the government states, while a 5 in English or maths is considered a "strong pass".
Does this mean GCSEs are harder?
The new GCSEs are supposed to be more challenging and demanding than previous years, which school leaders have said have put students under additional pressure.
The changes, which were initiated by former education secretary Michael Gove in 2014, have been made "to give young people the skills they need to succeed in 21st century Britain," according to the Department of Education. The new system means students produce much less coursework than in previous years, with the majority of their marks depending on their performance during exams.
Another part of the GCSE reforms will see students who do not achieve a grade 4 or higher in English and maths will be required to continue these subjects after their GCSEs.
Are all GCSE subjects now under the new grading system?
Not quite yet. The number grades were introduced for the first time last year, but only for English language, English literature and maths. This year 20 more subjects have been added to the system, with the rest added by 2020, meaning students will still receive a mixture of numbers and letters for their grades this summer.
The subjects that will graded by numbers as of this year are:

Ancient languages (classical Greek, Latin)
Art and design
Biology
Chemistry
Citizenship studies
Combined science (double award)
Computer science
Dance
Drama
Food preparation and nutrition
Geography
History
Modern foreign languages (French, German, Spanish)
Music
Physics
Physical education
Religious studies
Do these new grades apply across the UK?
No, this change is just for students in England. While GCSEs have undergone changes in Northern Ireland and Wales, they are not switching to the new numbers system. Students in Scotland use a different system entirely, consisting of Nationals and Highers.