A new mother is planning to launch a petition to get parenting club representatives banned from postnatal wards after her experience with an "inappropriate and intrusive" Bounty rep in hospital.
Lauren Harris, 40, was in a private room on the postnatal ward in St George's hospital in London last week when a Bounty representative, who gives new mothers a free Bounty pack containing everything from nappy samples to a government child benefit application form, entered her room.
"She opened the door and said 'Have you had your Bounty pack yet?' as though it's part of the whole postnatal process," she told HuffPost UK. Harris said the rep then walked in to the room, drew back the curtain, gave her the pack and asked to take some details, which Harris said she didn't want to give her.
Harris claims the Bounty rep then asked if she wanted to take some photos of her and her baby, which she could later buy. Harris declined.
"I was sitting in a Tena lady nappy, topless, exhausted and my baby was lying in a cot asleep, and I just thought this was the wrong time to do this," Harris said. "It was really undignified, I was half-naked."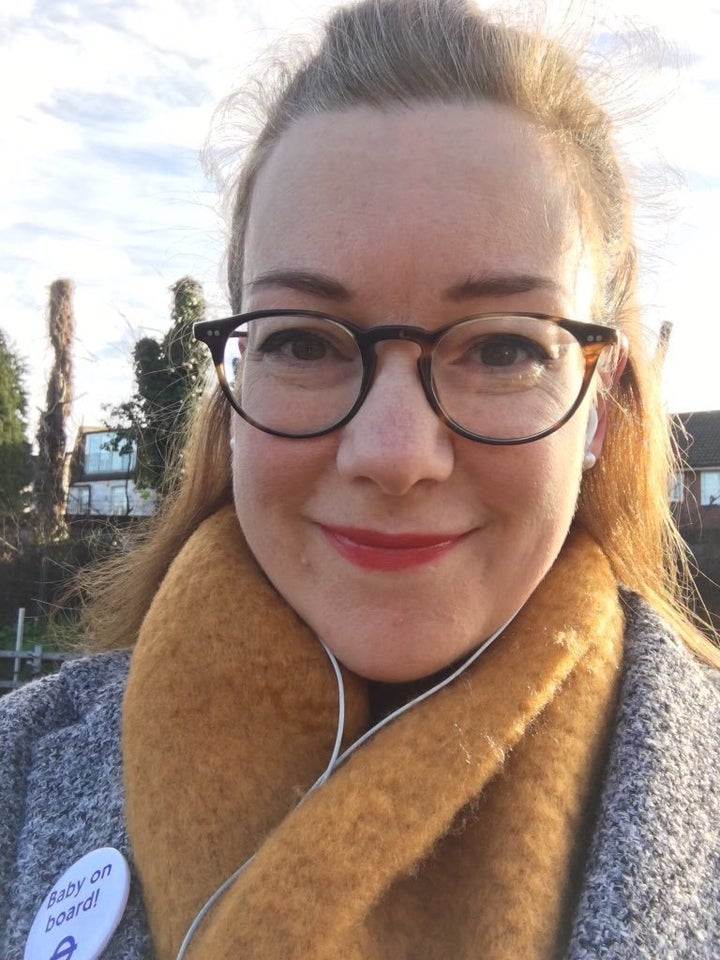 A spokesperson for Bounty told HuffPost UK the company does not comment on individual cases, but representatives have a strict code of conduct they are supposed to adhere to. This includes not approaching mothers while they are asleep or breastfeeding, respecting mothers' personal space at the bedside, and "if the curtains are drawn, staff must never draw them back or peep around the curtain uninvited".
Commenting on Harris' experience, as spokesperson said: "We are awaiting further information from this lady and are committed to thoroughly investigating this matter for her to ensure our code of conduct is being upheld at all times."
According to the code of conduct, Bounty representatives will ask parents for contact details but the company states it does not sell people's personal information to anyone.
"How do they know that if the door is shut?" Harris asked. "I was topless and had a big pad on and a strange woman walked in. Whatever their guidance they come in unaccompanied and I had to tell her 'no' twice before she would leave, I didn't find it respectful and I felt like she was trying to meet her target," she said. "This is something they could leave to the midwife team to give to women - they don't need to be personally present in women's rooms right after they've given birth, that's what's wrong with this situation."
Harris had given birth two days earlier and was still struggling to breastfeed her baby at the time. She says there had been a number of health professionals coming in and out of her room that morning and she was still exhausted.
A few hours later that she tweeted about the meeting, calling it "inappropriate and intrusive". She said: "This is a secure ward with restricted access, even for partner's family members. But these sales reps have free access to enter vulnerable women's private rooms. How is this allowed?"
Harris' tweet has since been liked nearly 500 times and has received a number of comments from women who said they too had upsetting or frustrating experiences with Bounty reps, from one representative trying to enter the delivery room while a mother was receiving stitches to other women recalling representatives pulling the curtain back unannounced while the mothers tried to breastfeed. One woman said she was pestered by a Bounty rep while exhausted and receiving a blood transfusion.
Harris plans to create a petition for Health Secretary Matt Hancock to stop Bounty reps and other people from parenting clubs from having access to hospital wards where they can approach new mothers, and will be encouraging parents to write to their local MPs.
She said the free Bounty packs could easily be given out at a different time such as when mothers are discharged from hospital or when they have their five-day check up with the midwife. "But those reps have no place on the wards," she said.
Mumsnet has campaigned about the issue in the past and CEO Justine Roberts said there are frequent complaints on the site's forums about Bounty's "hard-sell tactics".
"Some Mumsnet users have reported being told that parents will only be able to claim for child benefit if they fill in Bounty's commercial forms," she said. "Other mums report being pestered by Bounty photographers only hours after giving birth. It's hard to believe that the government actually pays a private company in support of this practice. Our users overwhelmingly feel that commercial reps should simply not be allowed on postnatal wards," Roberts said.
Commenting on Harris' experience, a spokesperson from St George's hospital said: "We apologise that the patient felt the representative from Bounty was intrusive. St George's takes the need to protect the privacy and dignity of families on our maternity wards very seriously.
"This matter is being investigated, and we wish to reassure new parents that all Bounty staff are expected to adhere to a strict code of conduct.
"While most new mums are happy to be visited, parents can say no to the representative at any time, or can inform our midwifery team if they do not want to engage with Bounty at all. All Bounty representatives are DBS checked, wear ID badges, and comply with our infection control measures."